During one of our water breaks on our long Sunday runs, Tiffany asked me what time I put down on the application for the Disney Marathon.
"Well, if I run at my slowest pace of 11 minute miles, that's 55 minutes to run 5 miles.  Given that pace, I figure I should finish it in about 5 hours, right?"
"Good!  That's what I thought, too!" Tiffany replied.  "My goal is to beat Katie Holmes's time: 5:29:58."
"Oh we could so beat her!"  We'll kick Katie Holmes's a$$!"
Then, this past week, Tiffany asked me if I knew that Palin ran a marathon.
"Palin ran a marathon?"
"Yeah, it was in Runner World.  Her time was 3:59:36."
"How old was she?  Wow.  The other Denise was right.  She is a super woman.  She is a machine, but I still ain't voting for her."
I began to visualize Palin running a marathon along the icy polar caps of Alaska while holding a rifle and shooting baby seals.  How does a mother of five and a governor find time to train for a marathon?  How can she be that fast?  She simply can not be human.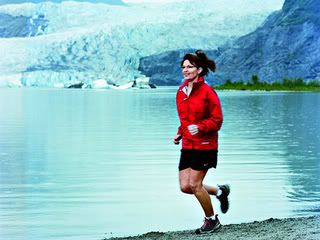 My training trance was abruptly interrupted when Lori commented on how my pace suddenly picked up a bit.
"Well, I thought we only had to be Katie Holmes.  Now, I have to beat Palin's time!"
Indeed, Palin did run a marathon at the fabulous age of 41.  She ranked 15th place in her division and 63rd out of 203 runners.
If I can't beat her time in January or February, then it's something for me to strive when I hit the big 4-0!
George W. Bush, Houston Marathon 1993 (3:44:52)
Michael Dukakis, Governor of Massachusetts, Boston Marathon 1951 (3:31:00)
John Edwards, Marine Corps Marathon 1983 (3:30:18)
Bill Frist, Marine Corps Marathon 1997 (4:54:36)

Al Gore

, Marine Corps Marathon 1997 (4:58:25) 🙂
Mike Huckabee, Governor of Arkansas, Little Rock Marathon 2005 (4:39:04)
Tom Vilsack, Governor of Iowa, Little Rock Marathon 2005 (5:28:39)
 Clarence Thomas, U.S. Supreme Court Justice, Marine Corps Marathon (3:11:xx) 1979
Katie Holmes, New York City Marathon 2007 (5:29:58)
Oprah Winfrey, Marine Corps Marathon 1994 (4:29:20)
Will Ferrell, Boston Marathon 2003 (3:56:12) -As if I could run that fast!  LOL
David Lee Roth, New York City Marathon 1987 (6:04:43) – I could so kick his rocking a$$!
Mario López, Saved by the Bell, Boston Marathon 2002 (5:41:41)