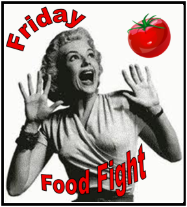 Three weeks after my wisdom teeth extraction and I'm still on a forced soft foods diet and probably will be for another three weeks since my steenky holes are slow to heal and still pretty sensitive. *sigh*
Besides losing weight, another upside to my soft diet is that it's forcing Iron Chef Allan and me to think beyond our family favorite menu staples.  During the process, we've dusted off some long forgotten cookbooks to find new dishes to try.  This Williams-Sonoma Spinach Empanada recipe was found in one of those dusty old cookbooks, The Best of Taste.  While rediscovering this cookbook, I found a few more recipes I'd like to sink my teeth gums into and if they're tasty, you'll find them here on Fridays for my weekly Friday Food Fight.
Although the recipe calls for pastry dough, I opted to use the empanada dough found in the freezer section of my supermarket.
Oh and see those yummy crispy edges?  Um yeah, about that…I couldn't eat that part but the dough and filling was yummy for my gummy!
Spinach Empanadas
Ingredients
1 Tbsp olive oil
1 red onion, finely chopped
1 Tbsp garlic, finely chopped
2 tomatoes, peeled, seeded and diced
½ lb spinach, chopped
¼ cup pine nuts
1 hard-boiled egg, peeled and chopped
½ tsp ground nutmeg
Salt
Fresh ground pepper
1 package of frozen empanada dough (10 count)
Directions
In skillet, heat olive oil over a medium heat.  Cook onion until soft, stirring often.  Add garlic and cook for about 1 minute.
Add tomatoes and cook until softened, about five minutes.
Add pine nuts and spinach.
Cook until spinach wilts, about five minutes.  Remove from heat.  Stir in chopped egg and nutmeg. Salt and pepper to taste.
Preheat oven to 350.
Spray baking sheet lightly with cooking spray.  Using a slotted spoon, add 1 Tbsp of filling to each round.
Lay on flat surface and fold dough in half.  Pinch edges with fork prongs to seal.
Carefully move filled empanada to baking sheet and brush with olive oil.  Then, repeat steps with remaining empanada rounds.
Bake for 25 minutes or until slightly golden brown on edges.
Serve plain, with side of aioli or a dash of Tabasco hot sauce. (I served mine with a cup of homemade tomato soup, but I'll tell you all about that next week.)
'
Thanks for joining our weekly Friday Food Fight! Can't wait to see what everyone is flinging this week!


*Also shared at*