A recent article published in New York magazine, I Love My Children.  I Hate My Life, was featured on the Today Show this morning.
After raising a family for almost a decade and organizing a moms group for several years, I can empathize with that statement and I understand why many parents would make such a claim.  After reading the New York magazine article, I also understand how statistics support such a statement.
Some couples would tell you they had children to complete their lives.  For many married couples, it's the next logical step.
From a young age, my mom brainwashed my sister and I with the rules of life.  According to our mom, the road to life had to be followed in this order:
Go to college.
Get a job.
Get married.
Have children.
Shortly after I landed a teaching job, I met my husband.  Four years later we got hitched and two years later we began our family.  At that point, I had been teaching for 7 years and I was ready to transition into my new job as a stay at home mom.
With the birth of my first daughter, I was reduced from a professional to an underpaid nursemaid/nanny and I lost contact with my former life.  Like many mistaken parents, I thought my life would be filled with sunshine and rainbows with the arrival of a new baby.  I quickly learned the quite the opposite was true.  I felt trapped by my newborn and although I was never diagnosed by a professional, I believe I suffered from postpartum depression.
Thankfully, I recognized the miserable state I was in and sought out professional help.  For about 6 months, I started seeing a therapist bi-weekly and I began to feel like my old self again.  During that first year, I also developed friendships with other moms through a local moms group.  I found support and I discovered I wasn't alone in my miserable motherhood pit.  With the aid of some wonderful friends, I learned how to survive the struggles of motherhood and realized I needed to take one day at a time.  My motherhood experience would be measured in brief and random moments of happiness and I had to be prepared for the not- so- great moments too.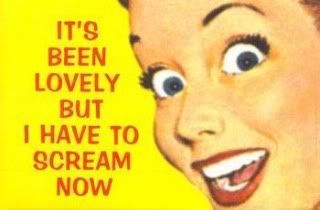 Three years later, I felt ready to face another newborn and any postpartum I would suffer again.  Thankfully, the second time around I didn't experience any baby blues, which I believe can be attributed to my wonderful friends and support system in place.
Now, with anticipating arrival of baby #3, I find myself worrying once again over balancing homework, extracurricular activities, housework and all the other responsibilities that come with raising a family.  Sure I'm scared, but I'm happy.  I would much rather change diapers again and create a happy home than create lesson plans.  This is where I want to be.
In nearly nine years as a SAHM, I have learned that happiness doesn't come from external factors, but truthfully, I think I knew that all along.  There's never enough money.  Accumulating more stuff can fill my house but it can't fill my happiness.  And I certainly can't expect my children to be responsible for my happiness.  I have to find my own happiness within myself.
In this crazy, busy world of SAHM, I can never punch out, but I can find my own happy hour.  If I was still in the working world outside the home, I would get hour long lunch breaks and 15 minute breaks, but even SAHM need breaks.  When my girls were younger, I used nap time as a time to recharge and distress.  A few years later, I discovered running to be my true happy hour.
No doubt children provide immeasurable joy, but even with all that joy, children can be a burden on a marriage.  Therefore, my husband and I understand the importance of plugging into our marriage to maintain a happy marriage and date nights are one way we recharge our marriage.  By abandoning our parental duties for a few hours, we rekindle those euphoric feelings that started it all fifteen years ago.
Also, many of our daily conversations revolve around other topics besides the kids, the house or meals.  We'll share opinions on life, news, politics and religion just like we did before kids.   By doing this, we see each other as equals and I find an outlet for stimulating conversations.  Intelligent and meaningful conservation keeps both of us happy.
Perhaps my pleasure results from the simplicity of my life.  I get great joy saving $20 from coupons at the supermarket.  I love lying in bed watching movies with my girls.  I swell with pride with each developmental milestone.  I enjoy prancing off to play dates.
Of course, I'm unhappy when my girls fight or throw temper tantrums and I'm miserable when my house is cluttered and needs to be tidied.  But clean or dirty, a house filled with children makes me happy.  I wouldn't change a thing.
I love my children.  I love my life.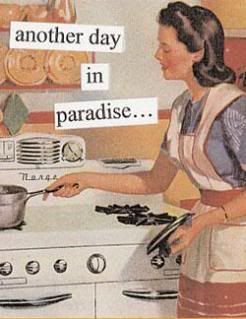 ***This post was inspired by Mama Kat's Writer WorkshopChoose a headline from The Today Show website and write up an opinion post based on the story you chose.