Disclosure: This post is sponsored by the Florida Prepaid College Board, through my role as a Believer Blogger. All opinions are my own
What New Year's resolutions did you make this year?
If you are like the one-fifth of Americans, you may have made a resolution to "save more/spend less", according to bankingrates.com.
At the start of the new year, many families are evaluating, prioritizing and goal setting. Whether you are a new parent or a parent of a high schooler with college on the horizon (like me), then you have definitely prioritized "saving more and spending less" like 20% of Americans.
In recent years, skyrocketing college costs, a slow economy and costly Prepaid Plan prices have caused families to put off saving for college. Since 1985 the cost of college has increased 538% – more than medical costs (286%) and gasoline (200%). In 2007, the newborn price for a 4-Year Florida University plan was $14,616.26. In 2013, the same plan cost $53,729.20. Now it's back down to less than $30,000, thanks to controls on tuition in Florida.
However, student loan debt is still a significant issue with the average student graduating with at least $29,000 in loans. Overall, student loan debt has reached $1 trillion of debt among Americans.
Thankfully, the Florida Prepaid College Board is committed to helping Floridian families save for future qualified higher education expenses by providing a cost-effective, financially sound, Prepaid College Plan and other college savings programs. Florida Prepaid College Plans allow families to pay for the future cost of college in advance. Simply, choose a plan and make the payments.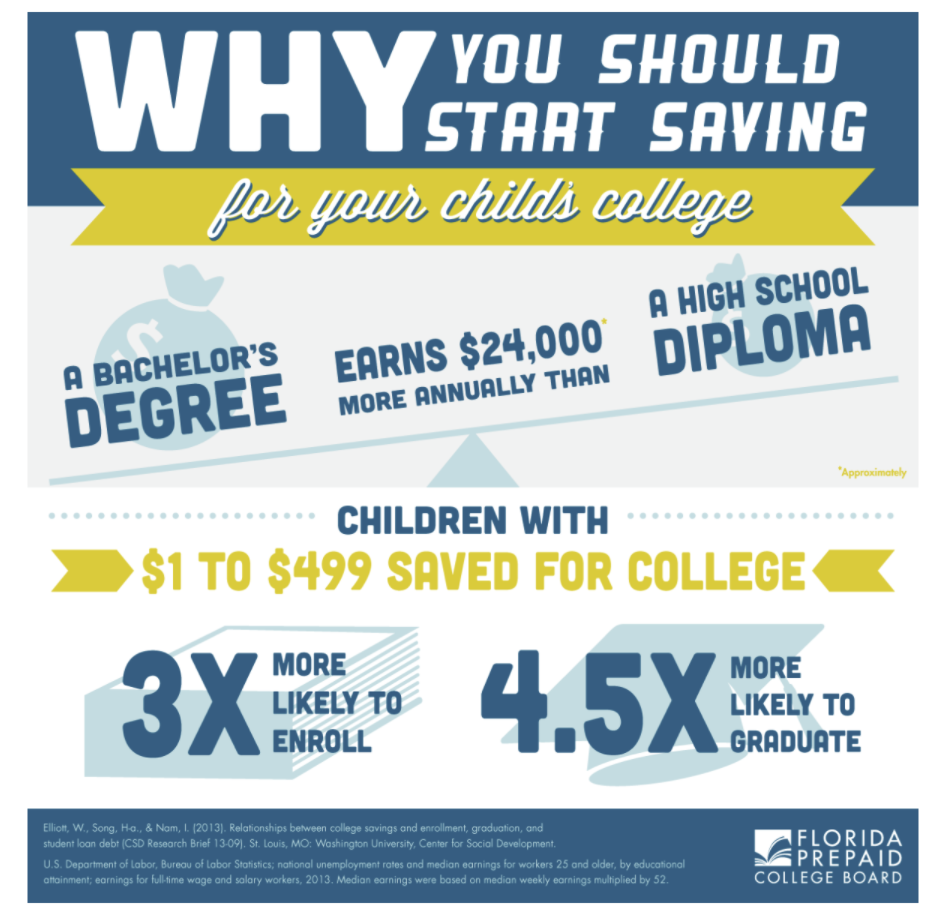 Why a Prepaid Plan?
Easy online application.
Plans are guaranteed by the state of Florida.
Prices are locked.
Tuition and most fees covered
Plan payments can never increase.
No tuition inflation.
Flexible
Peace of mind

If you're not sure which one of the five Florida Prepaid College Plans complies with your New Year's resolution to "spend less/save more", the Florida Prepaid Plan calculator helps determine a plan that fits your family's needs. For my three children (ages 16, 12, 7), the calculator demonstrated the importance of starting a plan sooner than later. As you see, with a 10th grader, a 7th grader and a 2nd grader, starting is believing to be locked in the most cost-efficient plan. Time is of the essence!
Don't delay! Apply Today!
Open enrollment ends Feb 28.
Apply now and save $25 off the application fee with promo code DENISE1718. Filling out an application only takes about 10-15 minutes and worth the time. Multitask and manage your time by filling the application while waiting in carline at your kid's school or at the doctor's office.
Your resolution to save more is only a click away. Visit www.myfloridaprepaid.com to learn more about the types of Florida Prepaid Plans available and make 2018 your year to save more for your child's future.
#StartingIsBelieving