When Karen of If I Could Escape moved back to the UK in 2010, Kirsten of Gone Bananas and I began fantasizing over all the yummy British foods she would soon be savoring. As we dreamingly drooled over tasty British treats, Karen began to get a bit melancholy for the food she would be missing here in the States.  Once we wiped the drool off our chins, the three of us concocted a clever way to tease share all our favorite foods and that is how we our Friday Food Fight began.
Now, a few years later since we first began flinging all those foodie photos at one another, life has served up some new tasty adventures for Karen and Kirsten, however, I continue tossing delicious dishes at my readers by sharing our family's favorite recipes.
Below are some the recipes I've featured in my weekly Friday Food Fight.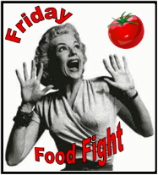 Breakfast
Heart-Healthy Spinach Chicken Sausage and Egg Cups
Iron Chef Allan's Perfect Pancakes
I Found My Thrill on a Blueberry Hill of Scones
Egg and Sausage Breakfast Casserole
Leftover Cranberry Sauce Muffins
Peach Blueberry Egg Bread Bake
Healthy Blueberry Yogurt Parfait with Maple Syrup Blueberry Sauce
Smoothies
Berry Cherry Black Forest Smoothie
Strawberry Avocado Lime Smoothie
Appetizers
Run DMT's World Famous and Always Requested Hummus
Carmel Café Inspired Grilled Mojo Chicken on Flatbread
Scotch Eggs with Sriracha Dipping Sauce
Salads and Sides
Low Fat Garlic Mashed Potatoes
Sweet and Savory Chicken Salad
Roasted Summer Squash and Eggplant Medley
Roasted Potatoes and Brussels Sprouts with Garlic and Rosemary
Heart-Healthy Spinach Avocado Egg Salad
Skinnytaste's  Southwest Black Bean, Quinoa and Mango Medley
Roasted Rosemary Fingerling Potatoes
Five Happiness Mandarin Orange Salad with Spicy Orange Dressing
Sweet Pea White Cheddar Tortellini Salad
Blueberry Apple Crunch PEPPERGREENS Salad
Soups
Run DMT's Delicious Red Beans and Rice Dish
Leeky, Creamy Chicken and Dumpling Soup
Healthy Tuscan White Bean Soup
Crockpot Meals
Crock Pot Turkey White Bean Pumpkin Chili
Low Fat Copycat – Olive Garden's Zuppa Toscana
Pasta
Run DMT's Seven Ingredient Sauce (with white wine)
Sage and Sundried Tomato Cream Sauce
Baked Penne with Chicken Sausage and Broiled Eggplant
Creamy Avocado and Roasted Tomato Fettuccine
Linguini with Roasted Tomatoes and Arugula
Vegetarian
Roasted Vegetable Mexican Lasagna
Roasted Honey Lime Zucchini Quesadillas
Rolled Eggplant with Basil, Asiago and Mozzarella
Vegan Lentil Shepherd's Pie with Parsnip-Potato Crust
Greek-Style Quinoa Stuffed Cabbage Rolls
Mashed Cauliflower and Arugula Stuffed Portobellos 
Poultry
Crowd-Pleasing Chicken Cutlets
Chicken-Mushroom {and Spinach} Quesadillas
Skinnytaste's Chicken Tikka Masala
Cherry Tomato and Italian Chicken Sausage Bake
Copycat Chipotle Burrito Bowls with Cilantro Lime Rice
Broccoli and Swiss Cheese Stuffed Chicken
Skinnytaste's Chicken Rollatini Stuffed with Zucchini and Mozzarella
Chicken Marsala and Mushroom Casserole
Butterflied Whole Chicken with BBQ Sauce
Asian-Style Sticky Ginger Grilled Wings
Seafood
Roasted Tomatoes with Shrimp and Feta
Sage Shrimp with Spinach, White Beans and Feta
Beef
Corned Beef with Red Potatoes and Cabbage
Desserts
Frostbitten Red Velvet Brownie Bites
Aunt June's Struffoli (Honey Balls)
Oatmeal Craisin White Chocolate Chip Cookies
Mexican Wedding Cakes for Cinco de Mayo
Martha Stewart's Shortbread Candy Bars
Guinness Brownies with Butterscotch Fudge
Chocolate Chip Cookie Dough Cupcakes
Peanut Butter Delight Pupcakes
Caramel and White Chocolate Chip Oatmeal Cookies
Mango Riesling Coulis #SundaySupper
Drinks
Better Than Margaritaville Margaritas