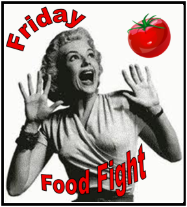 You know, you really do learn something new every day.  Yesterday, I learned that beer can become skunky.  With as much beer as I like to drink, I had never heard this term before to describe a beer that goes bad.
Although Mic Ultra beer always tastes flavorless and shitty awful to me, I had to take Kelly's word for it when she said her beer tasted skunky.
Skunky or not, American beer is hard to come by in the UK, so for this week's Friday Food Fight, I'm serving skunky suds and my favorite beer, Sea Dog Blue Paw, a blueberry wheat ale.
Now, link up and see what If I Could Escape and Gone Bananas are serving for this week's Friday Food Fight.
Powered by Linky Tools
Click here to enter your link and view this Linky Tools list…