I have just received my first blogga bling from the always marvelous Jennifer of Happily- Ever-After-Land! 
How fitting is my first award?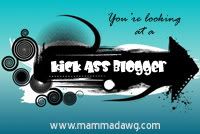 Thanks to Jennifer, I am truly feeling the love in the blogosphere and now I must spread the love by sharing my Kick A$$ Award with 5 other booty busting bloggers.
And as though it couldn't get any better, my blog was spotlighted on momdot.com!  Does this make me an official momma blogga now?  I am gushing with pride! Thank you! Mwah to everyone from moi! 🙂
Let's celebrating with some dancing…
[youtube=http://www.youtube.com/watch?v=hKHER9JvkSQ]
and a drink or two.  Who wants a Hurricane?