Allana's teacher sent home a note encouraging the children to build leprechaun traps and bring them to school to try a catch a leprechaun.  The trap could be a design as simple as a pencil propping up a shoebox.
With my sister's wedding the weekend before St. Patrick's Day, there wasn't enough time to get too creative.  Sunday evening, we used an empty strawberry container to create this masterpiece.
The bait (pasted chocolate gold coins) would lure the leprechaun to the top of the carton where the leprechaun would fall through the invisible trap door.  The Easter grass would soften his fall and of course, camouflage this ingenious, inexpensive, truly "green" trap.
Allana also wanted to build another trap for the house.  In the previous years, we've built traps out of old shoeboxes, but this year, Allana wanted to build something different since the others never seemed to catch a leprechaun.
Family Fun magazine featured some very creative leprechaun traps this month, which got Allana's wheels spinning and she decided to build the rainbow model, of course.  We found some time after homework on Monday evening.  Even Dad got into the act because this high-tech triggered trap would require his assistance to construct it properly.
Once the leprechaun snatched the pot of gold (one egg cup from an egg carton painted black and filled with chocolate gold coins), the cloud (an applesauce pot covered in cotton balls) would drop and trap him underneath.
 Alas, neither trap caught a leprechaun this year.  Her trap at school snatched the leprechaun's pants (a small piece of green felt cut in the shape of pants) and one gold coin, which she thinks fell out of leprechaun's pocket when the trap snagged his pants.
The rainbow trap at home failed to catch the leprechaun as well, however, this leprechaun decided to leave gold and green trinkets and goodies.  A can of green beans, emerald green jeweled Jibbitz, a sparkly green jump rope and two books are some of the items the leprechaun left.
The leprechaun also left a note tucked in the Easter grass of the trap.
Thought you could catch me!

Ha!  Ha!  Nice try!

But I was too clever and swift

For a trap from the sky!
Allana is already designing and planning next year's trap with the help of the book The Night Before St. Patrick's Day.  Actually, she isplanning to build several traps next year!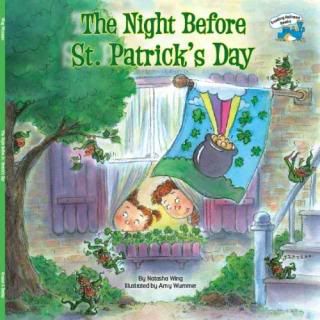 Should I feed her obsession and buy the book  The Leprechaun Trap?