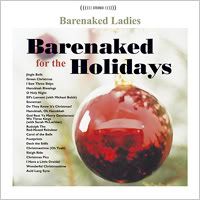 Since Barenaked for the Holidays is one my favorite Christmas albums, I've selected Barenaked Ladies' version of God Rest Ye Merry Gentlemen for this week's Christmas Musical Monday theme.
More than an album full of stuffy Christmas standards, Barenaked Ladies showcase their talents and humor with their own style and flare of holiday favorites.  Adding Sarah McLachlan's sweet angelic voice as an accompaniment to their joyful sound of God Rest Ye Merry Gentlemen makes this Christmas classic even more enjoyable.
[youtube=http://www.youtube.com/watch?v=HGVNzgUxE-g]
And since Hanukkah, starts this Friday, I shared Hanukkah, Oh Hanukkah by BNL on Blip.fm since I couldn't find it on You Tube.
Happy Hanukkah!