Stumbling upon quaint mom and pop shops makes visiting small towns a real treat and Black Bear Books in Boone, North Carolina is no exception.
After freezing our snowballs off snow tubing, Allan and I decided to warm up in a bookstore that touted "FIREPLACE" on its marquis.  Sipping hot chocolate next to a fierce fire while reading a local newspaper seemed like a delightful way to defrost.
Upon entering the bookstore, we were surprised by its large stature.  At the back of the store, the girls quickly located the children's section complete with stacks of award winning literature, a train table and wooden puzzles.
In such a cozy atmosphere, we found it all too easy to settle into this homey bookstore.  Once we found the regional children's literature section and a collection of the owner's son's favorite books, the girls and I swayed in wooden rocking chairs as we read books from each collection.
The owner, Karen Walker, welcomed us into her second home with free hot chocolate for the girls and coffee for Allan.  Her hospitality warmed us better than the fireplace.
Ms Walker shared some of her favorite children's books with the girls and her own life's story with Allan and me.  We enjoyed a brief history lesson of her family and the remarkable journey that brought her to settle in Boone.
Allana curled up in the corner of the children's stacks reading book after book while Emmalynn played with the puzzles and I snuck away for a few minutes to explore the adult fictional regional section since I prefer bringing books home as souvenirs rather than t-shirts or trinkets.
While exploring the store, I discovered the employee's favorite picks, which included some of my favorite reads, such as Pillars of the Earth and Wicked.  Meghan, a young sale associate, offered a brief description of some of the other books spotlighted on the shelves and explained that Ms. Walker holds a contesteach month to see which employee's picks sell the most books. By choosing Tom Robbins Jitterburg Perfume, we helped one associate get a little closer to winning the prize.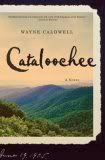 I returned to the regional fictional literature to continue my hunt for a book set in the Appalachians.  After reading the titles and their summaries over several times, I found one that offered just the scenery I craved: Cataloochee.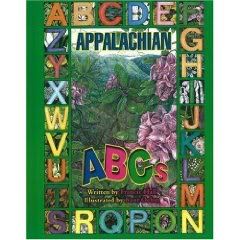 For the girls, I grabbed the Appalachian ABCs and coincidentally, Emmalynn and Allana both selected regional books as well.  Allana chose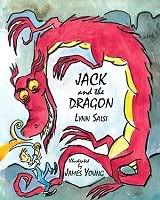 Jack and the Dragon, which tells the adventure of an Appalachian folk hero.  Emmalynn picked Blue Bowl Down.  Its lovely sing-song pattern deserves a banjo accompaniment.
Ms. Walker continued to pour the hospitality along with the coffee and our visit at Black Bear Books lasted nearly two hours.  So taken with Allana's love for reading, Ms. Walker offered her a free copy of one of her many Magic Tree House Books and Allana chose Magic Tree House #17: Tonight on the Titanic.
As we wrapped up our visit at the register, Allana noticed Ms. Walker's collection of gems.  Allana expressed her love for rocks and Ms. Walker insisted that we pay her friend, Doc, a visit at his gem mine before we left Boone as most of the gems proudly displayed in her case came from Doc's Rocks Gem Mine.  Excited about the prospects she would find there, we promised to take Allana the next day upon Ms. Walker's recommendation.  To hold them over until then, Ms. Walker gave each girl a gem, however, Ms. Walker and our experience at Black Bear Books was the most precious gem we uncovered that day.
***Photo of Karen and Chris Walker and their son, Caleb, was borrowed from The Mountain Times.***