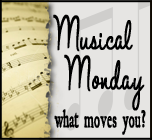 Our Musical Monday host, Diane of Good Mourning Glory, is celebrating one year of toe-tapping, disco dancing, hip-hopping, rapping, old-schooling, flashbacking, guitar strumming, headbanging, moshpitting, country twanging, standards swaying, slamdancing fun. 
For this big bloggie occasion, Diane is hosting an iTunes/Amazon music giveaway to commemorate a year with this musical meme.
I joined for the first time last July, but since then, I keep coming back each week for more.  With that first Pussycat Dolls post, I connected with some really cool bloggers and was introduced to music outside of my typical tunes.
So alongside Diane today, I celebrate Musical Monday and all the bloggie buddies I've made over the past few months since I joined the fun.
I gotta feeling it's gonna be another great year.
[youtube=http://www.youtube.com/watch?v=-zcOFN_VBVo]