Until the recent death of Corey Haim, I hadn't given much thought to the two Coreys in nearly twenty years.  As the media uncovers more and more stories and photos of Corey Haim in the last days before his untimely death, it breaks my heart to see yet another Hollywood star burn out too soon. Somewhere deep inside a broken and destitute nearly 40 year old man, hid the young Corey Haim that so many girls from my teen days loved and although I never had a teen crush on either of the two Coreys (Corey Feldman and Corey Haim), I prefer to remember them as they were back in their heyday.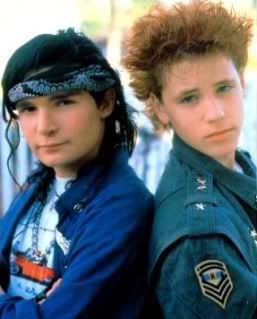 Most girls back in the 80s crushed over the two Coreys in License to Drive, but my favorite films featuring them were The Lost Boys and Dream Little Dream.  The Lost Boys, an iconic 80s film, had teen girls swooning over sexy vampires well before Edward, but Dream a Little Dream, haunted me for years far greater than The Lost Boys ever could.  Dream a Little Dream introduced me to a unique fantasy plot and a story line that I have since seen played over many times again in other films and novels, but since that first introduction, these twisted, body switching, time traveling tales attracted my attention into my adult years.
More than creating a love for fantasy genre, both films also reinforced my love for movie soundtracks.  (As I mentioned in earlier posts, I've always loved movie soundtracks, thanks to John Hughes and other directors making careful consideration when selecting music to match scenes.)  Echo and the Bunnymen's version of People are Strange from The Lost Boys opened my music world to The Doors.
[youtube=http://www.youtube.com/watch?v=fSDc1TF8MSA]
But I attribute Dream a Little Dream bringing me Into the Mystic and discovering the world of Van Morrison's music.  Until Corey Haim passed away, I had completely forgotten about this movie, which is where I first heard Into the Mystic and the song how moved me way back when.
[youtube=http://www.youtube.com/watch?v=rq53NkUZAT0]
As the news agencies delve deeper into the reasons behind Corey Haim's death, an uncanny irony unfolds as we learn how this poor soul became a true lost boy who got caught up in the crazy world of drug addiction. Although we may never know the root of Corey Haim's addiction, Hollywood and its walking undead resembles the town of Santa Carla more and more.