Greetings from Land O'Lakes, FL!
This week, BlogTrotting requested me to share my small slice of the Sunshine State.  Although I live in Land O'Lakes, my little suburb is only 15 minutes north of Tampa, which is the home of the Buccaneers (Super Bowl XXXVII Champions 2002),
the Rays (American League Champions 2008 ),
the Lightning (Stanley Cup Champions 2004) and the spring training home of the Yankees.
Not to mention, Tampa is also the home of two great universities: University of South Florida (my alma mater – GO BULLS!)
and University of Tampa (my DH's alma mater).
According to Dr. Beach, the Tampa Bay has some of the best beaches, including Fort Desoto, Honeymoon Island, Caladesi Island.
Although Tampa may lack the metropolitan and ethnic flare typically found in larger cosmopolitan cities, our beautiful city still offers its own flavor of culture.
Ybor City, a section of Tampa settled by Cuban immigrants in the late 1800s, produced more cigars than Havana and became known as the Cigar Capital of the World.  Today, Ybor City is our own little Spanish New Orleans and serves up some of the best Cuban food outside of Miami.  In late October, Ybor City celebrates Guavaween, which can be compared a Halloween Mardi Gras.  Fifteen years ago, I met my husband one cold drunken Guavaween night.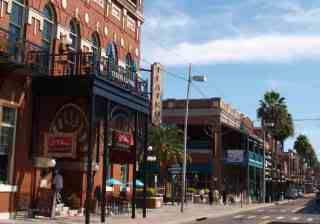 Tampa residents love to spin pirate tales about a mythological pirate, José Gaspar, who invaded our streets during the late 1800s.  From late January to early March, we celebrate Gasparilla with a variety of pirate parades, festivals and races.
As for tourist spots, I highly recommend the Florida Aquarium, which offers a gorgeous glimpse of our wetlands and coral reef and a fun splash area for the kids.
Busch Gardens is another favorite tourist hot spot.  The roller-coasters and up-close animal exhibits are simply breathtaking in more ways than one.
Lowry Park Zoo is another great place to visit when the natives are restless.
If you visit Tampa in the winter months, you will want to stop by the Teco Manatee Viewing Center.  During the cooler months, manatees seek refuge in the warm waters discharged from the power plant.  On a good, cool day, you can view close to a hundred manatees free of charge.
If you crave outdoor adventures, Tampa Bay has beautiful waterways for boating, fabulous flatwood trails to hike, bike or run…
…and several rivers to canoe such as Hillsborough River, Weedon Island or Weeki Wachee Springs, which is the home of our world famous mermaids.  Rumor has it even Elvis stopped there.
If hiking trails and primitive camping is your pleasure, Jay B. Starkey Wilderness Park was featured last spring in the St. Pete Times as one of the best camping spots in Florida, but I prefer the "luxury amenities" at Hillsborough River State Park.
I love living in Tampa Bay and can't imagine living anywhere else.  I enjoy spending almost every day outdoors and wearing flip flops all year round.  I've even got the tan lines to prove it.