To kick off our first Friday Food Fight, I thought I'd throw a great hook with a Starbucks pumpkin muffin, one of Karen's favorite fall treats.
And yes, that's cream cheese icing and pumpkin seeds on top.  Delish.
Pumpkin muffins are hard to come by in the UK.  Actually, you would be hard pressed to find pumpkin pie or anything pumpkin related.   But here in the states, pumpkin treats are as common and American as apple pie.  For me, it's just not fall without the smell of allspice and pumpkin wafting in the air.
Can't you just smell the allspice from here?
Go on.  Take a taste.  Lick your monitor.  I won't tell.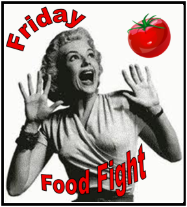 Powered by Linky Tools
Click here to enter your link and view this Linky Tools list…