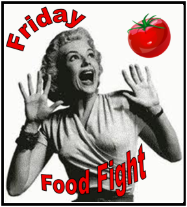 I love red velvet cake.
Well, I used to love it until I stuffed myself with two different red velvet cakes this past week for my daughter's birthday.  So sick of the sight of the cakes, I nearly threw them out but then it suddenly dawned on me that I should throw them Karen's way for our Friday Food Fight.  After all, red velvet cake is a southern treat here in the States and I would reckon that those Brits ain't seen anything as beautiful or divine as this slice of heaven right here.
Don't let the sheer volume of red dye #40 in this cake scare you because it's the fat content that is truly frightening. Did you know that one slice of this beautiful red velvet cake with cream cheese frosting has 33 fat grams a slice?  Holy hiphuggers, Batman!
Listen sweetie, I said it was heavenly, but I never say it was light.  You'll need more than a prayer and divine intervention to keep this sinful southern treat from sticking to your backside.
Link up and see what Karen and Kirsten are serving for this week's Friday Food Fight.
Powered by Linky Tools
Click here to enter your link and view this Linky Tools list…