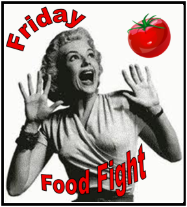 When the moon hits your eye like a big pizza pie, that's amore.
When my eye hits a pizza pie, THAT'S amore!  The sauce.  The gooey cheese.  The crispy crust.  Crushed red pepper flakes for some heat to finish my slice off.
When I first met my husband, he thought pizza was pizza.  Oh no, no, no!
In the States, you've got your deep dish Chicago style pizza lovers and you've got your hand tossed New York style pizza lovers.  I fit in the latter category, however, growing up in Florida made it difficult to find that authentic New York City taste and only a handful of pizza joints had passed my family's taste test.  Thankfully, our neighborhood pizza joint has passed the test and I'm forcing my children to love building another generation of New York style pizza lovers.
Sometimes I feel like a pizza with the works (sausage, pepperoni, onions, bell peppers, olives and mushrooms).
And sometimes I'm in a just cheese kind of mood.
Deep dish, hand tossed, the works or just cheese- any way you slice it, Karen ain't eating anything as tasty as this across the pond.
Link up and see what If I Could Escape and Gone Bananas are serving for this week's Friday Food Fight.
Powered by Linky Tools
Click here to enter your link and view this Linky Tools list…