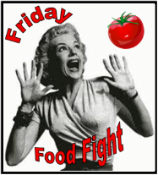 Time for another edition of Slacker Mom Confessions: I bribe my children.
I have never professed to be perfect.  Lord knows I am far from it.  For me, motherhood is all about survival.  In fact my motto as I roll into my 40s is "I'm not seeking approval.  I'm just trying to survive."
And for about $1, these icy, sweet, nothing natural, saturated with food coloring slushees from Target help me do just that.
When I shop at Target with my girls, especially during the hot summer months, I willingly buy my girls a slushee.  If they are good while we shop, they can refill their cups before we leave the store.
Works like a charm every time.  Whatever it takes, my friends and in this case, it's a little Blue #1 and Yellow #5.

And there will be a lot of it this summer.  Sweet.
Now link up and see what If I Could Escape and Gone Bananas are serving for this week's Friday Food Fight.