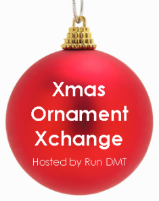 It's the gift giving season around the world and the joy of giving is the air.  Let's spread some of that gift giving joy in the blogosphere with an ornament swap!
For this Xmas Ornament Xchange, purchase or make an ornament valued up to $5 and be ready to ship it to somewhere in the United States at the close of the linky party (December  11). 
To make this Xmas Ornament Xchange more meaningful, send an ornament that reflects what Christmas feels like in your corner of the world.  Your ornament should represent your hometown.  Do you have white Christmases or do you build sandy snowmen?  When Santa visits your home, would he wear a red velvet suit or hibiscus Bermuda shorts?  Be creative and think outside of the ornament box.
To sign up for our first Xmas Ornament Xchange, add your name/blog title and blog url to the linky party below.  Then, fill out the Xmas Ornament Xchange form.  By adding your link and submitting a form, you promise to fulfill your commitment to this gift exchange.  Please do not send your gift late or fail to send one at all.
Then, promote the Xmas Ornament Xchange in a blog post.  The more, the merrier!  Add the Xmas Ornament Xchange button to your site and link back to Run DMT.  Encourage others to link up and join the fun!
The linky party will stay open from November 20 to December 11. 
Fill out the Xmas Ornament Xchange mailing address form here!
***To respect your privacy, the information collected on the form will only be used for this gift swap and deleted after the close of the gift swap.  Only the sender assigned to you will know your mailing address. ***