As I've grown older, I've become a lazy bargain shopper.  Once a die-hard Black Friday shopper, over the years I skipped out on the Black Friday madness.  Instead, I've opted to stay home and stay in my pajamas as I shopped online throughout the holiday season.  By watching the online sales with a little patience and vigilance, I am able to find the same deals or cheaper without having to fight crowds.
Amazon is my outlet of choice and every day is like Christmas when those happy little smiley face boxes arrive at my doorstep to greet me with a big grin.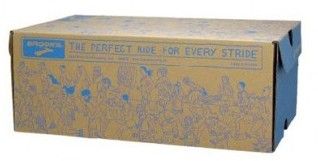 Speaking of little boxes, I did venture out to take full advantage of Small Business Saturday by visiting my favorite running store, Suncoast Running.  A special little blue box containing a new pair of Brooks running shoes has me grinning bigger than a smile on an amazon box.
[youtube=http://www.youtube.com/watch?v=LM8JhvfoqdA]
For the next four Mondays leading up to Christmas, I will be sharing my favorite Christmas songs.  I would love for you to join in the merry music making by linking up and sharing your favorite holly jolly holiday tunes.
Visit Xmas Dolly and Jade Louise Designs for more Music Monday.