Tuesday evening, I was invited to attend Annie the Musical at the Straz through a partnership with the Tampa Bay Bloggers. As a little girl back in the 80's, I first experienced Annie on Broadway with my family and my Grandma Nancy. It is a cherished memory and I still possess the Annie doll my grandmother bought for me as a souvenir after the show. Nearly 35 years later, that beloved raggedy Annie doll tagged along for the movie reboot.
Then on Tuesday evening, my beloved raggedy Annie doll, my two girls and my mom (Grandma) also tagged along for the Broadway on Tour revival, Annie the Musical at the Straz Center. I was overwhelmed with gratitude to relive that cherished moment all over again.
In this Annie the Musical revival, all the endearing elements are still there including all the long-adored characters Annie, Oliver Warbucks and Miss Hannigan and of course, the Tony-Award winning tunes. In this revival, however, the songs happen during scene changes rather than downstage in front of a closed curtain.
And scene changes unfold quickly as sets rotate and turn to reveal NYC city life and the dark hell-hole of Ms Hannigan's horrible home. The two backdrops (Skid Row nestled under the Brooklyn Bridge and Daddy Warbuck's golden palace) perfectly illustrate the stark contrast of the very poor and the very wealthy during the Great Depression of the 1930s.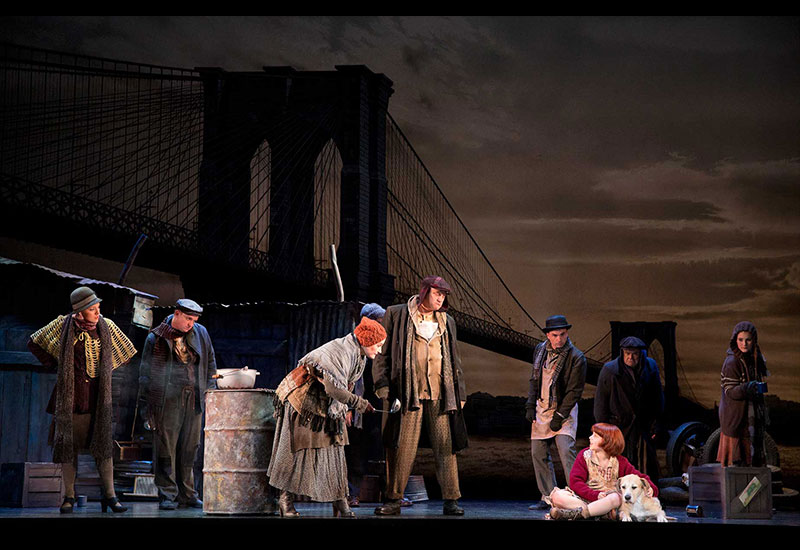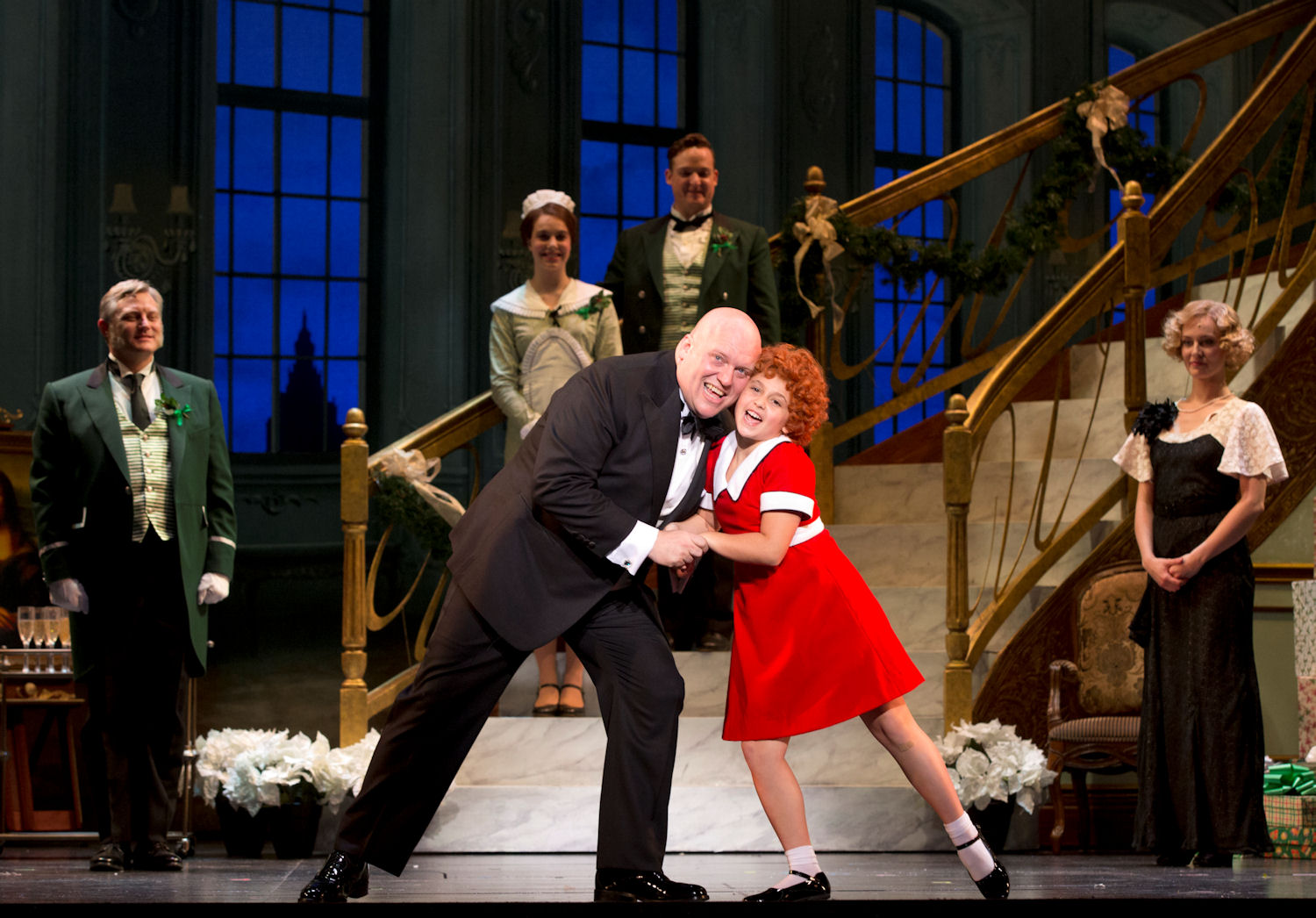 The "Broadway on Tour" revival of Annie the Musical introduces the incredible talents of young Issie Swickle as Annie and her nemesis, Miss Hannigan, played by the Lynn Andrews and Andrews successfully fills the shoes of the Hannigan predecessors.
In fact, Andrews' comedic timing, scowls and shimmies play a wonderful Hannigan homage to the original cast, particularly during "Easy Street".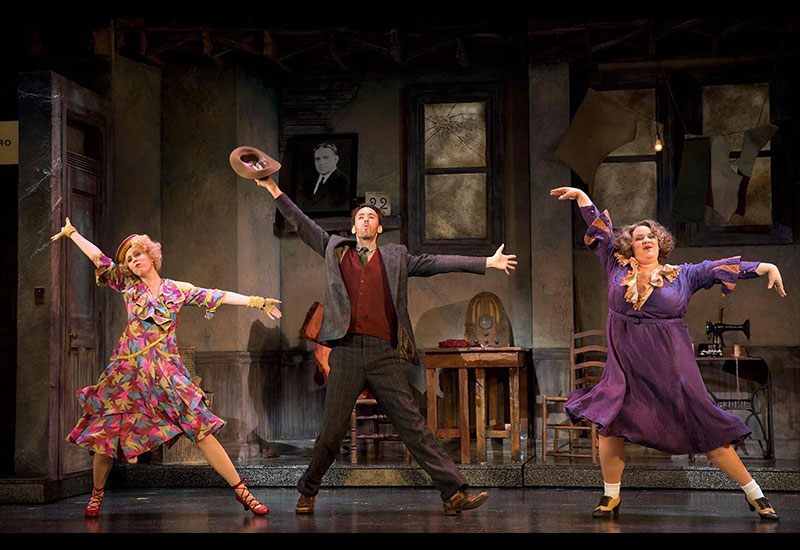 As I watched Annie the Musical with my girls (who will hopefully cherish this moment 30+ years later with their daughters and me – Grandma…eek!) so many beautiful life lessons were unveiled throughout the show which I never realized before.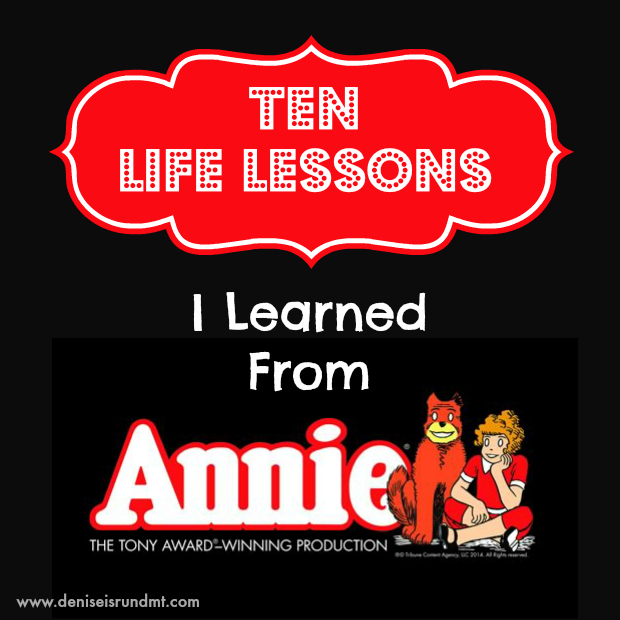 Ten Life Lessons I Learned From Annie the Musical
Stay optimistic.
The sun WILL come out tomorrow. Really, it will! A better day always lies ahead of you. To quote President Roosevelt in Annie the Musical, "Every cloud has a silver lining." You just have to believe that it will come and open your heart to it.
Life is tough.
Occasionally, life loves to offer some hard-knocks, but how you deal with it makes a world of difference. Keep your chin up and know that it is only temporary. This too shall pass.
Avoid toxic people.
This is easier said than done because sometimes toxic people live under the same roof as you. Never allow them to break your spirit. Continue to love them unconditionally, but love yourself more. Be true to you.
Drinking never solved any problems.
Laughter is the best medicine. So put down the bottle and find things that make you happy and fill your spirit in a positive, healthy way.
Be kind to all creatures.
Whether it's toxic people or furry lost strays, love all creatures unconditionally. You never know what tragedies or the inner battles people have faced to make them the way they are. Simply, look past the scruffy, sad exterior and see the beauty within them.
History repeats itself.
At any moment, our safe world can crumble. One minute, you're living in the lap of luxury and the next, you are living on the streets. With the Great Depression in the 1933 and the most recent Great Recession in 2004, Annie the Musical still illustrates the uncanny similarities between the millions of impoverished Americans and the ridiculously wealthy 1% and the tremendous gap between the two worlds decades after its debut on Broadway. In both eras, programs are put into place to help those in need and offer some relief while others resent the notion.
You're never fully dressed without a smile.
A smile really is the best accessory for any look. Whether you dress up or dress down, the sparkle of beautiful smile will always complete any look better diamonds.  Not to mention, oral hygiene is so important and a window to your overall health. So brush those pearly whites at least twice a day!
Work hard for your dreams.
Oliver Warbucks proudly shares his story of being orphaned at ten years old and how he worked hard to make money to survive, earning his first million at age 23. In other words, set goals for what you want from life and work towards those goals. Never lose sight of what you want out of life and ask yourself daily, "How does this activity help me reach my goal?"
Money won't bring you happiness.
All the money in the world can't buy you love, although it can certainly afford you the luxury of housekeepers, a personal chef, a chauffeur and a staff to wait on you 24-7. However, you can choose to be with rich with worldly possessions or rich in spirit; only a handful of people have mastered both. When we surround ourselves with people who love and support us and we return that love, it lifts us to even greater heights. Find time for loved ones and your will never be poor in spirit.
Strive for work-life balance.
All work and no play made Daddy Warbucks a dull billionaire boy but with the help of a warm-spirited orphan, he began to see the world in a whole new way. In our over-scheduled worlds, we often do the same. We become so consumed with making money and working overtime that we forget to live life to its fullest. For peace of mind and for our family's sake, it's so important to schedule downtime and some unscheduled play time fun.
Experience these and more time-tested life lessons! See Annie The Musical at the Straz with a performance tonight at 7:30 p.m, 8:00 p.m. on Friday and two shows this Saturday (Sat. 2 and 8 p.m.) and Sunday (Sun. 1 and 6 p.m.) Tickets start at $45 and can be purchases online at www.strazcenter.org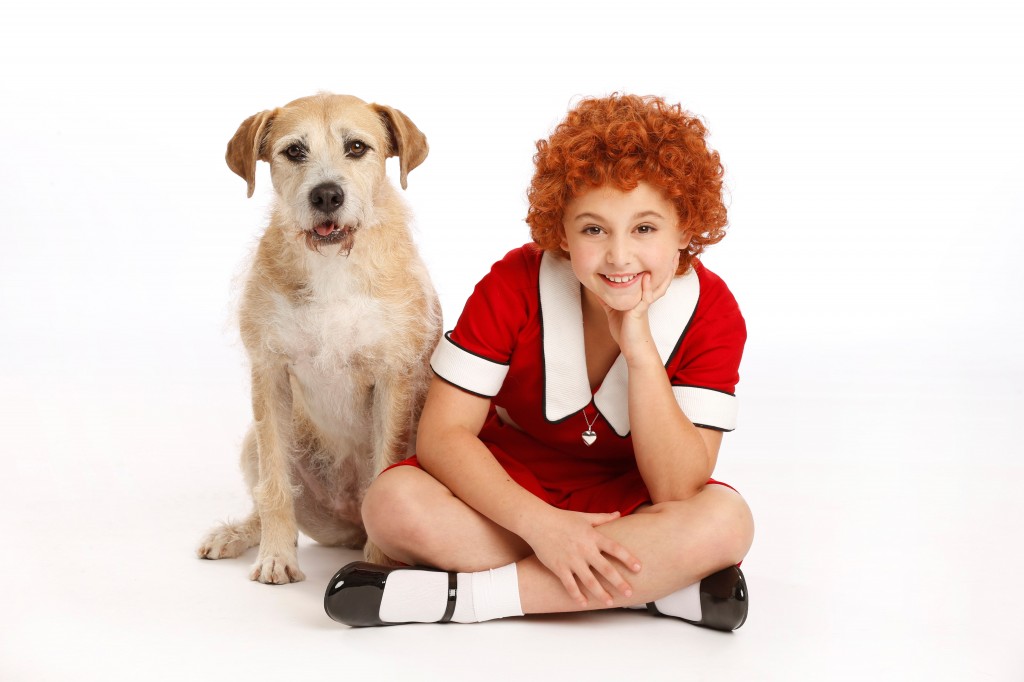 Help the sun to come out tomorrow for children in need!
Annie, the Straz Center and Metropolitan Ministries have partnered to collect school uniforms for children in need. Donations of primary school uniforms and other children's clothing will be accepted at the Straz Center at ALL performances. The drive benefits Metropolitan Ministries who serve families in need in Hillsborough, Pinellas, Pasco and Polk counties.
Disclosure: As part of a partnership with the Straz Center and the Tampa Bay Bloggers, I received four tickets to Annie the Musical in exchange for my honest review. All opinions shared are my own.