A year ago today, Little Julia gave her mom the tightest bear hug before she lay down for a nap as if to say farewell for the final time.  During her slumber, she was called to Heaven and left behind her older sister, Jordan, and her parents, Jackie and Bob.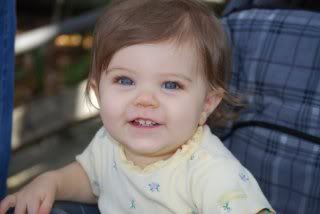 At 15 months old, Julia passed away to a SIDS related death also known as Sudden Unexplained Death in Childhood (SUDC).  
Taken from SUDC.org
SUDC is not new, but it is very rare. Sudden unexplained death in childhood (SUDC) is rare, with a reported incidence in the United States of 1.3 deaths per 100,000 children, compared to 57 deaths per 100,000 live births for SIDS in 2002. It is not surprisingly, therefore, that there is very little known in the medical literature about SUDC.
Last Cinco de Mayo, I hosted a dinner play date at Tijuana Flats.  Jackie and her girls along with several other friends joined us there.  Julia had just started walking and her baby curls bounced with every wobbly step she took.  That was the last time I saw Julia's piercing blue eyes and smiley face.
Her untimely passing shook our moms group to the core.  As an organizer, I lacked the experience to deal with such a tragedy.  As a parent, I only hugged my girls tighter and counted my blessings.  Sadness now loomed over the group and no one knew how to handle the grief or how to help this family heal. 
In the weeks that passed, the members of Moms on the Go with the help of their friends and family supported Jackie's family with love, prayers, groceries, delivered meals and funeral expenses.  None of which could help fill the hole in this poor family's hearts.
Jordan, Julia's older sister, guided her family through this tragedy.  With her child perspective on life and death, she helped her family heal by offering explanations on why God chose Julia to be His angel.
A year later, I am amazed by Jackie's strength.  She openly talks about her angel and cherishes stories that others share about Julia. 
Since Jackie is an avid runner, Moms on the Go will host a Race for a Reason this October to honor Julia and to raise awareness and money for SUDC.org.  
Please say a prayer for the Julia's family to help them through this difficult day.
For more information about SUDC, please visit SUDC.org and What You Should Know About SIDS and SUDC.