My daughter definitely inherited my love for party planning and with her obsession over Harry Potter, she planned a whole party around the theme of the books and the movies.
Her magical grand design included a Hogwarts dining hall with a table for each house (Ravenclaw, Gryffindor, Hufflepuff and Slytherin), a sorting hat, a potions lesson by our resident witch (me) and a Quidditch match, of course.
When sharing her master plan, she told us that she wanted to decorate the entire house to resemble Hogwarts.  Upon entering the house, the guests were to walk through Diagon Alley to find their necessary supplies and then report to Hogwarts.
As much fun as that all sounded, I couldn't stomach the idea of 1) decorating my ENTIRE house the day after Halloween, 2) spending all the money required to decorate our entire house and 3) having about 40 children in my house.  So, I convinced Allana to scale down the party a bit and offered to rent our community's clubhouse, which is available at a very modest price.
Between races and other commitments, October is always a busy month for us, therefore, I tried to keep everything as simple and basic as possible, but still honor Allana's request.  For the invitations, I downloaded the Lumos font from MuggleNet.com and modified text in the Hogwarts acceptance letter from Harry Potter and the Sorcerer's Stone.
HOGWARTS SCHOOL of WITCHCRAFT and WIZARDRY 

We are pleased to inform you that you have been accepted at Hogwarts School of Witchcraft and Wizardry

In honour of

 Allana's 8th Birthday

Sunday, November 1, 2OO9

2:OO P.M.

Our Clubhouse

777 Our Street Drive

We await your owl by no later than October 26.

Yours sincerely, 

Minerva McGonagall

Deputy Headmistress
On the front of the invitation, I added the Hogwarts seal for authenticity.  Allana loved it and even commented on how "it looked so real".
For the party decorations, I found everything I needed with one trip to the local dollar store.  We set up four tables (one for each house) and covered the tables with black vinyl tablecloths.  At each place setting, we set a purple plate, a purple napkin and a plastic purple spider goblet for each child, which would be theirs to keep after the party.  Each goblet held a goodie bag filled with an assortment of Jelly Belly Jelly Beans to represent Bertie Bott's Jelly Beans.  Then, I covered another table with a purple tablecloth for the presents and hung spooky paper chandeliers from the ceiling to finish the Hogwarts dining hall look and feel.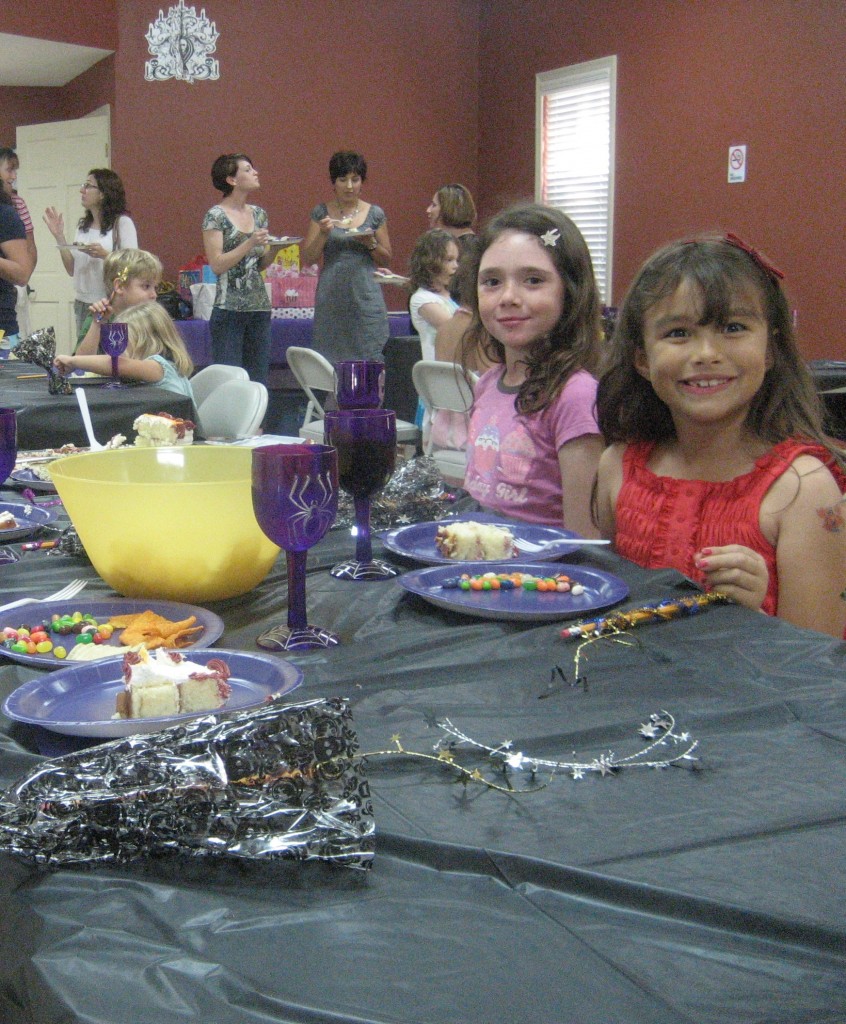 Of course each Hogwarts student needs a wand, so I found a cheap frugal wand craft on-line that consisited of pencils, pipe cleaners and star wire.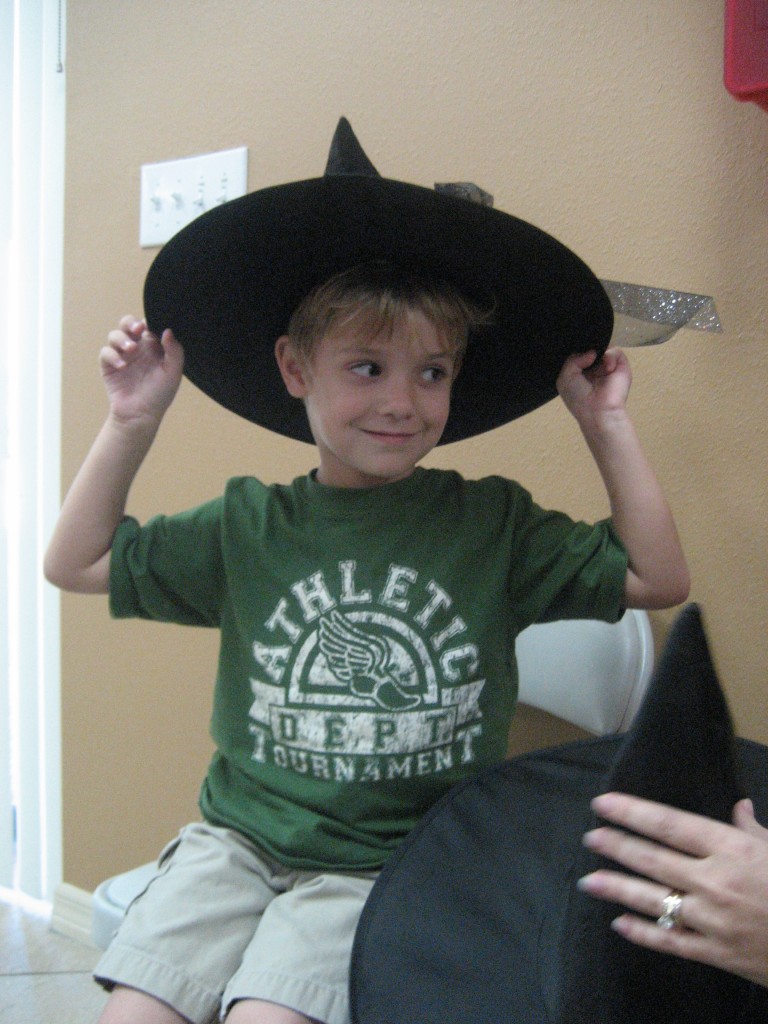 Our little wizards could make assemble their wands while waiting for other guests to arrive. Allana insisted that each child be sorted as they arrived.  I dug up two black witch's hats from our dress-up clothes box: one to be placed each child's head and the other to hide our baby monitor.  When the guests entered the room, we asked them to sit in a chair near the door and placed the "sorting hat" on their heads.  On the other side of the room, Dad held the baby monitor.  Speaking into the monitor, he pretended to be the voice of the sorting hat and selected a house at random for each child.  The children giggled in delight upon hearing our talking sorting hat.
As the guests made their way to their tables, we served chips and filled their goblets with Butterbeer (Root Beer).  Then, to begin our Hogwarts celebration, we sang "Happy Birthday" and served the cake at the start of the party because the planned activities would take us outside and give the children a chance to burn off the sugar high.
For my potions lesson, I told my students as I assembled the ingredients, "I'm not a very good witch and I always mess up my potions, so I don't know what may happen here.  Sometimes the results are very explosive!"  I poured in a cup of powdered bat's bones (baking soda) into a cauldron.  I added a drop of frog's blood (red food coloring) and then poured in some ogre sweat (white vinegar).  The students squealed with delight as the concoction erupted out of the cauldron.
After our explosive potions lesson, Dad lead the children in a quick game of Quidditch for Muggles.  No broomsticks required, but it was a fun game of controlled chaos.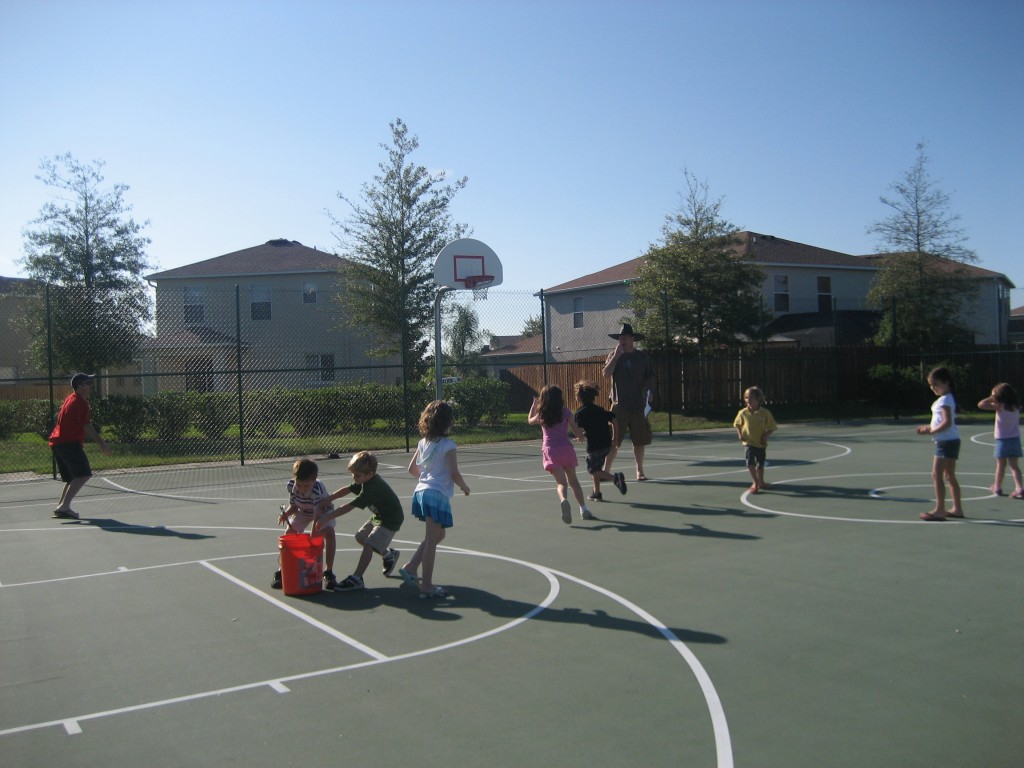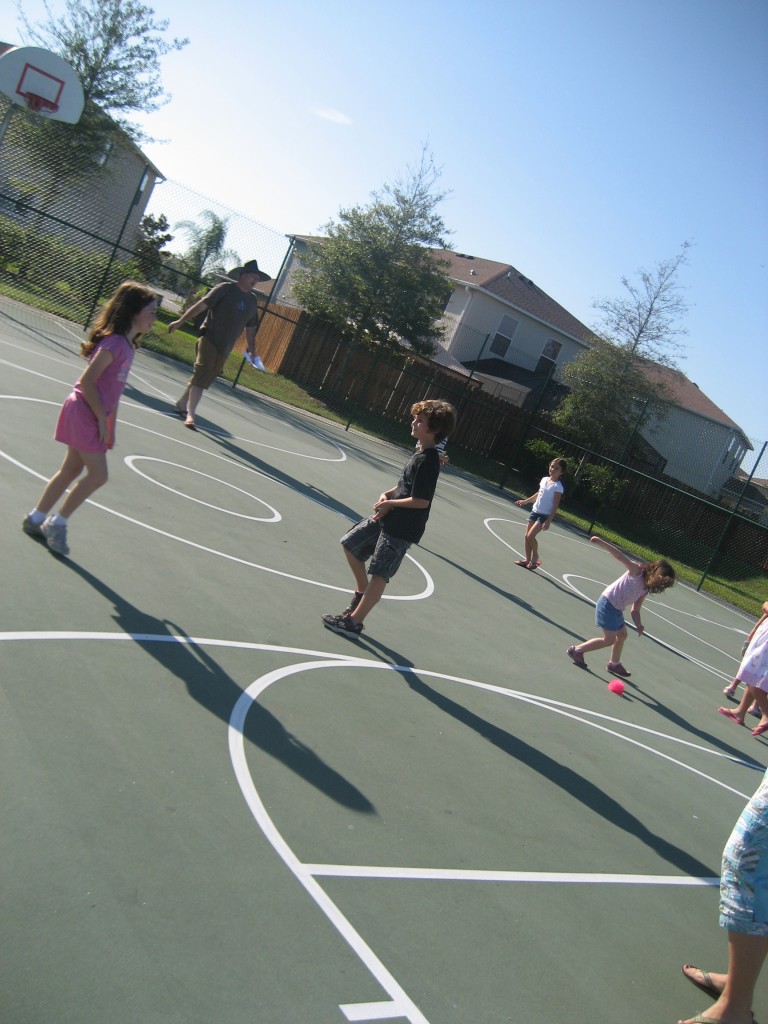 At the end of the day, Allana exclaimed, "THAT WAS THE BEST PARTY EVER!"  Although, she's said that before, it felt good to hear it again this year.