The other day, a friend on Facebook shared in her status update how she would be spending the month of November.  For the next 30 days, she and her family would demonstrate acts of giving, which had been inspired by the book 29 Gifts by Cami Walker.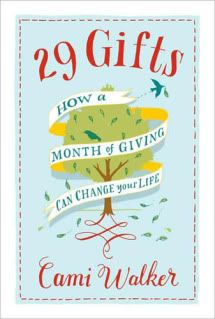 In her memoir, Ms. Walker shares how simple acts of giving helped heal her body, mind and spirit.  With the popularity of her book, she founded 29-Day Giving Challenge, a website which encourages others to do the same.
Admiring my friend's quest and yet moved by everyone's compassion for one other on the 29-Day Giving Challenge website, I decided to spend the month of November doing the same.  With simple random acts of kindness (RAK) over the next 30 days, I would be teaching my two girls how to do their part to make the world a better place.   With our small gestures of giving, we would let other know we care.  Even the simplest of gestures can mean the world to a friend or a fellow human being.
If you would like to join us in our 30 Days of Giving Challenge, here are some ideas to help get you started.
Participate in Operation Christmas Child by either filling a box or donating money.
Donate canned goods to a food drive.
Donate toiletry items to a homeless shelter.
Donate items to Goodwill or Salvation Army.
Donate items to an animal rescue shelter.
At Starbucks/Dunkin Donuts drive thru, treat the person behind you to a cup of coffee.
Pass along your unwanted coupons to a friend.
Leave unwanted coupons on the shelves at the supermarket.
Give your supermarket receipt coupons to the next person in line at the checkout.
Recycle old running shoes your local store. (The Running Center in Tampa collects old shoes.)
Send an e-card, card or a care package to our troops overseas.
Donate $1 to Miracle Children's Network at the checkout.
Recycle old cell phones.
Purchase a Scholastic Gift Certificate in the book order form for your child's teacher.
Donate old books/magazines/videos/CDs to the library.
Drop some coins in the tip jar at any food service place.
Send a love note in your children's and spouse's lunch box.
Purchase a car wash for the person in line behind you.
Pay for a toll for the driver behind you on the parkway.
Call an old friend to catch up to give the gift of time.
Take a friend to lunch.
Take some baked goods to a neighbor.
Babysit for a friend so she/he can enjoy a pedicure or a date night with her/his spouse.
Volunteer at your child's school.
Print out some of your favorite photos and share then with a friend.
Visit a retirement home.
Give blood (if you physically can).
Drop a friend's business card in a drawing to win free lunch at a local restaurant.
Serve a meal at a soup kitchen.
Let another driver merge into traffic in front of you.
Let the shopper in line behind you check out before you. (An idea from Nicole)
More than a simple list of RAK, I will be taking our 30 Days of Giving Challenge one step further with my girls to make our month of giving a bit more meaningful and colorful.  Since my girls and I love crafts as much as random acts of kindness, we will create a Thanksgiving craft to display their accomplishments and a cornucopia (the symbol of a bountiful harvest) seems to be the best representation for our bountiful supply of gifts!
For our cornucopia craft, the girls will cut out a cornucopia shape printed on a sheet of brown construction paper.  (We'll use this one from DLTK as a template.)  Then, using the smaller templates, they'll cut and color the leaves, fruits and vegetables to fill their cornucopias.  After completing a random act of kindness, we'll record what each girl gave on one of the shapes and paste it to their cornucopias.  By the end of November, their horn should be plenty full.  Then, as a reward for their kindness, I'll laminate their cornucopias so they can use them as placemats and cherish their gifts of giving every day.