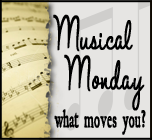 Trudging through the streets of NYC at Christmas time during what is now being affectionately referred to as the "Blizzard of  2009" felt like walking through a snow globe. Drifts of swirling snow cascading from the skies made the moment truly magical. But when the winds picked up late Saturday night and the snow and freezing winds hit my face, the magical moment fled as quickly as my mascara running down my cheeks. Neither was a pretty sight!
I meant to post Jason Mraz's version of Winter Wonderland for last week's Musical Monday, however, when we returned home from our trip I laid down for a long winter's nap. I just love Jason Mraz and his fun, upbeat version of this holiday classic captures the exact essence of our anniversary getaway to NYC.
[youtube=http://www.youtube.com/watch?v=ZhxGGIuGwS8]
I'll be posting about our NYC trip shortly, so watch for it. And there's more snow (hopefully) in our future as we're heading to a cabin in the mountains of North Carolina this Saturday. We're excited to spend a week in another Winter Wonderland!