To celebrate our 10th Anniversary, Allan and I planned a romantic weekend getaway in New York City.
Although we wanted to ice skate at Rockefeller Center, it was far too crowded and way too expensive.  So, we settled for ice skating at Central Park after a horse-drawn carriage ride.
On Friday, we scored stand-by tickets to Late Night with Jimmy Fallon and after waiting just under an hour in line, we were soon slapping high-fives with Jimmy after the taping.  As you can imagine, we immensely enjoyed a live taping of his show.  Maybe it's just me, but Jimmy is even cuter everything seems funnier live and in person.
His guests that night included Jude Law, Abby Elliot and Ronnie Spector of The Ronettes, which is available to view on-line.  You'll want to watch the show, because I make an appearance in the audience during the "Twelve Sweaters of Christmas" sketch.  Look for the chick in the hot pink sweater waving at the camera.
For the majority of the weekend, Allan and I walked through mid-town stopping to snack and nosh at some of the most amazing and surprisingly affordable restaurants.  Our favorite food had to be the $6 Ruebens we found on W. 56 St.  Across the street, we stumbled upon an Indian restaurant called Bay Leaf and had dinner later that same day.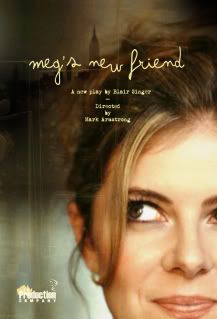 Saturday evening, we visited the Manhattan Theatre Source in Washington Square to catch a showing of the Off-Broadway play entitled Meg's New Friend.  This small converted brownstone holds approximately 50 seats, however, once in this tiny theater, the energy from the actors fills the audience better than any concession ever could.
In short, this play offered all the quick wit of Will and Grace and the racial taboos of Jungle Fever.   As Meg pursues a friendship with her best friend's boyfriend, she learns more about herself and her relationships in the process.  To say that we loved the play, would be an understatement and in all fairness, such a wonderful production should receive a proper review rather than a brief mention in this post.
Upon leaving the theater, we faced the arrival of the "Blizzard of 2009".  As we trudged through nearly a foot of snow, we stumbled upon another NYC staple, Gray's Papaya and of course, we had to stop for yet another quick bite before heading back to Rockefeller Plaza to queue for Saturday Night Live stand-by.
At this point in the evening, I was disappointed two-folds.  Firstly, I honestly prefer any random hot dog vendor over Gray's Papaya.  Secondly, although we were very close to getting into the 11:30 taping, we didn't score any seats in the studio.  So, we battled the Blizzard of 2009 and headed back to my parents vacation home in Queens.
As the Blizzard of 2009 blanketed the Northeast, it contributed to nearly a foot of snow falling over Queens.  Between the three major airports that serve NYC, close to 500 flights were canceled Sunday morning.  Thankfully our Jet Blue flight from JFK to Tampa was only delayed an hour.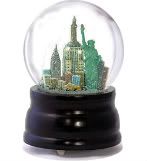 Witnessing a White Christmas in the Big Apple was truly an amazing sight for this Florida gal, but I was happy to leave the blizzard behind and return home with a couple of snow globes for our girls and memories of a truly wonderful anniversary getaway in NYC.