I've been enjoying a new reality series on CBS: Undercover Boss.  In the premise, presidents and CEOs of large corporations change their name and their identity without their employee's knowledge to experience a firsthand look at the inner workings of their companies.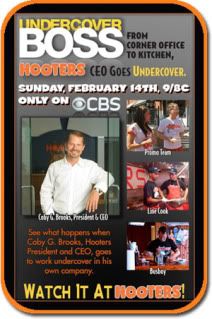 Two episodes have aired so far: Waste Management and Hooters.  In both episodes the CEOs witnessed some poor management styles as well as some fine,
good-hearted employees.
In the Hooters episode, CEO and President, Cody Brooks, failed to understand the stigma attached to the Hooters girl and brand.  I would have to agree.  Perhaps, back when the company first began in 1983 in Clearwater, FL the Hooters Girl appearance would have been considered risqué.  Now almost 30 years later, the stigma is no more than offensive than an old Benny Hill episode.
So some of the merchandise might be offensive, but who is visiting Hooters for the merchandise?  All right, so some people do visit Hooters for the merchandise, but to my eyes, a Hooters calendar is no more different than the Sports Illustrated calendar.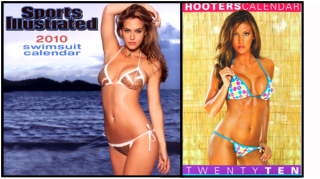 Sure, both sell beauty along with a false image of the perfect woman, but I'm not buying it and I'm not selling that idea to my daughters.
During the Hooters Undercover Episode, Cody wonders how Hooters can remove some of the stigma attached to the Hooters brand.  I've known girls from high school and college who worked as Hooters Girls to pay their way through school and I am sure their stories are similar to many other Hooter Girls around the world.  I would love to know where these women go after they leave Hooters.  Where are they now?
For myself, having grown up in Florida around the Hooters brand, I honestly don't find it any more offensive than a high school cheerleader uniform.  I have always thought the Hooters outfit reminded me of a roller derby babe and simply needed a pair of skates to finish the look.  Sure the outfits are skimpy, but not slutty and like the slogan says, "Delightfully tacky, yet unrefined".
But has my exposure to Hooters over the years desensitized me?
I have professed my love for Hooters chicken wings several times on this blog (here and here).  Our neighborhood Hooters is located on the water and offers some of the best sunsets this side of the Sunshine State.   When we visit the restaurant, we bring the whole family and even invite our friends and their children to join us.
As a mother of two girls, do I worry that I am sending the wrong message to my daughters?  No.  My husband doesn't drool over the girls or make comments about the hefty pairings they bring to the table to accompany the wings and beer.  I also refrain from making observations about the girls, because I believe my daughters are far more influenced by our actions than what parades around in short shorts and tight t-shirts.
We've always respected our Hooters servers as such: servers who bring us the wings and cheap beer we love with a pretty smile.  And, we've never even noticed any other view besides the sunset.