Ever try to eat twelve grapes in twelve seconds?  Hang out at our house on New Year's Eve and you will be forced challenged to give it a try.
As the ball in Times Square drops, we gobble down twelve grapes in the last twelve seconds of the old year.  Since my poor husband gags nearly every year, I'll give Allan a head start with a full 60 seconds to eat his grapes.
Growing up in an Hispanic/Italian American home, I've mastered my craft.  I can swallow them down before anyone hollers "Happy New Year!" or belts out the first note of Auld Lang Syne.
The madness behind this Spanish tradition is motivated by the promise of twelve months of good fortune in the New Year.  And like any other home on New Year's Eve, it's all goes down with a bit of bubbly.
But to give our evening even more of a bang, we'll also pop any leftover Christmas crackers.  After all, we have to incorporate some of Allan's British customs into the fiesta.
No matter how you celebrate (with grapes or without),
we wish you a safe and Happy New Year!
Now link up and see what If I Could Escape and Gone Bananas are serving for the last Friday Food Fight of 2010.
Powered by Linky Tools
Click here to enter your link and view this Linky Tools list…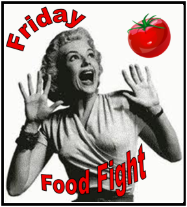 *Also flinging foodie photos at*