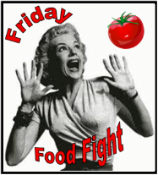 Gung Hay Fat Choy!
It's Chinese New Year and in the Run DMT house, we celebrate with some homemade Chinese food.  This year, Allan made his famous veggie fried rice and then I attempted Steamy Kitchen's Chinese Pot Stickers for the occasion.
Unfortunately, the ground chicken I bought went bad so Allan saved the day by running out and buying pot stickers from the neighborhood Chinese takeout.   Oh well.  Better luck fu next time!

We finished the meal with fortune cookies, but with new and improved kid-friendly yellow dye free fortune cookies which I discovered in the Asian section at Target.  Upon my discovery, I wondered what makes fortune cookies kid-friendly.  I hoped for at least silly jokes, like the ones you find inside Christmas crackers or Laffy Taffy, but the fortunes were just as corny as the ones from the Chinese restaurant, minus the lucky numbers and how to speak Chinese lessons.
And funny enough, much like the ones from the Chinese restaurant, you could read each one and follow it up with the expression "in bed".  So not-so-kid-friendly, but funny as hell Diyu!
My fortune was very encouraging…
…in bed.
Of course, fortune cookies have nothing to do with Chinese New Year or even China for that matter, but for my family and me, no Chinese meal is complete without them.
Now link up and see what If I Could Escape and Gone Bananas are serving for this week's Friday Food Fight.


*Also submitted to*