The cake I baked for Easter wasn't homemade, natural, organic, gluten free, sugar free, or even low fat.
Shamefully, I used a box of Better Crocker yellow cake mix to form two 8 inch round cakes, two packages of yellow Peeps, two tubs of chocolate icing and a bag of milk chocolate chips to create this sunflower Peep cake .  Nope, there was nothing healthy about it and it was damn good.  In fact, it was so good that I ate a slice for lunch the next day.
After I finished this cake, my oldest daughter suggested I pipe on some green icing to make a stem and a leaf on the side of the cake which was such a cute idea, but I was too lazy to mess with icing and a piping bag.  I'll try that the next time I make this cute Peep cake.
Also, I think next time I make this cake, I'll use white icing, white chocolate chips and pink or purple Peeps so the cake has a brighter springtime Easter flavor appearance.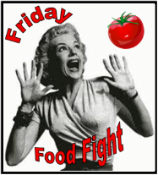 Now link up and see what treats If I Could Escape and Gone Bananas are serving for this week's Friday Food Fight.


*Also submitted at*