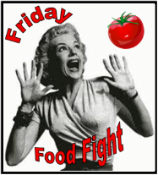 To all my OCD readers, I realize I misspelled the phrase shoo-in.  Deep breaths and let it go and just go with it for the sake of this Friday Food Fight post and my clever play on words.
My sister and her husband recently visited Amsterdam and they returned with a pair of wooden shoes for me which I'm not quite sure how to fit my feet into yet.  But they also brought back a box of a stacked waffle sandwich cookies filled with gooey, sticky caramel.
These deliciously wonderful waffle cookies are so sweet that I can only eat half of a cookie and my hips are thankful for that.  The preparations on the box suggest heating the cookie in the microwave for a few seconds or over a hot cup of coffee to soften the filling.  Either way is a warm gooey yummy delicious mess.
 Speaking of coffee, I need to share my new favorite guilty pleasure.  A few months ago, I started adding vanilla soy milk to my morning coffee and I'm really enjoying the sweet creaminess it adds to my coffee.  It tastes like a flavored creamer minus the corn syrup and other garbage in most non-dairy creamers.
Admittedly, Starbucks grande non-fat vanilla lattes are my guilty pleasure.  However, as much as I love vanilla lattes, I don't love all the calories.  So, with my recent soy milk substitution, I began ordering a brewed grande coffee with soy milk and two pumps of vanilla.  It's my new guilty-guilt-free-pleasure, because it tastes just like a full fat vanilla latte but costs less and equally delish.  Trust me.
It's a shoo-in (spelled correctly just for my OCD readers).
*Also submitted at*