Undoubtedly, Sanibel and Captiva are world-famous for some of the best shelling and beautiful beaches.  But for my family and me, the islands are also known for some of the best eats in the Sunshine State.
Next to the shells and sunsets in Captiva, I dream about R.C. Otter's Crunchy Grouper Rueben.  Seriously, it's what keeps bringing me back year after year.  Plus, R.C. Otter has some of the best selection of beer on draft.  Try pairing the Crunchy Grouper Rueben with a pint of Lazy Magnolia Southern Pecan Ale or a Toasted Oatmeal Stout.
Since The Island Cow was featured in Southern Living magazine, the secret is out about this tasty little pasture in Sanibel.  Although The Island Cow offers an extensive breakfast, lunch and dinner menu, stick with the specials, like the Boom Boom Shrimp Tacos.  This dish would rival Bonefish Grill's Bang Bang Shrimp as it packs a bit more punch and crunch.   Then, cool your palette with a Strawberry Orange Mimosa or a 23 oz Landshark with a wedge of lime.
During this trip, we visited a few new-to-us places and loved them so much, we went back for second helpings.  The Over Easy Café served fluffy and fresh tasting omelets.  Much like the name suggests, the Mellow Portobello Omelet left me pleasantly full.
We also smacked our lips over two superb meals at Cip's Place, but it was the impeccable service with a smile that made a marvelous meal even better.  Our server, Regina, recommended the root beer infused BBQ Rib Plate, but Allan didn't want to eat a whole rack of ribs.  So, the chef happily accommodated by offering a smaller portion.  However, one taste of that root beer reduction and Allan wished he had ordered a full serving.
Despite Regina's suggestion, I ordered the Grouper BLT.  A perfectly pan seared fish topped with avocado mayo and thick apple wood bacon on ciabatta roll was a wonderful and welcomed break from all the deep fried food I had eaten during our stay on Sanibel.  I topped my sandwich with Cip's homemade cole slaw, which finished off the sandwich superbly.
For our last meal on the island, we returned to Cip's Place and selected the Steak Chimichurri, which proved to be the right choice.  Served to perfection, the Argentinean herb rub and Dijon garlic potatoes complimented the cut beautifully.
I only wish I had remembered to snap photos of our last Sanibel supper not only to share for Friday Food Fight but because the creative juices have been flowing for Iron Chef Allan and I on how to replicate the dish.  If we can't, we'll have to find our way back to Sanibel soon.
I'd be o.k. with that.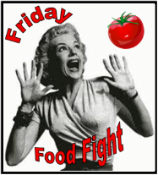 Now link up and see what If I Could Escape and Gone Bananas are serving for this week's Friday Food Fight.
*Also submitted at*