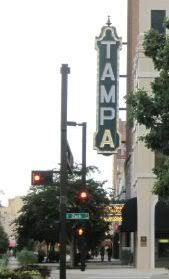 I took my best girl to the cinema yesterday.  Just me and my gal catching a show and we had a swell time, see.  A real swank time, I tell you.
It's hard to shake the circa 1940s slang after being immersed in it for a couple hours.  As an early Christmas present, I bought tickets for Holiday Inn for my sister since it's her favorite Christmas movie.  She was surprised to learn that I had never seen it so she asked me to join her rather than her hubby.
With its old world charm, the Tampa Theatre is the perfect cinema for a showing of a classic film and I loved watching the movie for the first time on the big screen as it was intended.  The larger than life dance numbers and set designs help your appreciate the art of film-making in a time before CGI and green screens.
Fred Astaire and Bing Crosby's characters were delightful and endearing, like the way you want to remember these classic Hollywood film stars.  Although as beloved as they are, it's the songs and the dancing that truly steal the show, of course.
[youtube=http://www.youtube.com/v/Ph0P4zCjvKA?version=3&hl=en_US]
The song, White Christmas, makes its debut in Holiday Inn, however, most people know it as the theme song for White Christmas, which will also be showing this holiday season at the Tampa Theatre on December 23.
[youtube=http://www.youtube.com/v/lPHgCHuovE4?version=3&hl=en_US]
Much like my sister, Holiday Inn captured my heart with singing and dancing.  I enjoyed watching this classic Christmas movie on the big screen so much that I plan to make this a new holiday tradition for us.
That'd be swell, I tell ya.  A real hot dog!
Visit Xmas Dolly and Hairbows & Guitar Picks for more Music Monday fun.