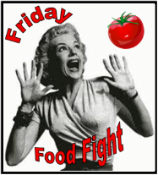 Last Sunday, my mom, my sister and I held our annual Christmas cookie baking day.  For our annual cookie challenge, my electric mixer churns all day long to produce dozens of delightful treats and every year I surprise myself.
My baking has come a long way since the days of slice and bake cookies.  My friend, Chrissy, still teases me about the time I tried to pull off store-bought Snickerdoodle break-apart cookies as my own at a cookie swap.  Yep, I used to be that person.
But not these days!  Now, I'm like Betty Crocker whipping out batches of cookies and I'm certainly not intimidated to try new cookie recipes.    No more break-apart necessary!
Plus, the best part about making my own from scratch is that I know exactly what ingredients are in each batch.  There's no hydrogenated oil or artificial flavor.  Just some sticks of good ol' fashion butter!
Since I'm not scared to try new cookie recipes, I decided to give Publix's Peppermint Shortbread a whirl.  This recipe was featured in the Publix's Grape Winter 2011 magazine, which is currently on display on the kiosk at the front of the store.
Of course, Publix's recipe called for 1 cup (2 sticks) butter because every good shortbread needs lots of butter.  However the recipe didn't call for salt, which I thought was odd since cookies are typically made with unsalted butter.  So, I consulted Iron Chef Allan the Joy of Cooking to compare shortbread recipes.  Sure enough, Joy's recipe stated unsalted butter and ¼ tsp of salt.
Not a difficult recipe by any means and the results are delicious!  And look at the presentation!  How pretty and festive!  I impress myself sometimes!
Peppermint Shortbread
Ingredients
2 ½ cups all-purpose flour
¼ cup sugar
¼ tsp salt
¼ cup crushed peppermint candies
1 cup cold unsalted butter, cut up
½ tsp peppermint extract
Directions
Preheat oven to 325.
Line a large baking sheet with parchment paper or silicone baking sheets.
In a large bowl, lightly combine the flour, sugar, salt and crushed candies.  Then, pour dry ingredients in electric mixer.  Add cut up butter and peppermint extract.  Combine on a low speed until mixture resembles fine crumbs.
Remove bowl from mixer.  Use your hands to bring mixture together and shape into a ball. (The warmth of your hands will soften the butter and help mixture come together.)
Divide dough into half.  On the prepared baking sheet pat each dough half into 6-inch circles about ½ inch thick.  If desired, flute the edges with a fork and prick each dough circle several times with prongs.  Cut each dough circle into 8 wedges (like a pizza) but do not separate the wedges.
Bake about 20 minutes or center appears set.  Cool on baking sheet on a wire cooling rack for 5 minutes.  Slice wedges again while warm.  Remove wedges from baking sheet and place on wire rack to cool completely.
Makes 16 wedges.
Note: The next time I make these cookies, I'll split the dough into two loaves instead of two circles and then cut 2 inch bars into the loaves prior to baking.  By doing this, it will offer more than 16 servings, which is necessary for a Christmas cookie swap.  And speaking of Christmas cookie recipe swaps, don't miss this one!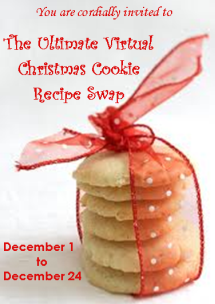 Now link up and see what If I Could Escape and Gone Bananas are flinging for this week's Friday Food Fight.  
*Also submitted at*