Last week, we ended our Love My Abs Challenge and moved onto another one, Pushing Our Luck.  If you missed my ab progress, you should check it out because it's "abs"olutley amazing.  😉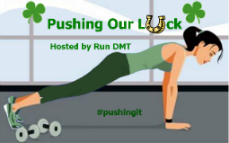 As for March's pushups challenge, basically we're following the One Hundred Push Ups Program.  We're only week one into it and it's going well, but then, I love push-ups.  Swing back this Thursday to read a full rundown on my first week.  There's a linky party too if you want push your luck along with us.
And while I'm a self-promoting and on a shameless plug roll, I would like to inform
all local bloggers about the next installment of the Tampa Bay Bloggers event to be held at Square 1 Burgers on March 24 at 5:00 p.m.  It will be a great opportunity to connect network with other local bloggers and of course, there will be swag bags!
Oh and one more shameless plug!  I was selected to be a regular contributor for 5 Minutes for Moms' newest feature, 5 Minutes for Food.  Stop by 5 Minutes for Mom this Thursday to see what recipe I share. I'll give you a hint. It's something sweet for St. Patrick's Day and no, it's not green.
Last Friday, I was like a kid in a candy store at the Gasparilla Race Weekend's 8 On Your Side Health and Fitness Expo.  Besides a bountiful of cool free food and goodies, there were a ton of vendors and really cool running threads.  Of course, I wanted everything, but bought nothing. I really, really love these tees by Raw Threads.
Thankfully, friendships are free and I was so happy to finally meet my cyberspace BFF and virtual running partner @leighspannwfla.  Leigh is part of the Storm Team 8 for News Channel 8 (our local NBC affiliate).  Much like her morning forecasts, Leigh's tweets are full of sunshine and warm-fuzzies and she's just as adorable in person as you'd expect her to be.  Thank you for all your support and encouragement, Leigh!  See you at the next race!
Since I had two half marathons so close together, there haven't been much training runs.  Then, Little Lion Man caught some green snot cold, so naturally, I caught it and I just wanted to rest.  Now with the colds and half marathons behind me, I'm ready to start training hard again.  This morning I was ready for some speed work.
1.2 mile warm-up
Time 11:22
Ave Pace 9:29
Max 7:58
Lap 1 – 0.25 mile
Time 1:45
Ave Pace 6:56
Max 5:26
Lap 2 – 0.25 mile
Time 1:45
Ave Pace7:06
Max 5:36
Lap 3 – 0.27 mile
Time 2:12
Ave Pace 8:15
Max Pace 5:52
Lap 4 – 0.25
Time 1:58
Ave Pace 7:52
Max Pace 6:31
1 mile cool down
Time 9:53
Max Pace7:48
I've been volunteering after school every Tuesday to assist with my girls' school's running club and since I have Little Lion Man in tow, it means that I have been running 1-2 miles in the late afternoon with a stroller every week or what I like to call "resistance training".  Have I mentioned how much I hate running with a stroller?  But if it makes my girls happy to see me out there with them, then it's worth it.  Even on days like today when the wind is blowing so hard and the stroller catches every breeze like a kite and I feel like I'm running backwards instead of forward.  Yep, totally worth it.
I have two more races this month: Armadillo 10K and the Spring Sprint 5K.  My goal for the 10K is to finish under an hour, but since I'm running the Spring Sprint with my girls, my only goal is to keep them motivated and moving forward, much like the after school running club.
*Proudly submitted to Stacy Uncorked, because when I blog about my training, it's usually pretty random.*