I am ridiculously excited about St. Patrick's Day falling on a Saturday this year because there's no work or after school activities to get in the way of our Irish beer consumption.  Although my girls and I do have a 5K race in the morning, it won't be long before I'm finishing off a green beer after crossing the finish line.
Before we head out that evening, Allan and I will line our bellies with some Guinness corned beef and potatoes and then get onto to the drinking.  It won't be too long before we look like this.
[youtube=http://www.youtube.com/v/FAZY2B3_lYU?version=3&hl=en_US]
I'll probably wear the same green top I always wear, but I love this shirt from Urban Outfitters.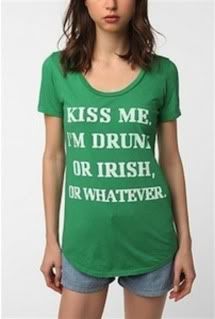 I'm thinking about buying a green hair wig too just to change it up this year and go out full on green style.
[youtube=http://www.youtube.com/v/D7g3RuoreRc?version=3&hl=en_US]
 What are your plans for St. Patrick's Day?  Will you be going out in style?