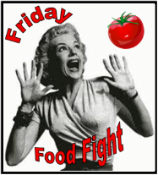 I stumbled upon this gem of a soup recipe from a fellow 13 in 2013 challenger, Andrea.  Living in North Dakota, I'm sure Andrea knows a thing or two about yummy soups.
Of course, upon discovering this soup, I immediately pinned it by adding it to my newly created "Soup du Jour" Soup Board on Pinterest and then, requested Iron Chef Allan to make it for the family on Sunday.
Andrea's Tuscan White Bean Soup tastes like fondue, only it's made with beans so it's a healthy fondue.  The white wine and Parmesan cheese rinds give the soup just the right richness to it without overpowering the soup.
Next time Iron Chef Allan we I make it, I'll add about a tsp of the rosemary back into the soup after removing the sprigs.  I'll also serve it with some warm, toasty garlic bread to build on the healthy fondue idea, because it's definitely a soup that needs some bread dunking.
Visit From Florida to North Dakota to read the Healthy Tuscan White Bean Soup recipe and then PIN IT!
Thanks for joining our weekly Friday Food Fight! Can't wait to see what everyone is flinging this week!
*Also submitted at*