Last week, hubby was out of town so my training and blogging to a back seat to everything else.  It was just way too difficult to be a solo parent.
Thankfully, he returned home in time for me to join the Working Women of Tampa Bay at the Haven Home for a book signing and mixer with author and Women's Running magazine founder, Dawna Stone.  It was such an honor to meet this incredible and inspiring woman. Plus, I had the chance to hang out with my friend Raffi of Running Betty.
Little Lion Man started preschool today at a local high school.  The early childhood preschool program is designed to train high school students for a career in that field.  Although Liam was so excited to attend preschool, I had a bittersweet moment letting go of my baby.
He really needs to be out of my hair so I can work from home without distractions.  I hate thinking of my child as a distraction, but as more blogging jobs and opportunities came my way, I had less time for my Little Lion Man.  At least now with him being at preschool for a few hours, I can redirect my focus and love on him completely without distractions when he gets home.
Although I will be able to focus on my writing jobs with Little Lion in preschool, I have to readjust my whole running schedule again because his preschool starts so early since it's at a high school.  It was tough this morning trying run and return home in time to get Liam and myself ready and out the door.  My Run DMT tagline, "I'm a mom on the run", has never felt more true.
As for the running stuff, two Sundays ago I ran 11 miles to be on track with my marathon training plan.  It wasn't the greatest run but at least I did it.  On the positive side, the run was a good predictor to my half marathon performance at the Frankenfooter.
11 miles
Time 1:54:12
Ave Pace 10:21
Max 8:20
The rest of the week was a complete loss. Not one bit of fitness happened the rest of the week, except for the walking my family and I did at SeaWorld this past Sunday.
Today, I was back on track with my usual Track Tuesday speedwork with a one mile warm, 6 x 800s and a one mile cool down.  After a week of nothing, those sprints were tough!  At first, the weather seemed cool and a sky clear allowed a bright moon to illuminate the roads.  I was really pleased to be out running.  Then, my asthma hit me and I coughed like a Lucky Strike smoker.  It was tough to breathe, but I tried my best although it may not look like it.  This was the first time in my 800s history that I couldn't keep the sprints under four minutes.
1 mile, Time 9:46
Lap 1 – 0.50 – Time 3:34
Ave Pace 7:09
Lap 2 – 0.50 – Time 3:49
Ave Pace 7:40
Lap 3 – 50 – Time 4:07
Ave Pace 8:15
Lap 4 – 0.50 – Time 4:00
Ave Pace 8:00
Lap 5 – 0.50 – Time 4:16
Ave Pace 8:33
Lap 6 – 0.50 – Time 4:26
Ave Pace 8:54
1 mile cool down, Time 10:38
Like I mentioned previously, I'm running in the Frankenfooter Living Dead Challenge this weekend and of course, I'll be dressed in costumes for the 5K and the half marathon. For Saturday evening's 5K, I will dress as the TARDIS from Doctor Who complete with light.
For the half marathon, I will be dressed as Finn from Adventure Time.  I finally purchased my Finn baseball cap from Spencer's the other day to complete the look.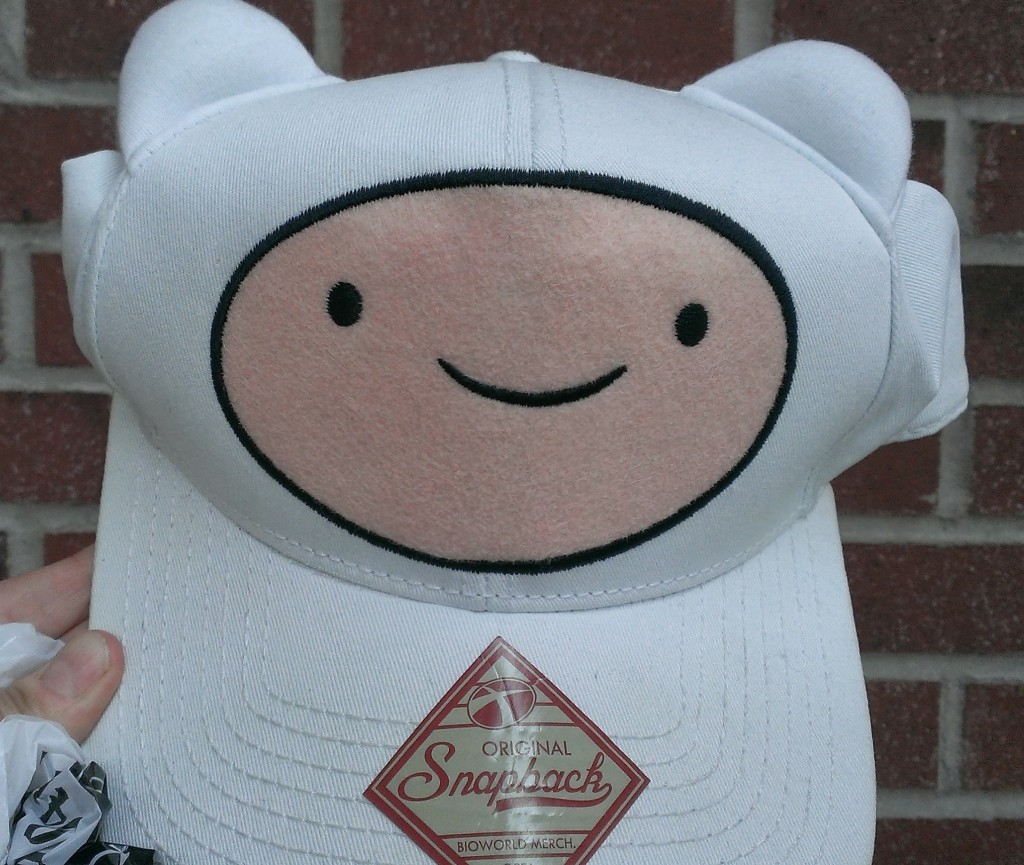 My goal is to look great finish around 2 hours.  My best half marathon time is 2:09 from 2009.  If I can finish close to that, I will be ecstatic.  Maybe I'll finish 2:13 in 2013?
These random thoughts and workouts were submitted here: