Disclaimer: The Straz Center provided me with two tickets to DISENCHANTED! in exchange for my honest review. The opinions shared are my own.
As the fairy tales would have us believe, they lived happily ever after.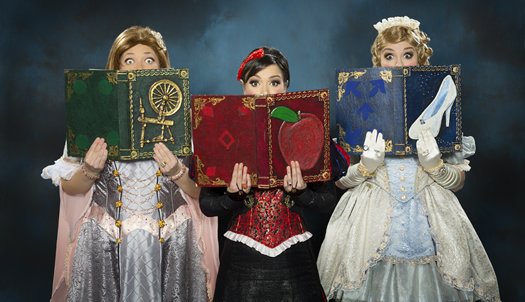 But did they really?
Did these beloved princesses want to be portrayed as damsels in distress?
Why would any intelligent, strong princess want to spend centuries in storybooks pining for a handsome prince to save them?
And why were their perfectly silhouette princess figures and shapely dimensions decided by an over-sized rodent and his team of animators?
As the princesses in DISENCHANTED! will tell you, they just want to rid themselves of the princess stereotypes and be free. Free to chow down on some Little Debbie snacks cakes and come out of the corset and even the closet, as Hun Mulan discloses in her solo number.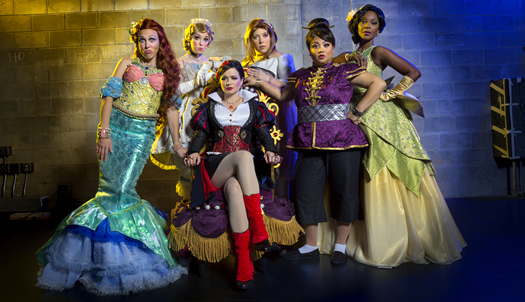 The dark princess hostility towards Hollywood and the "House of Mouse" makes for some fun tongue-in-cheek references.  Their royal bitterness towards the "princess complex" and the false ideas Hollywood feeds to young girls cleverly educates the audience about this ridiculous and unattainable lifestyle.  Through witty one-liners and song each princess reveals the painful truth about changing their lives to please a man or history, as in the case of Pocahontas.
This cynical cabaret comedy led by Snow White as the emcee spotlights your favorite princesses: Cinderella, Sleeping Beauty, Belle, The Little Mermaid, Rapunzel , Hun Mulan, Pocahontas, Princess Badroulbador (also known as the secondary princess, Jasmine) and "The One who Kissed a Frog", who tells the audience in song that Hollywood "Finally" got it right when they added some soul to the classic fairy tales by bringing a sister to the scene.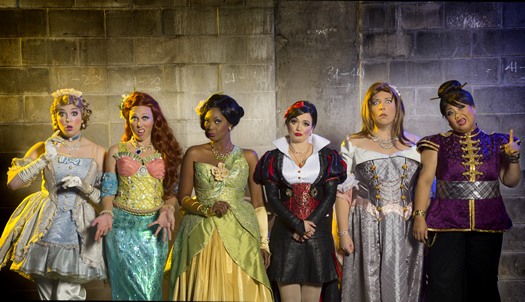 The comedic timing and voice talent of the DISENCHANTED! cast is spell-binding and they will be charming  audiences at the Jaeb Theater at the Straz Center until April 13.  In the intimate setting of the Jaeb Theater, it is the perfect venue for this up close and personal princess presentation, but please leave the fair maidens under 16 back at the castle.
To learn more about DISENCHANTED!  or to purchase tickets, visit www.strazcenter.org.
http://www.youtube.com/watch?v=FD5qM-tc0ws