Have you heard about these neon 5Ks?
These mind-blowing, glowing races are redefining fun runs.  The Electrodash 5K Dance Party guarantees a non-stop neon dance party atmosphere from the electronic dance music at the start to neon swag.  Next month, my daughter and our party rocking team will be dancing our way through a gallery of dazzling light displays and rocking inflatables at the Florida State Fairgrounds.
We'll still working on our team name and costumes, of course. Should we dress like Rainbow Brite or wear plan white?  Either way, I think a tutu is necessary.  Maybe even a tutu with lights.
Who wants to join me at Electrodash 5K Dance Party in Tampa on March 21? I'm giving away FIVE ENTRIES to one Run DMT reader for you to create a glowing team with your friends.  To enter, leave a comment below telling your team name. That's it.  This Run DMT #ElectroTampa giveaway ends Monday, Feb. 10 at 11:59.
For a chance win an additional race entry, join the Tampa Bay Bloggers #ElectroTampa Twitter Party this Thursday night at 8 pm. Follow @TBbloggers, @ElectroDash5k, @denisermt and #ElectroTampa.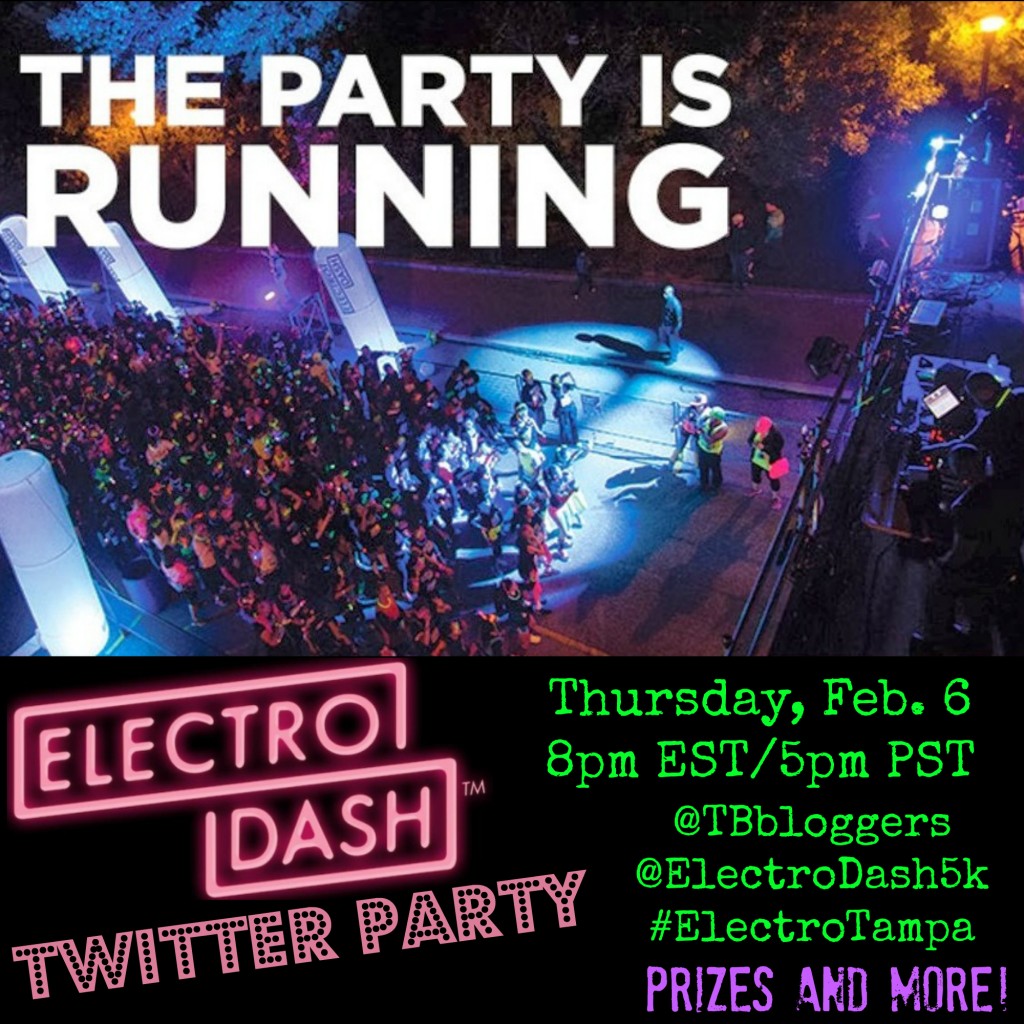 But if you can't wait to win and simply have to buy some Electrodash race entries, then at least save dough for the glow.  Use TBB15 and save $15 off your entries.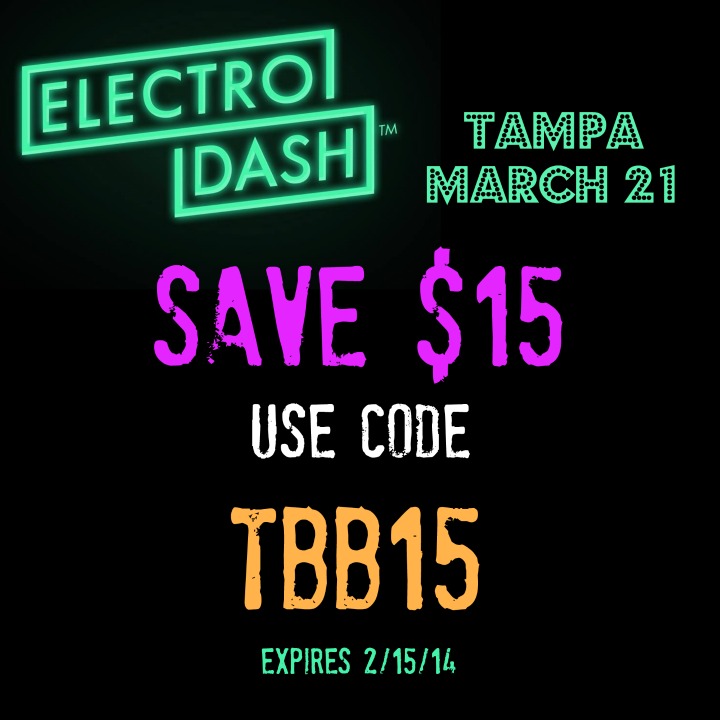 We had some really horrible weather last week. Mind you, it was nothing like the clusterfluff on snow the city of Atlanta faced, but we had a lot of rain and icky weather.  Thankfully, it all cleared up by Saturday for the Best Damn Race (recap to follow), but I never had the chance to squeeze in some easy miles before the race.
10K – 6.2 miles
Time 1:01:17
Ave Pace 9:46
Max Pace7:08
5K – 3.1 miles
Time 30:04
Ave Pace 9:34
Max Pace 6:26
On Saturday, I had to find a way to squeeze in 20 miles. Since I ran the Best Damn Race Challenge (10K + 5K), I  finished 9 miles but I still needed to run 11 more. I managed to run a few more after my two races when I paced Mica to the finish line for her half marathon. Then I had only 9 more to do in my neighborhood.
2 miles
Time 20:24
Ave Pace 11:04
Max Pace 5:47
When I attempted those 9 miles mid-afternoon, the heat had turned up and it was hotter than Hades' bawls.  How crazy is it that the weather went from below 40 to above 80 in just a few short days?! I'm not complaining because I prefer the heat, but I was not mentally or physically prepared for it. Nonetheless, I finished 9 very slow, easy miles and hit that necessary Big 20 miler.
9 miles
Time 1:52:36
Ave Pace 12:18
My Asics Kastor marathon training plan recommends two days rest after the Big 20 miler which I gladly took to recover.  Today I ran 3 easy to get back into the swing.
3.11 miles
Time 31:03
Ave Pace 9:59
Max Pace 7:24
I followed up those easy miles with a really tough Body Pump class. Today's express class had two leg tracks with a squat and lunge track. Holy Mother Squatter!  Those lunges killed me.
For the rest of the week, I plan to fit in some more easy miles. The plan is to run 3 tomorrow, 6 miles on Thursday and 3 miles on Friday.  Then, on Saturday, Nanci, Marcia and I organized an Iron Girl Bridge Training Run on Facebook.  If you're local and want to run with us, RSVP here.  We'd love for you to join us.
My marathon training plan has me running 13 this weekend, so I need to run 13 miles with those bridges.  It's all good, because my goal is to incorporate more hills into my training runs to prepare for Iron Girl Half Marathon, Sarasota Half Marathon and of course New York Marathon this November which all have some tough bridges and inclines.
So come join us this Saturday. I'm bringing bagels.  After this, it's only one more training week until A1A Marathon!   Yippee Ki Yay, Mother Runner!