After leaving our Clearwater Marine Aquarium (CMA), we headed to the movie theater for a sneak peek screening of Dolphin Tale 2 as part of a Tampa Bay Bloggers and Grace Hill Media partnership. My kids and I loved Dolphin Tale and we knew that the sequel would not disappoint.
Dolphin Tale 2 begins at the Clearwater Marine Aquarium where we see Winter's popularity attracting many adoring fans to the facility. After CMA loses a family member, Winter becomes severely depressed and the facility needs to remedy the situation or lose Winter.
Meanwhile, Sawyer (played by Nathan Gamble) faces an opportunity that will require him to leave CMA for some time and ultimately Winter. With the guidance of Dr. McCarthy (Morgan Freeman), Sawyer learns that "Sometimes you have to shake things up to move forward."
During the night of Saywer's going away party, the fun is interrupted when a young calf is rescued and brought to CMA. From that moment it is realized that "Winter has Hope"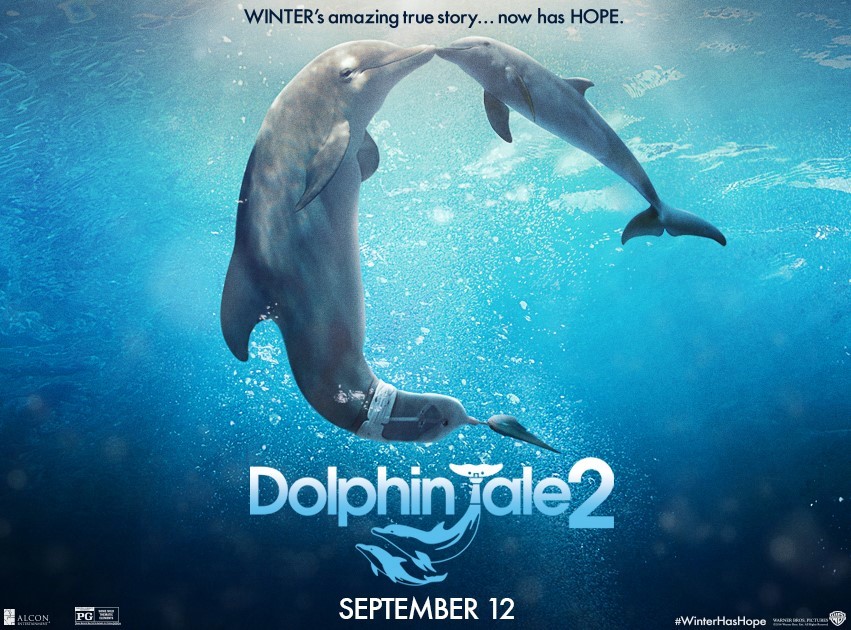 The movie is as heart-warming as the first film with an equal number of tear-jerking moments and endearing lovable creatures. Many of the scenes incorporate live stunts and animal action as well as animal animatronics and visual effects to ensure safety of Winter and the other animals.
The next day after our screening, I had the opportunity to attend a press junket roundtable interview with my blogger friends and the stars of the film, Harry Connick, Jr (Dr. Clay Haskett), Nathan Gamble (Sawyer Nelson) and Cozi Zuehlsdorff (Hazel Haskett).
When Connick entered the scene, his star presence commanded the room. It was obvious that we were in the presence on a superstar. Connick was as witty and clever as he appears on TV and the chemistry between the three stars felt real and genuine. Upon entering the room, Cozi Zuehlsdorff instantly won the mommy bloggers over by calling us hip, beautiful moms.
During the interview, Connick shares his account of the night Hope arrived at CMA. "I knew it was a sequel in the making. I nudged Charles (the director) to starting write the script. The entire cast jumped right in for the sequel. It was like a family reunion."
Me: Winter, Dolphin Tale and now its sequel, Dolphin Tale 2 has impacted so many lives. How has working with Winter impacted and changed yours?
Connick: We've all been dealt a bad hand. There's a process of acceptance. Working with Winter, gives you perspective and you look at things differently.
Me:  I heard you were on site at CMA for 52 days. Ashley Judd mentions Frenchy's in the movie, which is one of my favorite spots. Did you have time to explore Tampa Bay? What are some of your favorite spots?
Connick: The ceviche at Casa Tina is the best. I carried some home on the plane.
Zuehlsdorff: I love Clear Sky.
Me to Gamble and Zuehlsdorff: A good portion of the animal scenes incorporate animatronics including a digital prosthetic tale on Winter since Winter can only swim with her prosthetic tale a certain amount of time each day. How did that impact your swimming scenes? How long did it take to film these scenes?
Zuehlsdorff: It took a couple of weeks, but I also have asthma which impacts my time in the water.
Me: Cozi, you are a CMA spokesperson and a role model to so many kids. What advice can you give kids who are dreaming of working with marine life or a career in marine biology?
Zuehlsdorff: It's wonderful and so rewarding.
Another Blogger: Who is your role?
Zuehlsdorff: My mom is my role model, but it all honesty, Hazel is my role model. I draw my strength from her.
Me to Gamble: Dr. Cameron McCarthy played by Morgan Freeman gave your character some great advice. "Sometimes you have to shake things up to move forward." What real world advice and coaching did the Oscar-winner give you?
Gamble: He's Morgan Freeman and a very quiet, private man. I just watched and observed him.
It was such a joy spending that Sunday morning with the cast of Dolphin Tale 2 and my Tampa Bay Bloggers friends. I still can't believe I had my arm around Harry Connick, Jr. and I didn't faint!
Dolphin Tale 2 opens in theater TODAY and it is a must-see.