Disclosure: I received compensation and media kit full of an assortment of Nature Valley products in exchange for sharing a No Barriers Life.
Do you allow fear to hold you back?
Do you allow physical limitations to prevent you from reaching a goal or climbing new heights?
Each of us has to power to live our dreams and a no barriers life. We just have to believe we are capable of making it happen. We must eliminate the mental barriers that cripple us from living a no barriers life and living life to the fullest.
Meet Erik Weihenmayer.
Erik is the only blind adventurer to climb to the seven highest summits in the world. For his latest expedition, Erik kayaked the Grand Canyon's Colorado River. He and fellow blind adventurer, Lonnie Bedwell, will be the first blind adventurers to attempt this enormous feat.
The "No Barriers Grand Canyon Expedition" is a 21-day, 277 mile journey through some of the world's most challenging whitewater terrain in the Colorado River. Erik Weihenmayer will be supported by an experienced paddling team, and joined by accomplished kayaker and Navy veteran Lonnie Bedwell. Together, Erik and Lonnie will demonstrate the power of harnessing inner strength to overcome challenging barriers.
Preparation for the Expedition has been extensive, with both Weihenmayer and Bedwell spending the last several years training and developing innovative systems for kayaking rapids with support from high-tech radios and verbal commands from river guides.
The trip began on September 7 at Lees Ferry, nine miles south of the Arizona-Utah border. Erik and his team expect to complete the expedition on or around September 28 at Pearce Ferry, which marks the boundary between Lake Mead and the Grand Canyon.
As a founding member of No Barriers USA, Weihenmayer advocates for the organization's mission to empower people with the message, "what's within you is stronger than what's in your way."
This expedition serves to inspire people to not limit themselves, eliminate barriers in their lives and live life to its fullest.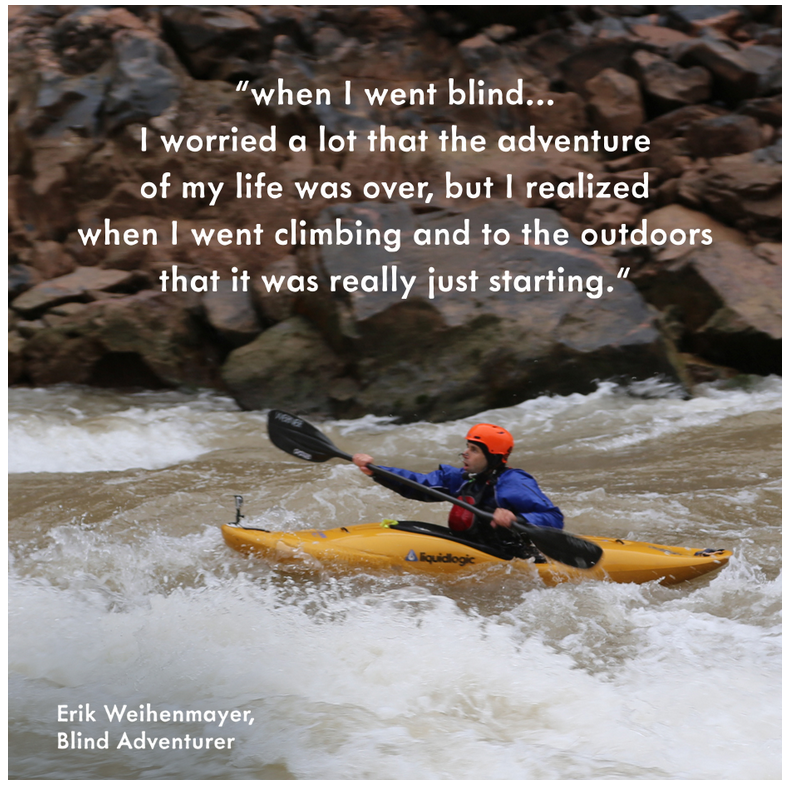 Nature Valley is joining Erik Weihenmayer in inviting people to pledge to get out there and live a No Barriers Life.
You can join Nature Valley and Weihenmayer in the goal of encouraging one million people to live a No Barriers Life by visiting www.nobarriersusa.org/take-the-pledge today.
Nature Valley has a long history of commitment to nature, outdoor activities and the national parks. The brand finds inspiration from the beauty of nature and the way people connect with nature – whether that's from a fearless adventure like those undertaken by Weihenmayer or an everyday hike.
It's Nature Valley's belief that experiencing nature enables people to feel most alive and Weihenmayer is a great demonstration of our belief.
For more on a No Barriers Life with Nature Valley follow Nature Valley on Twitter and Tumblr #MyAdventure and #GetOUTThere.