For the past few weeks, I've been sharing my favorite Halloween songs, however, this week I decided to share only one song since It's Almost Halloween.
All right, I lied. I'm sharing a second classic Halloween song, I Want Candy, because I really do want candy. To control my family's sugar intake, I held off buying candy until this week. As a result, I think it made me crave sugar even more!
In five days, I will be flying to New York to finally run in the New York Marathon! If you have followed this blog for some time, you know that my NYC marathon journey has been a long road. But very soon my NYC marathon will come true and I'm beyond excited. Next Sunday, I will be back in a New York Groove.
Watch it live and follow me online – bib # 64277.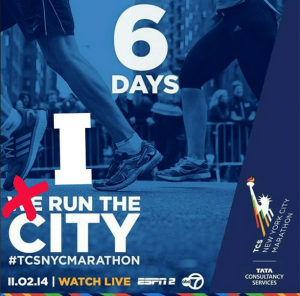 I seriously cannot believe that the moment I've waited for four years is only days away. My husband and my oldest daughter will travel with me so we can celebrate her 13th birthday in the Big Apple. This weekend will be quite the celebration with a mere 50,000 birthday party guests along for the ride!
In New York
Concrete jungle where dreams are made of
There's nothing you can't do
Now you're in New York
These streets will make you feel brand new
Big lights will inspire you
Let's hear it for New York!
New York!
New York!
 For the past few Music Music Mondays, I've enjoyed sharing my favorite Halloween tunes and I'm dying to know your favorite spine tingling songs. What Halloween songs move your spirit?