For three days only, Potted Potter will charm Tampa audiences and Harry Potter fans can experience the magic of Harry Potter in a completely new light.
Prior to attending the opening performance, my youngest daughter claimed not to be the biggest Harry Potter fan. In fact, she was on the fence about attending the show. However after last night's hilariously funny show which received a standing ovation, she is now a new type of Potter fan. Whether you are a Potterhead or vaguely familiar with the films, Potted Potter will have you begging for Pottermore.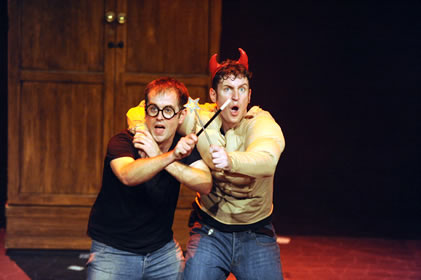 7 Reasons Why Potted Potter is Perfect
(Why Seven Reasons? Because they are seven books.)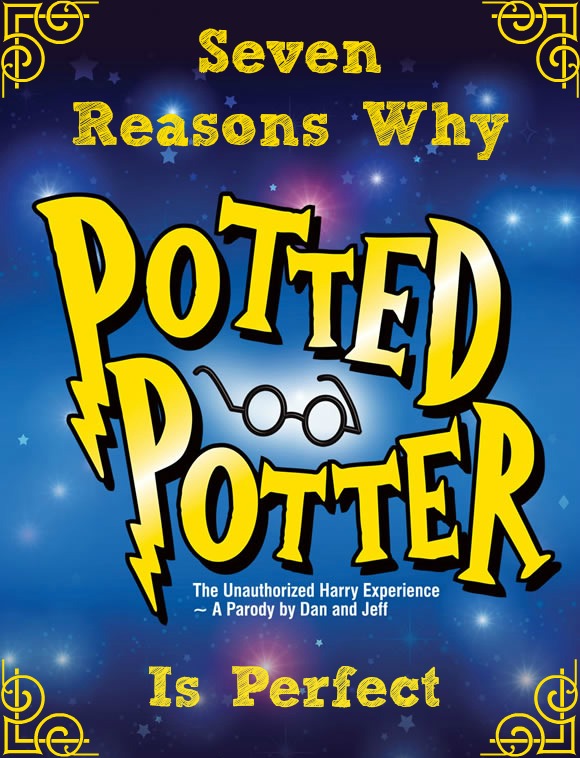 Wicked Fast Comedy and Improv
The fast-paced comedic talents of Daniel Clarkson and Jefferson Tuner are simply spellbinding! Their wicked one-liners and mad improvisational skills had the audience rolling with laughter. Obviously, Clarkson and Turner stick to a script but they allow themselves some room for regional jokes specifically for the Tampa Potter Fans, which makes the show that much more enjoyable.
Seventy minutes of nonstop nonsense
They weren't kidding when they said "seven books in seventy minutes", as Potted Potter shares the basic plots from all seven books. If you're a hard core Potterhead purist and read the books like the Bible or simply a fan of the films, the story line remains the same. Spoiler: Harry always defeats Voldemort.
It's only seventy minutes.
If you're not quite sure if your youngest Harry Potter fan will sit through an entire show, this is the perfect length of time. It's actually shorter than most Harry Potter films and even shorter than some of your kid's favorite animated films too. While there's no intermission, take caution as you may piss your pants from laughing so hard and not from the scary dragon in book four.
Two actors play dozens of Potter characters (and even a Golden Snitch).
With funny voices, silly props and ridiculous wigs, Clarkson and Turner cleverly portray each of the main characters throughout the seven books. Clarkson even attempts a musical number as Voldemort singing, "I Will Survive." Spoiler: Voldemort does not survive and Clarkson and Turner bring down the house.
Visual Effects
While you may hardly expect a short seventy minute comedy production to have the razzle dazzle of a larger production, no Harry Potter production would be complete without a fog machine, a little lumos charm and a patronus as well.
Plenty of audience participation
Between a Quidditch match which involves the entire theater to cleverly cultivated heckles, the audience is encouraged to be part of the show from start to finish. Even a few audience members become cast members when asked to join the duo on stage.
Fun for the whole family!
When many productions boast "fun for all ages", Potted Potter really means that anyone from 7 to 70 years old will roll with laughter over the many Potter puns, slapstick and silly antics of this comedy duo. While I didn't bring my four year old to the show, I wish I had; he would have found it all very funny too. And my four year has only seen the first film.
There are only two more days to experience Potted Potter with two shows on Saturday at 2 p.m. and 7:30 p.m. and Sunday at 2 p.m. and 5 p.m. To purchase tickets, visit strazcenter.org or call the box office at 813-229-STAR (7827).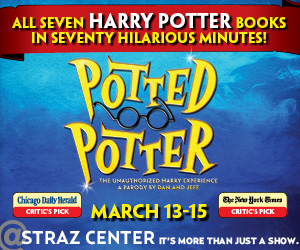 Disclaimer: The Straz presented me with four tickets to Potted Potter in exchange for my honest review. All opinions shared are my own.