Did you know more than 700,000 people in the Tampa Bay community go hungry each day, with approximately 250,000 being children?
What if every meal you purchased fed a hungry child in our community?
Would you buy a meal?
What if every time you used the hashtag #GiveAndGrub, you could feed a hungry child in Tampa Bay?
Would you #GiveAndGrub via social media?
Through a giveback partnership of the Give & Grub Food Truck and the Laser Spine Institute giving is truly that simple. The Give & Grub serves meals to its customers and the hungry in our community with each gourmet meal purchased – 1 meal sold = 1 meal given.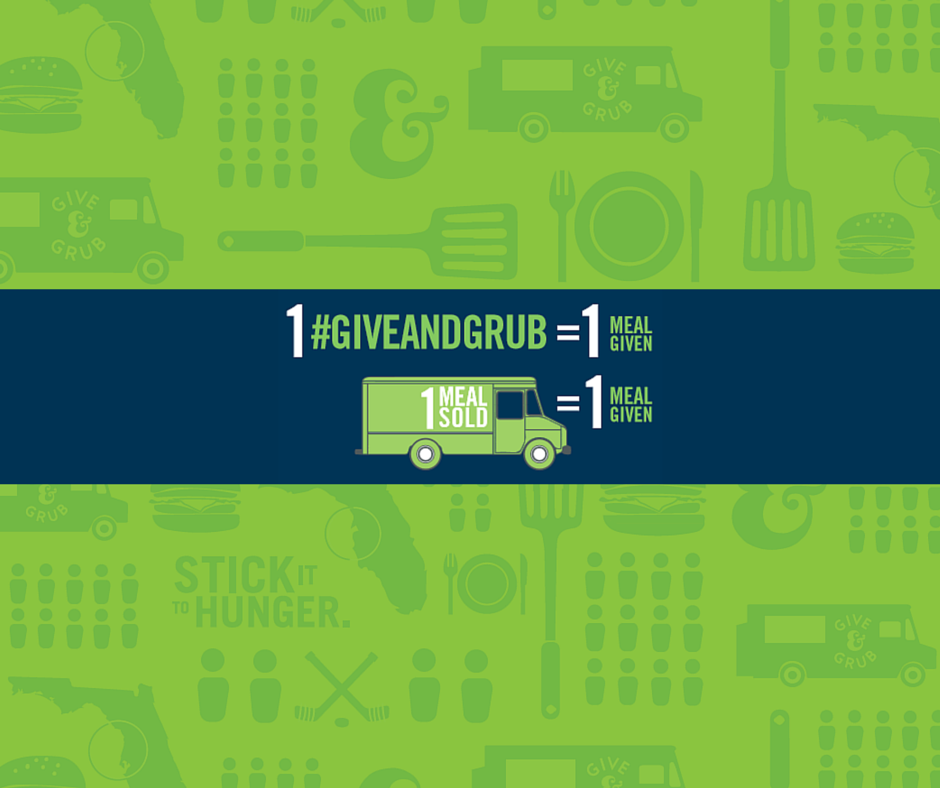 For every gourmet meal purchased at the Give & Grub food truck, the Laser Spine Institute will donate a meal to a hungry child in the Tampa Bay area. The project is supported by a partnership with Feeding America Tampa Bay and Metropolitan Ministries.
On a beautiful Monday evening in March, the Tampa Bay Bloggers and I were invited to taste the gourmet menu items served regularly by Give & Grub and to learn more about the #GiveAndGrub mission.
And let me tell you, giving back never tasted so good!
With a brief presentation of the food by Chef Brian, it was clear that compassion and quality ingredients are staples in every meal. The key component to each dish is real, fresh ingredients, including the bread which is baked daily.
All of the Give & Grub menu items are cleverly named after the Lightning players starting with Chicken Parmkos Sandwich (for Steven Stamkos) – a traditional chicken Parmesan sandwich with breaded chicken and housemade marinara served on a hero roll and topped with melted aged Parmesan.
Hedman's Steak Tacos are flank steak covered with purple cabbage, chipotle glaze, roasted corn, pico de gallo, Tijuana rice and plantains folded in a thick soft taco.
Hat Trick Chicken Sliders offer piles of slow-smoked Chicken smothered in BBQ, housemade pickles and southern coleslaw on Bavarian rolls.
Cooper's Candied Burger builds a better burger with roasted red peppers, candied jalapeños and cotija cheese on a pumpernickel bun.
Then, there's Callanahn's Mac Slam – a sausage mac 'n cheese prepared with cavatappi and creamy boursin caramelized peppers and onions and finished off with seared kielbasa on top.
Bishop Bowl brings a yellow rice bowl with a mixture of mango, roasted peppers and saffron red beans topped with blackened shrimp or tofu.
Slapshot Chicken Salad made with herb-roasted chicken over baby greens with cranberries, roasted beets topped with sugared walnuts and Fuji apple vinaigrette.
And finally, Chef Brian with the help of Thunderbug (the Lightning mascot) shared the Give & Grub newest item…
A Philly Steak Sandwich!
Caramelized peppers and onions smothered with melted Gouda give a juicy little twist to a traditional Philly Steak sandwich.
Adding a helping of sweet potato waffle fries drizzled with a butterscotch marshmallow sauce (which tasted like funnel cake to me) truly reinvented the sandwich and waffle fries! With a reinvented sandwich comes a new name and Give & Grub is open to suggestions for this amazing steak sandwich.
While I thought of a few such as the SHUTDOWN Philly Steak Sammie, all creative foodie types are encouraged to offer sandwich name suggestions to Give & Grub via a tweet along with the #GiveAndGrub hashtag and help feed a hungry Tampa Bay child.
For the purpose of time, Give & Grub presented each blogger with small bites of their most popular dishes in To-Go boxes : Callahan's Mac Slam, Hednam's Steak Taco and  the Chicken Parmkos Sandwich and it's newest menu item, the Still-to-Be-Named Steak Sandwich.
By doing what bloggers do best (social media sharing and resharing on Twitter, Facebook and Instagram), we collectively used the #GiveAndGrub over 2800 times and therefore, provided 2800 meals to hungry children.
Like I said, giving back never felt or tasted so good!
Although charity stays in Tampa Bay, anyone and everyone across the nation and around the world is encouraged to use the hashtag #GiveAndGrub to continue providing meals to Tampa Bay's hungry children.

The Give & Grub food truck can be found at Tampa Bay Lightning home games on Thursdays and Saturdays, Tampa Bay Storm games and featured special events at the Amalie Arena.

Or, take a stand against hunger with your co-workers! Arrange for the Give & Grub Food Truck to stop by your workplace. Simply send a request at www.giveandgrub.com/request-the-truck.
Now, it's your chance to stick it to hunger with #GiveAndGrub. 
Enter to win a Give & Grub Prize Pack – two tickets to the Lightning Home Game on Thursday, March 26th and one Give & Grub meal voucher. To enter to win, follow the Rafflecopter prompts below.
Contest ends Thursday, March 19.
Disclaimer: Through a partnership through the Tampa Bay Bloggers, Give & Grub and the Laser Spine Institute, I was invited to Tasting Tweetup and given items for the purpose of a giveaway. All opinions shared are my own.