Comic Con (also known as the trademarked Comic-Con) has come along long way since the days of comic books and Trekkies. With the rising popularity of science fiction and fantasy movies and TV shows, Comic Con has grown to include multiple genres from every fandom. While an abundance of comic books are still present, Comic Con has become a gigantic conglomerate of science fiction fanatics (Whovians and Force Freaks) anime maniacs and even pop culture with the addition of (Walking) Dead Heads,( Harry) Potterheads and (Game of) Thoners.
Since my oldest daughter is HUGE Doctor Who fan ( a Whovian) and Adventure Time fan, she begged me to take her MegaCon in Orlando in April. Her must do Comic Con list included meeting Jeremy Shada and attending the Doctor Who Round Table Discussion featuring Karen Gillan (Amy Pond), Alex Kingston (River Song) and Tony Curran (Van Gogh).
MegaCon was massive and a blast but I was completely overwhelmed with it all due to a lack of planning on my part. As newbie attendees, my daughter and I had no idea what to expect and yet, we learned so much from our first Comic Con experience. Now that we have one Comic Con under our superhero belt, we will armed and ready for Tampa Bay Comic Con in August and we can even offer some suggestions for you to successfully survive your first Comic Con.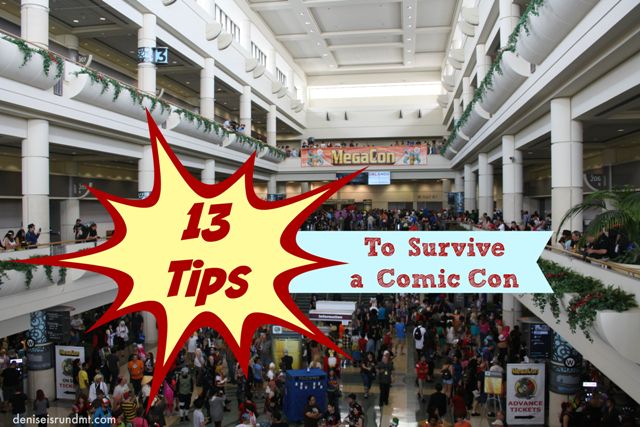 Here are my 13 very handy tips to survive a Comic Con:
1. Buy your tickets online in advance.
Tickets prices are higher at the door. Plus, when you purchase tickets in advance, you avoid the risk of special events selling out.
2. Wear a costume. (Cosplay)
Many attendees dress in costume and role play, but you don't have to dress up to attend a Comic Con although you may have more fun if you do. Cosplay is the universal term used referring to dressing as your favorite character and honestly, anything goes.
3. Wear comfortable shoes.
(Or bring spare pair to change shoes.) You will do a lot of walking at Comic Con. You may regret wearing those Hobbit feet in a few short hours.
4. Bring a change of clothes.
If you're really into cosplaying, then this may seem like a silly tip because you plan to wear your getup the whole time. However, that Game of Thrones wig or Harry Potter wizard robe cap might get hot, especially for the Tampa Bay Comic Con in August. There isn't anything worse than blue Avatar makeup running down your face or your Elfin ears melting off due to the sweltering heat and humidity. So, be Florida summer smart and bring a change of clothes.
5. Pack a lunch or snacks.
Why waste money on fast food or overpriced crappy convention food? Save your money for the vendors and spend it on cool relics, antique comic books or fan art. Support local and spend your money are the dozens of talented artists in the exhibition hall.
6. Bring water.
Same advice as #4. Why waste money on bottled water?  You are guaranteed to spend time discussing specific episodes and their significance on the plot of (fill in blank of favorite fandom) with other fans. All that chatting and role playing will give you cotton mouth. Bring a refillable water bottle and stay hydrated.
7. Download the map and app before you arrive.
In larger Comic Cons, the signage is hard to read and follow and it is easy to get lost. Study the map to BEFORE you arrive. Learn the locations of all the workshops and special sessions you want to attend so you don't waste time searching for them or asking volunteers or worse, clueless Comic Con attendees. It's also good idea to know the location of the quieter bathrooms and elevators, too.
8. Arrive early.
The lines for special events such as roundtable discussions and one-on-one autograph sessions can be quite lengthy. Do not arrive at the start time and expect to grab a good seat. It's best to plan to arrive at least an hour before any special engagement for the best seats outside of VIP.
9. Have a plan.
If you downloaded the map, you are already ahead of the game. While the exhibition hall is amazingly cool, do not get sucked into the vacuum of space and time in the aisles and aisles of cool relics. Give yourself a time limit and return later if you have more time.
10. Bring a credit card AND cash.
As I previously mentioned, you will want to buy tons of cool collector's items  and fun fandom finds in the exhibition hall. Many of the exhibitors will accept credit cards, however, if you decided to purchase last-minute tickets (which you won't because I advised you to plan ahead 😉 ) you will need CASH for any special event tickets you purchase on site.
11. Take lots of photos.
As I previously mentioned, cosplayers love being photographed, however, it is important to be respectful of the "No photographs permitted" areas. Another tip: Don't ask a cosplayer to photograph you if you're not dressed up. It's a understood no-no.
12. Carry a charger or bring a backup battery.
If you plan to Periscope, tweet, retweet and share photos on Instagram, you are going to kill your battery. Also, sometimes the WiFi in convention centers isn't always the best and a slow connection chews up your battery life. Be prepared a carry a charger or backup battery.
13. Have fun!
Go forth and prosper with your people. Comic Con is a geek's Mecca and you are guaranteed to have an incredible time at Comic Con whether you plan ahead or not.