In a life before my SAHM days, I was an elementary school teacher. Early on in my teaching days, I learned the importance of an efficient file system, good recordkeeping and how to organize my student's work – what to keep and what to send home.
While I've been home for 14 years, those organizational skills remained with me outside the classroom. You can take the teacher out of the classroom, but you can't teaching out of the teacher!
When my oldest daughter started preschool ten years ago, I quickly became buried under a pile of papers. What do I keep and what do I throw away? Which artwork do I save? Which reports do I keep?
While it had been years since I've managed a classroom, once my daughter started school the teacher in me switched on and I dusted off those old organizational skills that I were filed away in the back of my brain. With the help of a dollar store expandable file organizer, I set up a system that has worked for over a decade. I now use this same file system with my kindergartener, fifth grader and eighth grader.
The beauty of this expandable file organizer is that you will have all the essential papers for a parent-teacher conference while saving some of your favorite artwork and projects. If there is ever a time you need to question or dispute a final grade or classroom behavior, you have all the documentation in one highly organized spot.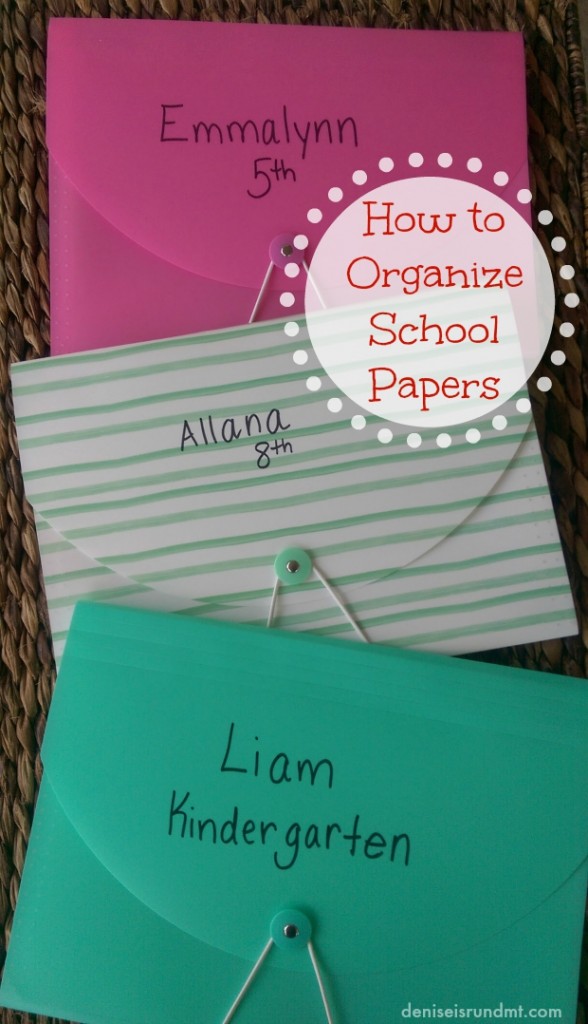 How to Organize School Papers – What to Keep
Write your child's name and grade on the outside. Then, label the file with the following tabs.
Notes-IEP-504 Plan- Awards
This section is for legal documentation such as IEPs and 504 plans, weekly newsletters and notes from the teachers. Saving newsletters will help you keep track of homework assignments and project due dates and the notes from the teacher will offer some insight to your child's overall classroom performance. This is also a great spot to save special awards and recognitions.
Class Work
Save only graded assignments as this will help gauge your child's overall performance and help offer some insight to his/her final grade. Do not keep busy work, practice sheets or homework. Homework is a small percentage of your child's overall grade and typically most teachers do not grade it. Typically, homework is viewed as additional practice and a participation grade. You may also want to save creative writing samples from each quarter or term as it's fun to watch your grow as an author.
Tests/Quizzes
It's important to save tests, quizzes and any assessments regarding your child's performance (Lexile scores, Accelerated Reading reports, FAIR testing, etc)  so you can track your child's progress. Much like the graded class work, this will help give you idea of your child's final grade. At the end of the year, add your child's statewide assessment in this section.
Progress Reports/Report Cards
Since report cards are legal documents, it's very important to save these records. While the school will also have a copy of these in your child's cumulative folder, it's important for parents to be familiar with the information provided on these documents. If by chance you ever need to dispute a final grade, discuss your child's behavior, his/her placement for the following year or inquire about special assistance, you will need to be prepared to demonstrate an understanding of your child's overall performance.
The Unlabeled Section
Sometimes teachers will assign culminating projects which are a significant portion of your child's grade. Save those big projects with the assessment (score/rubric) and a few of your favorite pieces of your child's artwork in the unlabeled section. This is also a great place to store class photos.
At the end of the year, toss the newsletters and the class work, but save all the legal documents, writing samples and artwork. Store the expandable file in a sealed tight plastic bin to keep the papers from attracting bugs. Each of my children has their own bin which holds a file from each school year, including preschool.
By minimizing the papers and saving only the important ones, you can successfully manage your child's entire school career from preschool to high school. Plus, the system is so simple, your high school student can learn to organize his/her own file to prepare for college.