Disclosure: I received tickets to the A Gentleman's Guide to Love & Murder as opportunity through the Tampa Bay Bloggers and the Straz Center for the purpose of this review. The opinions shared are my own.
WARNING: The following post contains many spoilers.
Believe all the hype you have heard about A Gentleman's Guide to Love & Murder. This musical takes all the proper forms of an old school Andrew Lloyd Webber musical and turns it on its head with a very contemporary style and comedic flare despite its turn of the century London setting.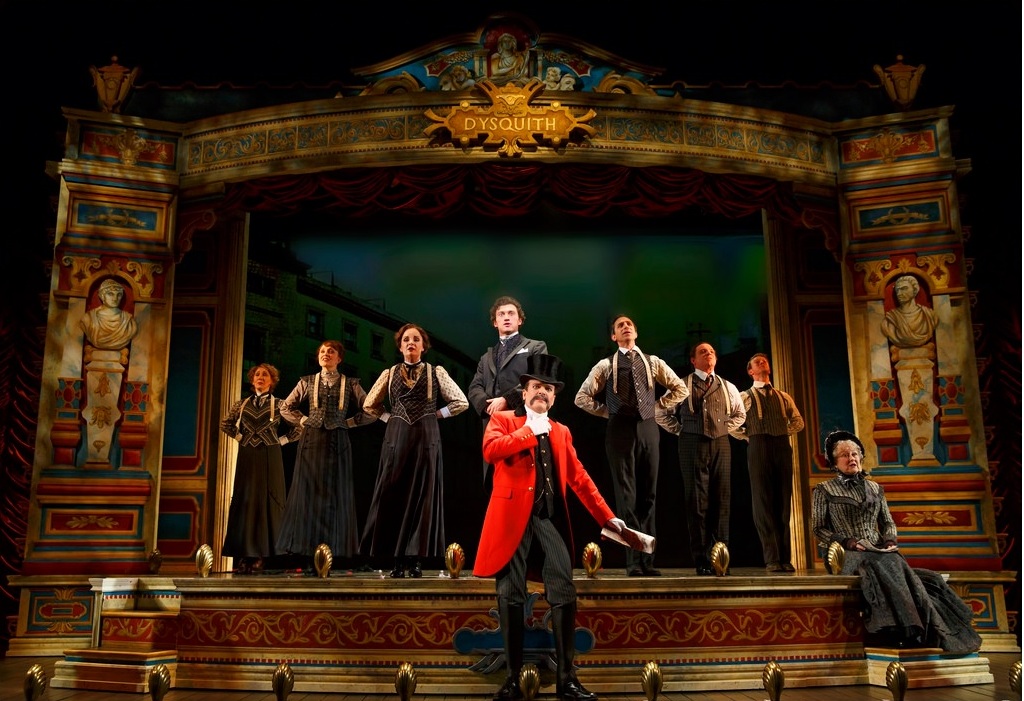 True Broadway Buffs will catch the subtle nods to beloved musicals such as Beauty and the Beast (a reference to Cogsworth and his architecture tour), the vocal talents and a love triangle that would rage a Phantom and long him to drop a chandelier on the cast.
Apart from knowing one song performed during the Macy's Thanksgiving Day Parade, I had no prior knowledge of the plot.
Actually, I preferred not knowing the storyline and I am so glad I went into Tuesday's opening night performance with no expectations. For that, I loved the book, the music and the comedy even more. From start to finish, A Gentleman's Guide to Love & Murder slayed me and I laughed out loud on multiple occasions. My mom, my partner in crime for opening night, had seen the production on Broadway and raved about it. Honestly, at this point, what critic hasn't showered this 2014 Tony Award Best Musical with accolades?
Although my naiveté about the musical seemed like good plan, my lack of knowledge left me in the dark about its well known casting, such as the fact that eight D'Ysquith heirs are marvelously played by the same actor (John Rapson) which I only caught around the demise of the third D'syquith.
After his mother's death, Monty Navarro discovers his relation to the infamous and very wealthy D'Ysquith family and decides to off the eight relatives in line before him for Earl. While he loves Miss Sabella, he falls for Miss Phoebe D'Ysquith and marries his cousin. (After all, that's what those nutty nobles did back then, but it definitely develops a very interesting love triangle.)
Each scene takes place inside a relatively small picture box which resembles a Punch & Judy booth or a marionette stage and very fitting since Monty Navarro is pulling all the strings to fulfill his devious plan. Rather than scene changes rolling behind closed curtains, an LCD screen serves as the backdrop of the D'Ysquith picture box and creates the most imaginative and innovative scenes for the purpose of Monty's murderous adventure.
Monty's shares his story through an oral reading of his journal obviously titled, A Gentleman's Guide of Love & Murder, however, through his confessional autobiography some very distinctive life lessons unfold.
Love is work.
If you want your relationship to stand the test of time, you have to be willing to give a little and comprise. Sibella realized too late her love for Monty, who was destined for royalty; Phoebe realized very quickly that she would have to put aside proper Edwardian etiquette to marry the man she loved. In the end, true love (and a bizarre love triangle) prevailed.
The rich never understand the poor.
In Edwardian times, the working class was born into poverty and could never rise above that social status, whereas the rich had the opposite good fortune. While a social glass ceiling may not hold true in today's society, many of the same stereotypes and stigma still exist. The upper crust of society long to help the less fortunate, however, many of the 1% fail to understand the poor's lack of gratitude for handouts be it a Christmas goose or welfare.
Money makes people very greedy and do crazy things.
"He has an automobile, you know." Sibella mentions as she sets her sights on Lord Hallward for social status and all the luxurious comforts an Edwardian girl desires. Monty feels a family tree lineage entitles him to a better job and social standing and could kill to get ahead…even marry a cousin. *shudder*
Most people have an ulterior motive.
I have to give Sibella props for putting all her cards on the table. She made it very clear from the start that social status was important for her. The audience learns early on what made her tick and thankfully for Monty's journal, his deepest darkest desires are unveiled. But you have to feel sorry for the poor D'Ysquith suckers who crossed his path. Wouldn't it be nice if everyone we met kept a journal of their intentions? Then, we could approach every relationship with caution and decide if money, love or fame is worth dying for.
Witness the wickedly talented touring company of A Gentleman's Guide to Love & Murder at the Straz now until Sunday. Visit www.strazcenter.org for tickets and showtimes.