I don't do scary. I'm not even going to try and hide the fact that I'm terrified of things that go bump in the night or place my lack of visiting haunted houses on my kids. While my children would be traumatized for life, I'm the biggest chicken in the Taylor coop when it comes to scary stuff.
If there's a mad scientist, a chainsaw and zombies, I'm out of there and sure enough, you'll find curled up in a fetal position. It's like I tell my kids, "If a clown jumps out at me attempting to scare me, I'll punch him in his squeaky red nose."
I really don't do scary. It's no trick.
But for the love of all Howl's Eve, I do love Halloween and all the not so scary parts of it. I love carving pumpkins, dressing up in costume trick-or-treating with my kids and creating creepy foods. Just keep the monsters, clowns and creepy stuff away from me.
If your family is like my family and you shudder at the thought of creepy, scary Halloween events, then your family will definitely enjoy these not so scary ways to celebrate the Halloween season.
Four Not-So-Scary Ways to Celebrate Halloween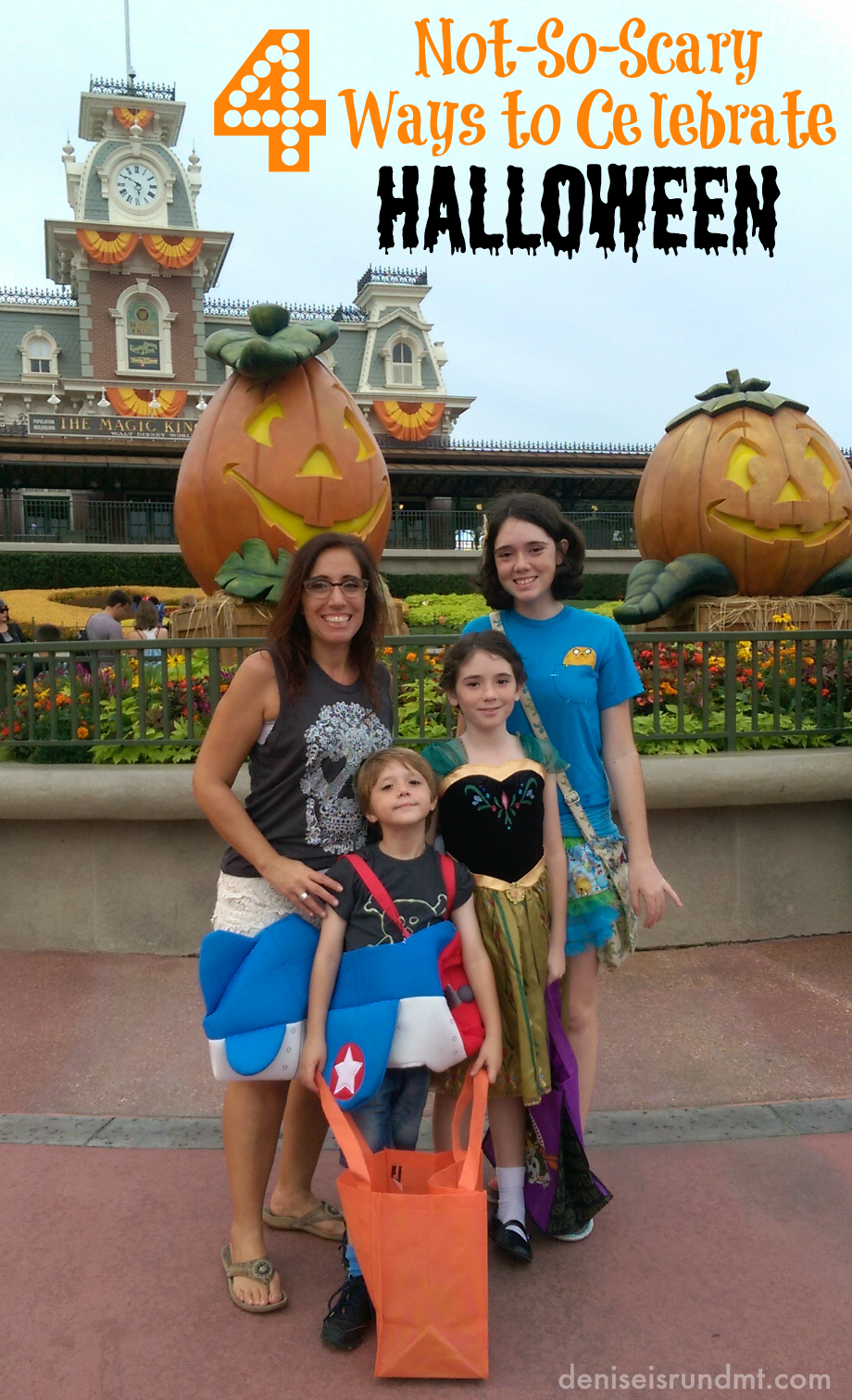 This, Lowry Park Zoo revamped its infamous Zoo Boo event by hosting the event during park hours, eliminating the haunted houses and adding trick-or-treat stations. My kids loved the change!


Pros
Trick-or-treat bags included
Live animals
Included in one-day admission
Map of candy stations
Hands-on activities
Pint-sized maze
Fun add-ons such as cookie decorating
Cons
Candy stations not labeled

We have attended SeaWorld's Halloween Spooktacular for about eight years now and it's one of my family's favorite Halloween traditions. Rather than attending the opening weekend, this year we attended the third weekend in October and we enjoyed a much less crowded park. It's definitely a good idea to avoid attending SeaWorld's Spooktacularthe first and last weekend in October.


Pros
Trick-or-treat bags included
Map of candy stations
Labeled candy stations
Included in one-day admission
Halloween dance party
Fun add-ons such as cookie decorating
Live animals
Cons
Long lines for rides
Halloween show geared for young children
As a special treat to my kids this year, I surprised them with tickets to Mickey's Not-So-Scary Halloween Party and we thoroughly enjoyed ourselves. For about 3/4 quarters of the price, a family can experience all the magic of Disney with some spellbinding flare, such as a Hocus Pocus Villian Spelltacular featuring the three sisters witches from Hocus Pocus and other villains you love to hate.

Pros
Trick-or-treat bags included
Lots of Candy Stations
Map of candy stations throughout the entire park
Short lines for rides
Candy stations lit up at night
Cast member assisting at the end of the line
Two sides to every line
Fun Halloween themed shows and parade
Fantastic fireworks
Not So Scary ticket holders can enter the park as early as 4:00 p.m.
Cons
Trick-or-treat bags are small
Long lines for candy stations
Not included with one-day admission
For the best experience, know before you go with a little help from the Undercover Tourist.
If you want to minimize the intake of candy while taking full advantage of fall, visiting Sweetfields Farm is a sweet spot for an outdoor day on the farm adventure.


Pros
Corn Maze
Hay ride
Pumpkin patch
Games
Fun photo spots
U-pick organic farm
Cons
Pricey
Lack of shade
Pumpkins in a field, not a real u-pick
Lack of concession
Additional fees for games and activities
While these four spots will definitely make your Halloween a real treat, there are a few other places worth mentioning. Although we've never been, I hear these Not-So-Scary Halloween spots are fun too.
Other Not-So-Scary Halloween Picks Worth Mentioning
What are some of you family's favorite Not-So-Scary Halloween places to visit?
And if you like my son's Halloween t-shirts, learn how to make your DIY Halloween tees here.