After spending most of 2016 easing back into running and slowly building my miles up to a 10K distance, I felt ready to tackle a half marathon distance for my 2017 goals. I tested the racing waters at the Gasparilla Distance Classic 8K back in February and once I successfully crossed finish line pain-free, I felt physically and mentally ready to train for a half marathon. With that, I decided to make the Walt Disney World Star Wars Half Marathon – The Dark Side my very first half marathon upon returning to long distance racing. I even had my whole Princess Leia cosplay runDisney costume planned for my return to racing.
But I had to play it smart this time around. No crazy Half Fanatics nonsense! No back-to-back races or obsessing about training. I needed to stay level-headed and not push myself or kill myself. I wanted to fall in love with running again.
If I increased my weekly long run by 10% each week, I would be playing it safe with my half marathon training. When I hit the 15K mark, I felt like I was running on Cloud 9. When I ran 10 miles, I was elated. When I made it to 12 miles, I couldn't believe how great I felt. I could still walk! Sure my legs were stiff from running, but they were just complaining. There was no nagging, throbbing plantar fasciitis pain.
I knew I could make it 13.1 miles without an issue.
RUN DMT IS BACK!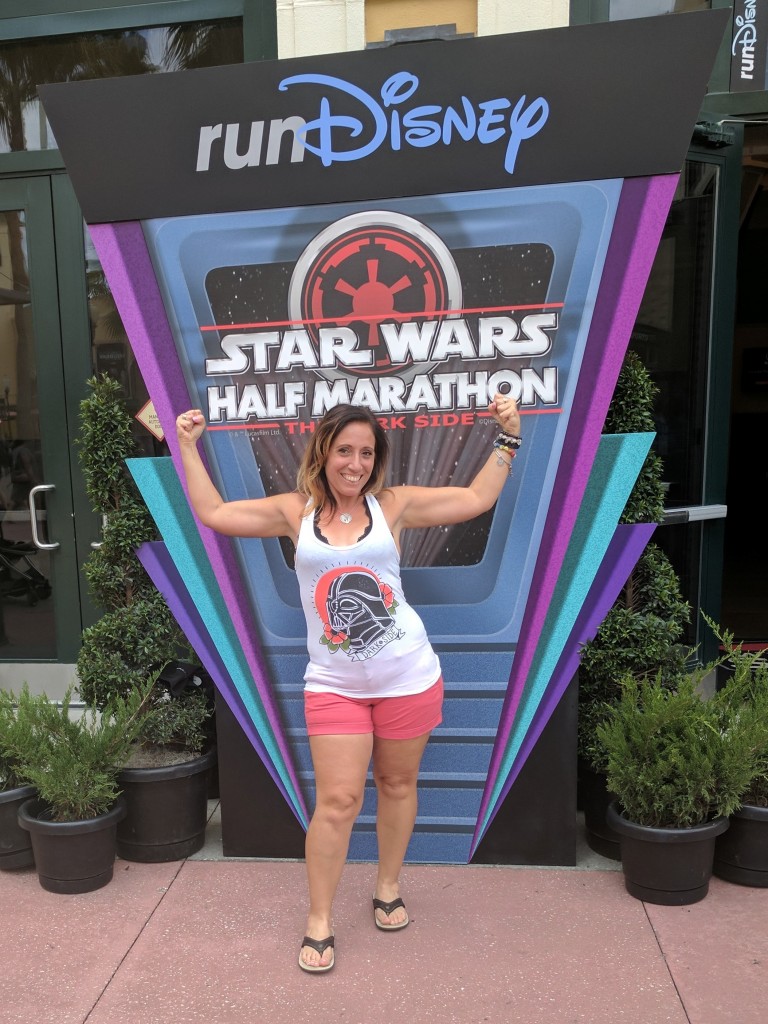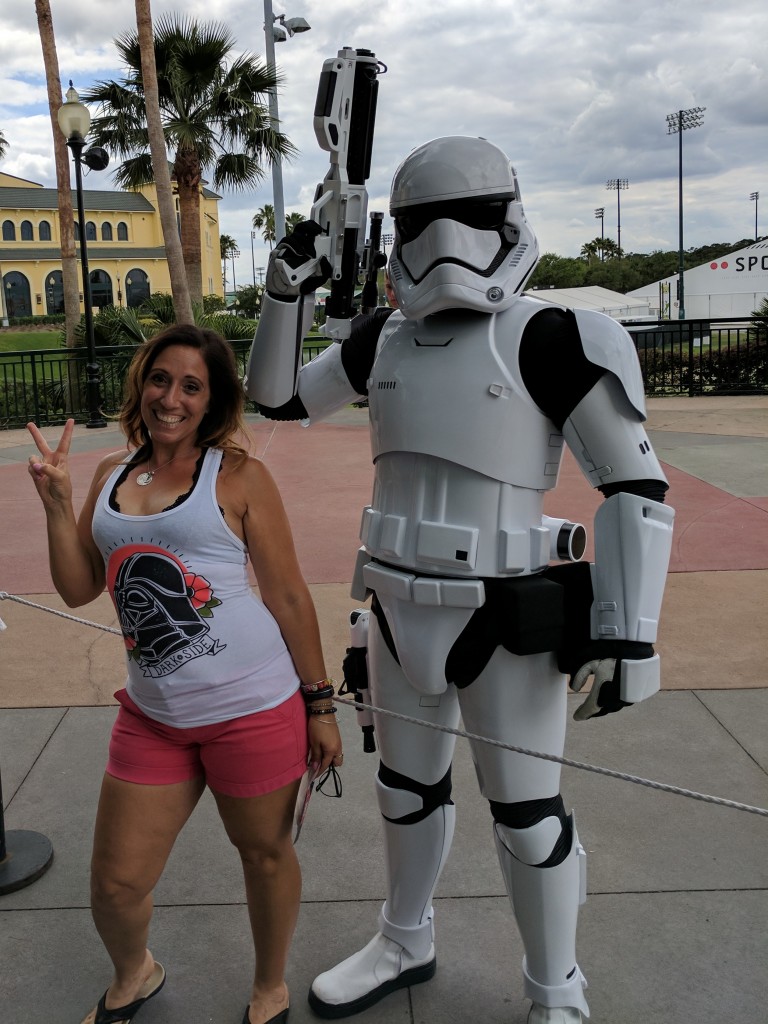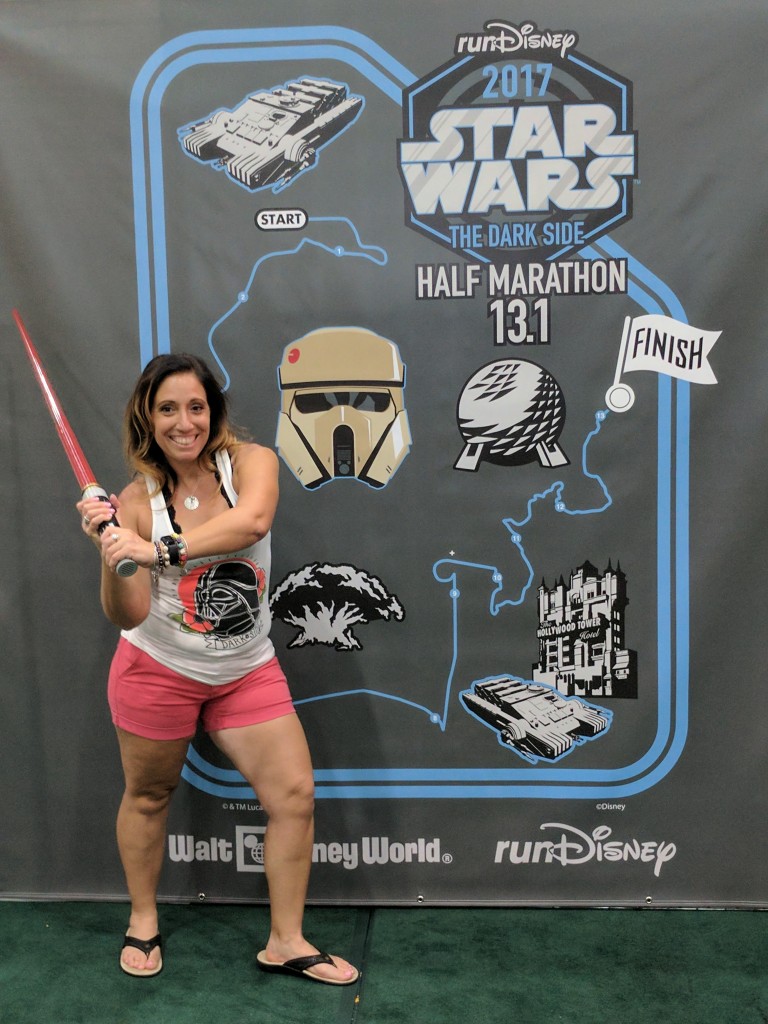 With 12 miles under my fuel belt, my family and I headed to the WDW Star Wars Half Marathon Expo on Saturday afternoon where I had a little too much fun and spent WAY too much money. Incidentally, I think I coined a new expression for the experience: "Runner Retail Therapy".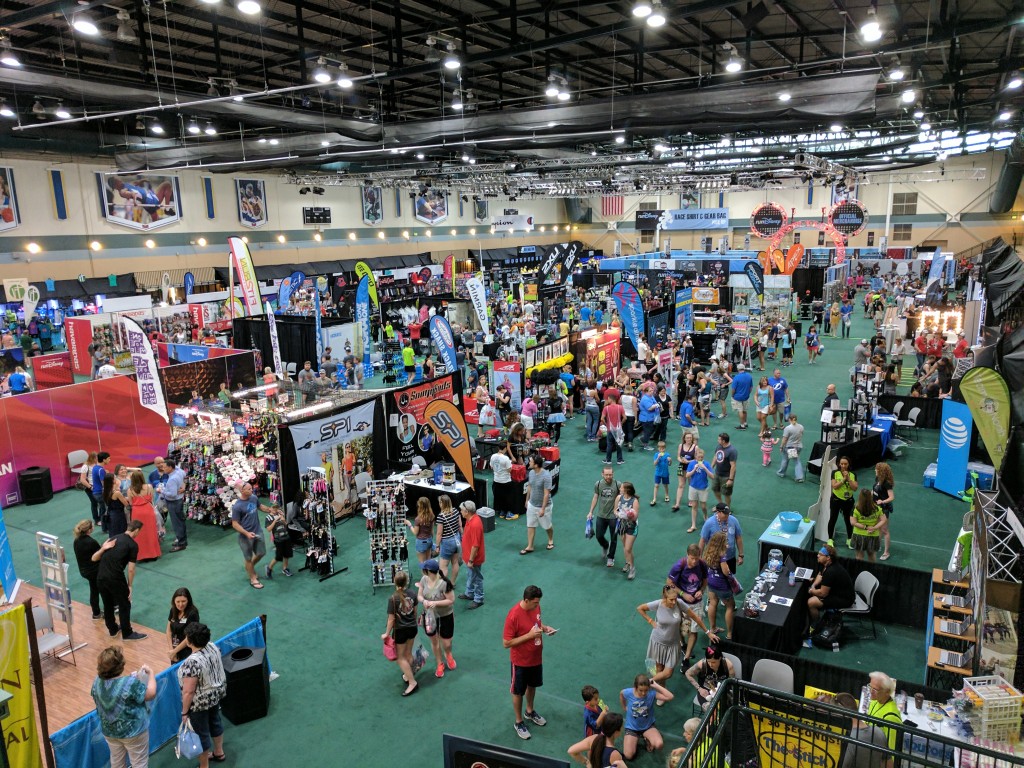 My Sunday 2:30 a.m. wake-up call came too fast but that's why I chose to stay on Disney property – to take advantage of the FREE bus transportation to the race start. I arrived at Corral D with plenty of time to eat breakfast before the start and pee use the port-o-potties multiple times.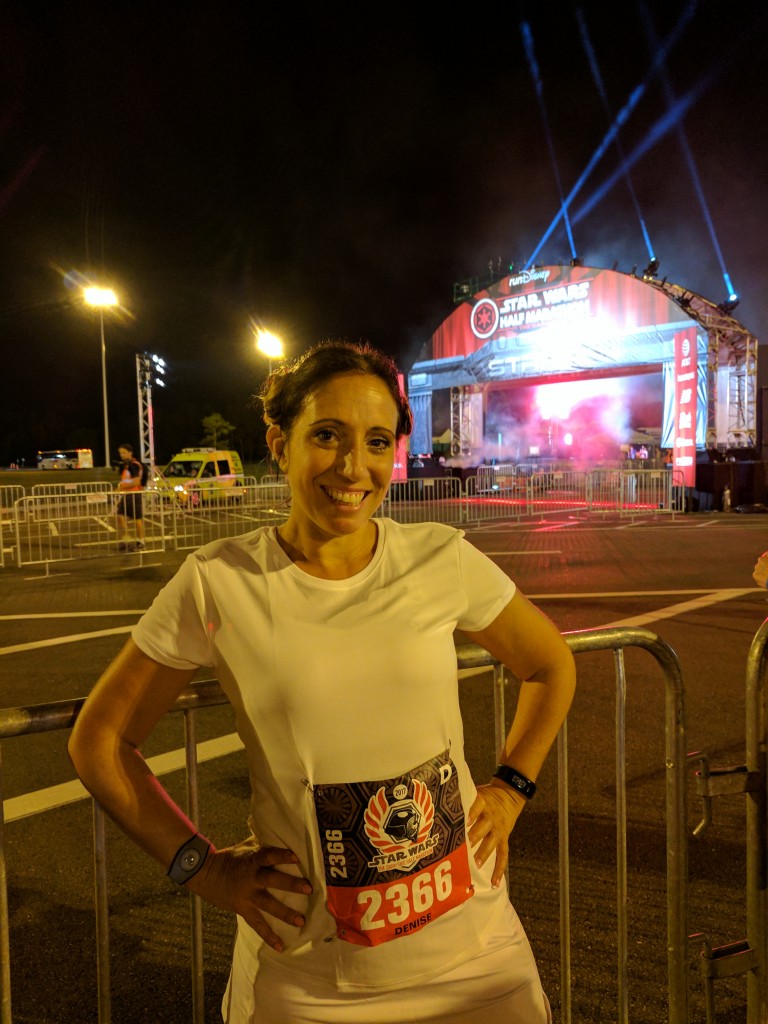 My wave started about 20 minutes after the first wave at 5:30. The announcers cleverly named us the "R2-D2 wave", which made me giggle.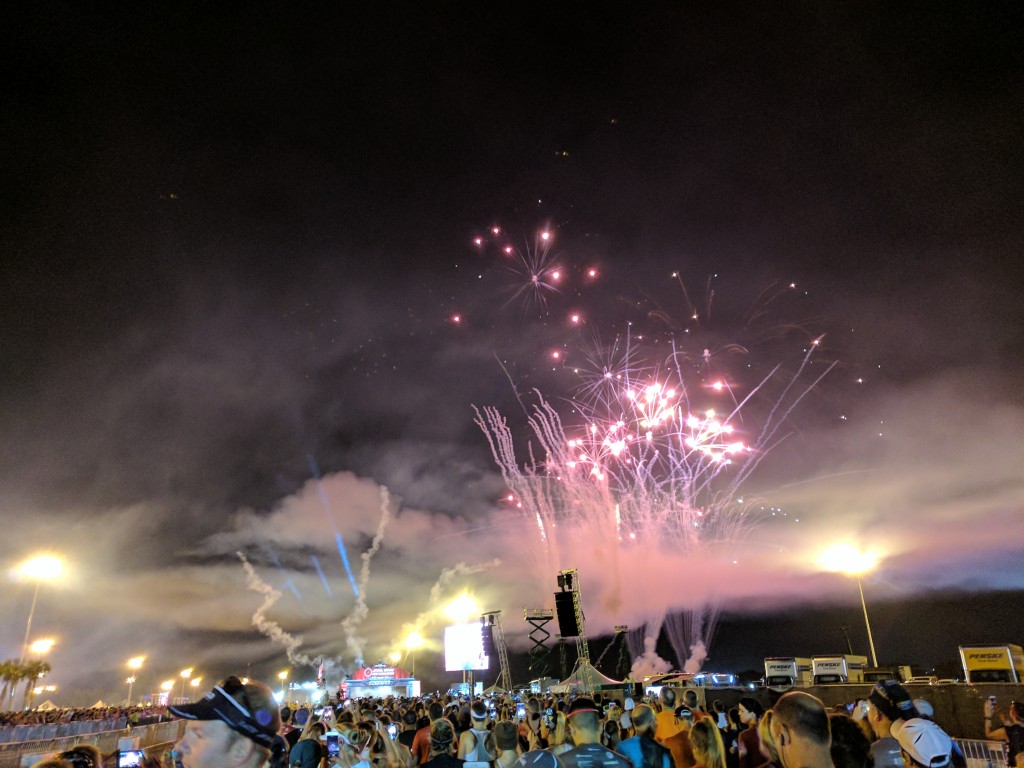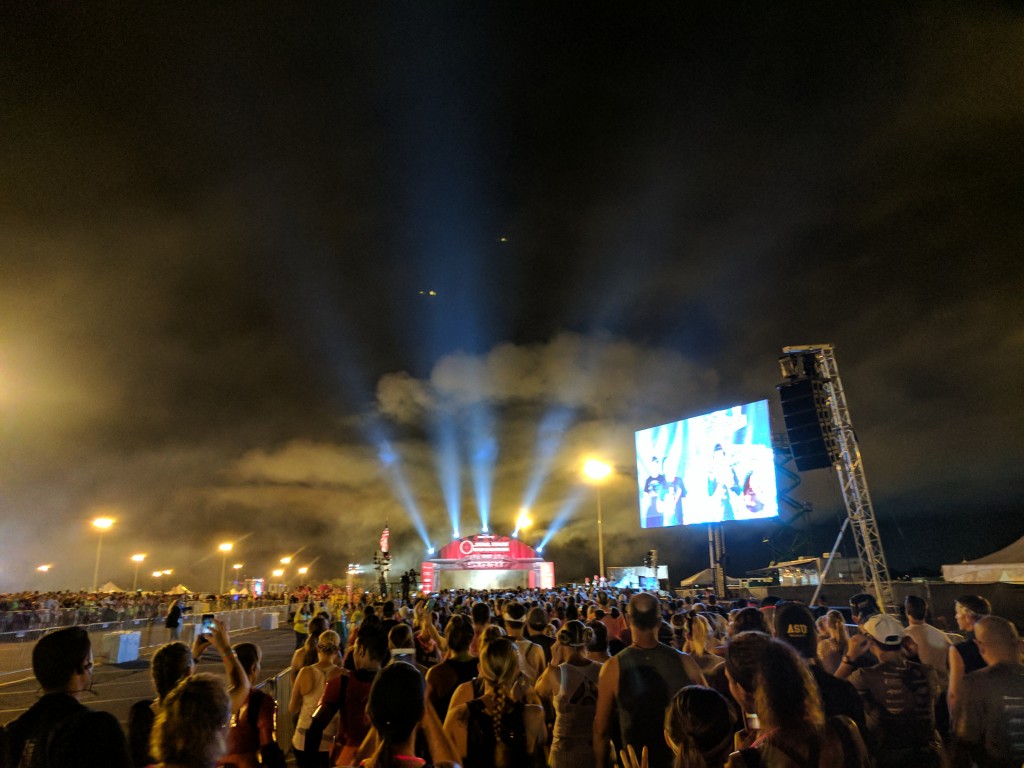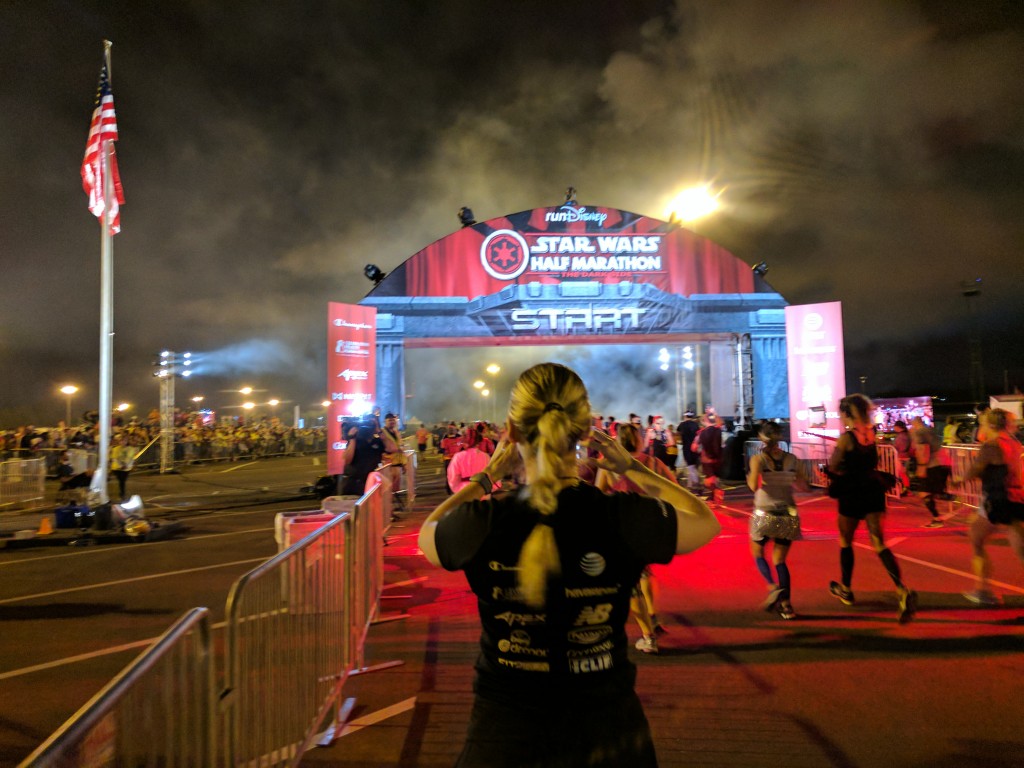 Typically, at the start of a race, it can be hard to find your pace due to the volume of runners packed so tightly together. I welcomed the slow start which allowed me to keep my pace in check and not start off too quickly. At 6:00 a.m., the smoky humidity hung surrounded us like a heavy wet blanket. I'm not sure if the smoke was related to the wildfires happening around Florida or the start line fireworks going off in the distance every couple of minutes. Although I had been training in the heat of the day, nothing prepared me for that thick, sticky, smoky stuff which really hindered my breathing.

Of course, only a mile into the race and I needed to pee again, as did everyone else judging by the number of runners waiting in line at the port-o-potties. I just kept moving along and decided to hold "it" until I found a restroom in Animal Kingdom.
Even when there isn't much to look at, Disney always gives you a little something to take your mind off what you're doing. As we ran along the roads lined with the dark woods of Walt Disney World, a laser beam battle blasted out from trees as though we were running through the Return of the Jedi Endor Scene.  It was fantastic!
About every mile along a runDisney course, characters greet you and the Star Wars Half Marathon entertains the runners in the same fashion. About one mile into the race, R2-D2 bleeped at the first photo spot.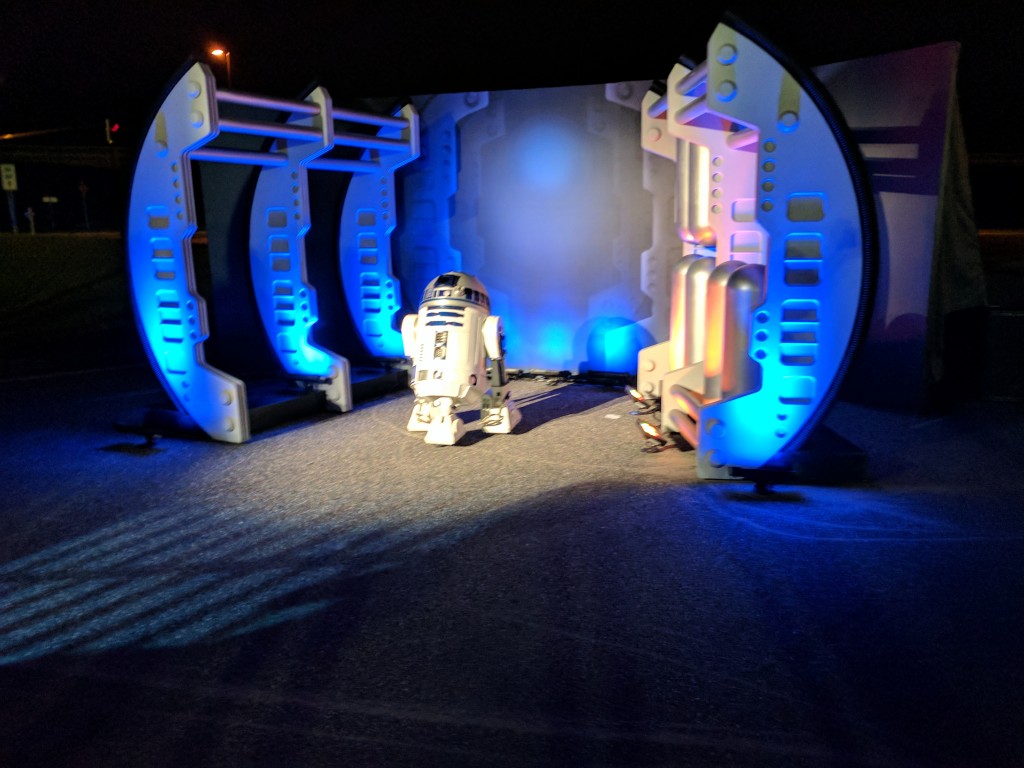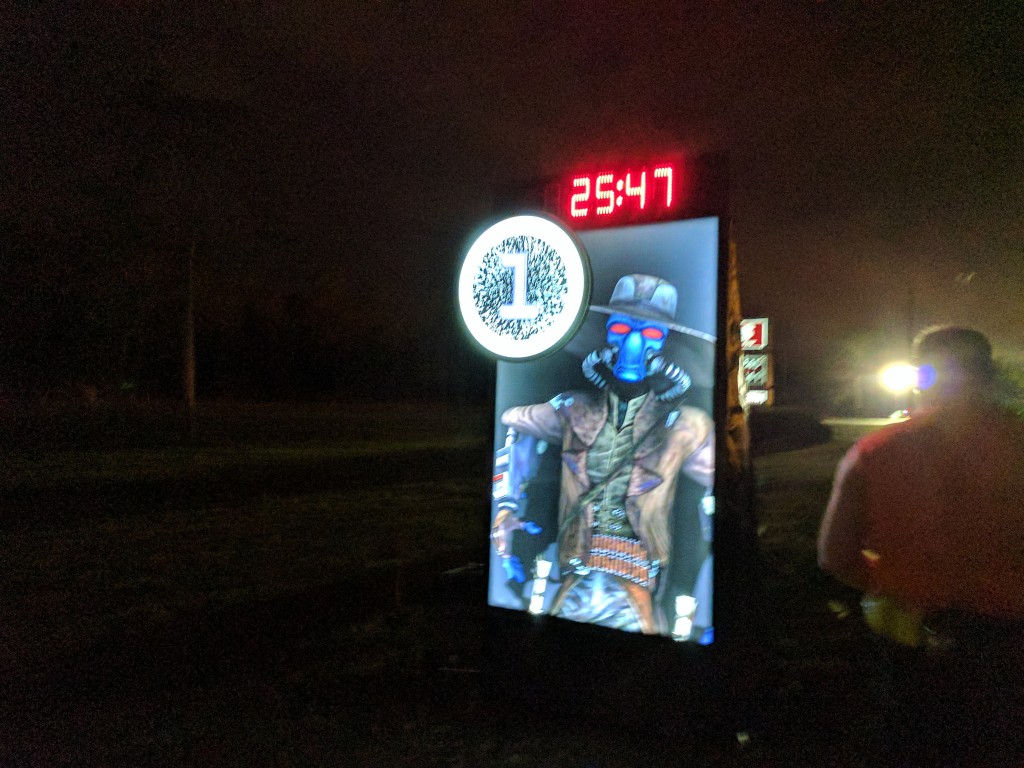 I had already decided I would NOT stop at the character photo stops because I didn't want to ruin my finish time. As much as I LOVE all the characters and taking photos, I chose to pose, snap and go to save time. Let's just say, you will see a lot of Star Wars Half Marathon – the Dark Side selfies and photobombs because I can't stop! Won't Stop!
Well, I only stopped at the water stations, but honestly, I ran 3 miles before I stopped for water…. because I needed to pee so badly… because I trained that way. I did, however, stop at the First Aid Stations more frequently than I wanted to because I need to lube, if you know what I mean….Like I said, it was so humid and the air was so saturated and the sweat just clung to me. So, my thighs things started to chafe. Or at least, I avoided some serious thigh chaffing, thanks to the gallons of Vaseline made available along the course.
About mile four, we entered Animal Kingdom and several lady runners made their way to the restrooms. I decided to hold out a little longer….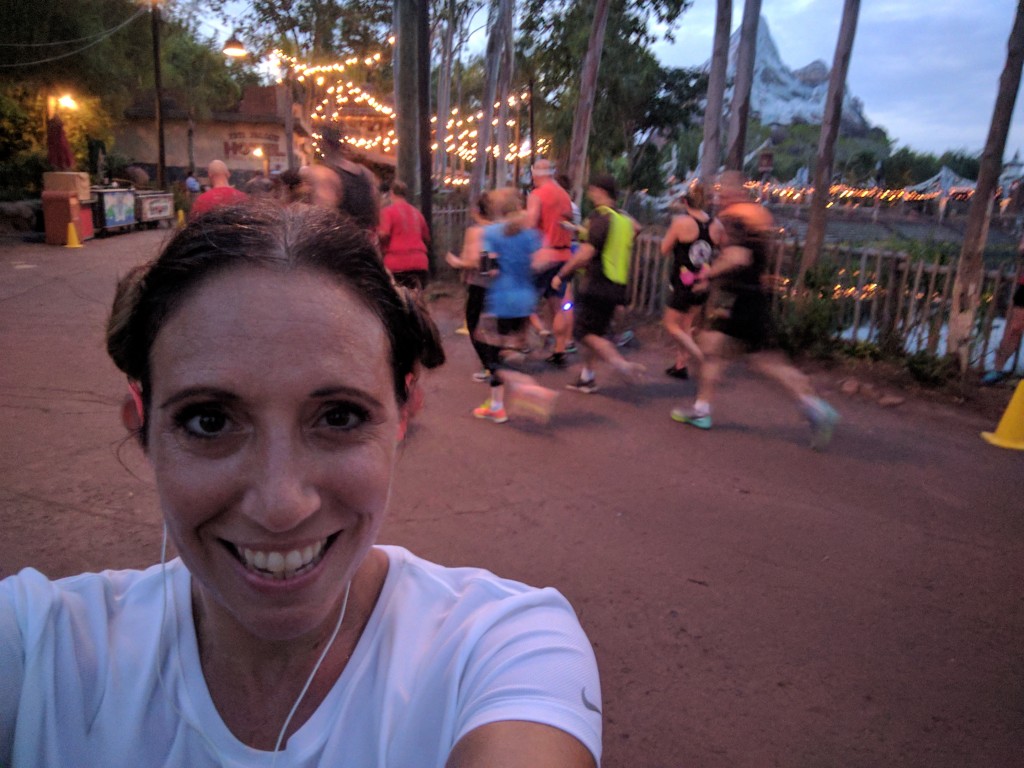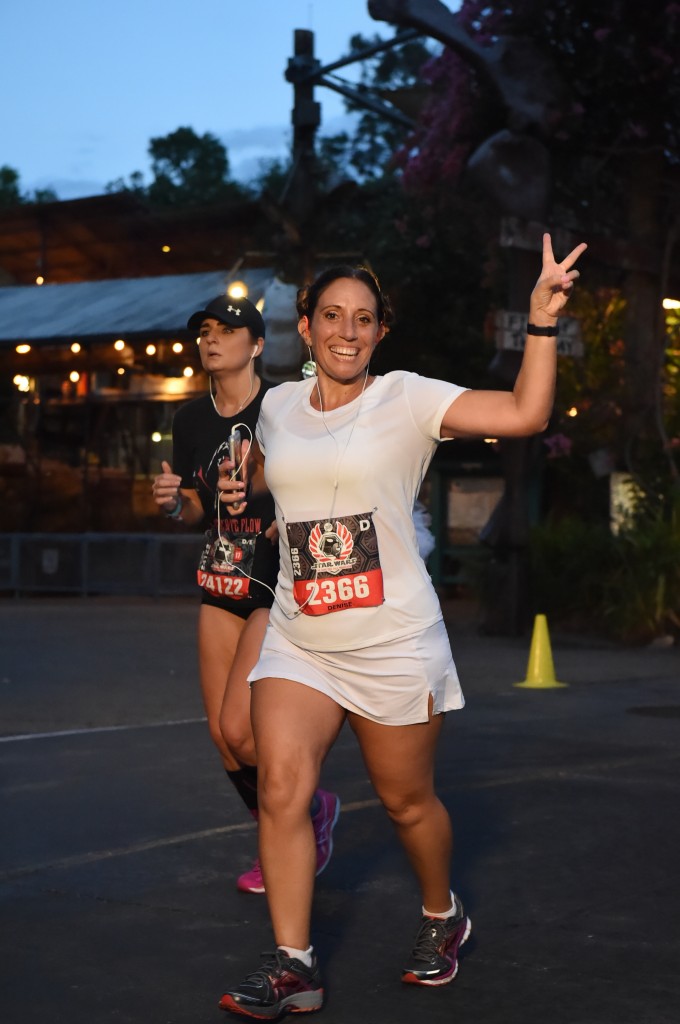 …until I found the PERFECT vacant family/companion bathroom in Dinoland! YES! I could cool down, adjust, wipe down, wash my hands and go. The whole process took maybe three minutes and so worth it! Way less than the wait at a character photo spot, that's for sure!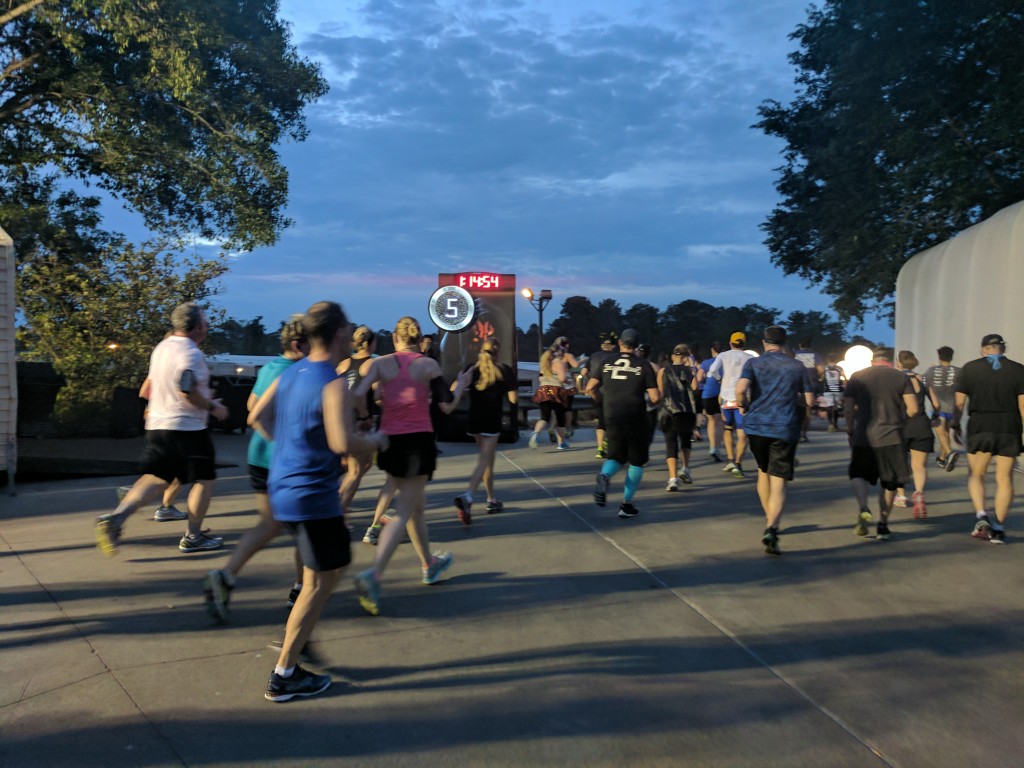 The sun started to rise as we exited Animal Kingdom and the sunny streets were lined with several Star Wars characters. So, I got my Star Wars selfie on.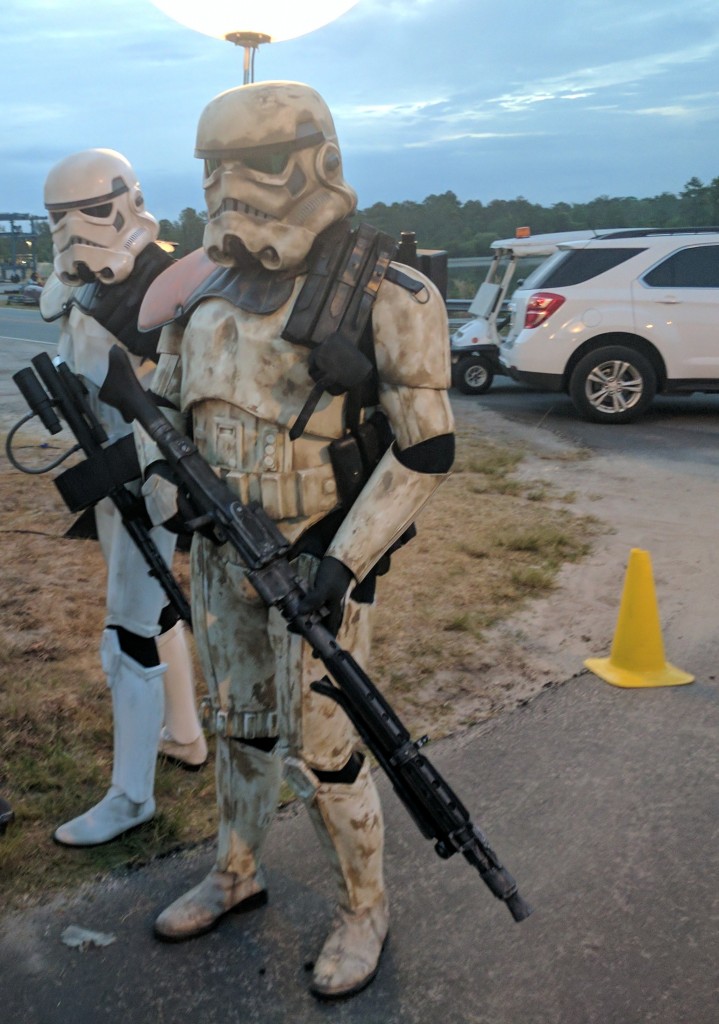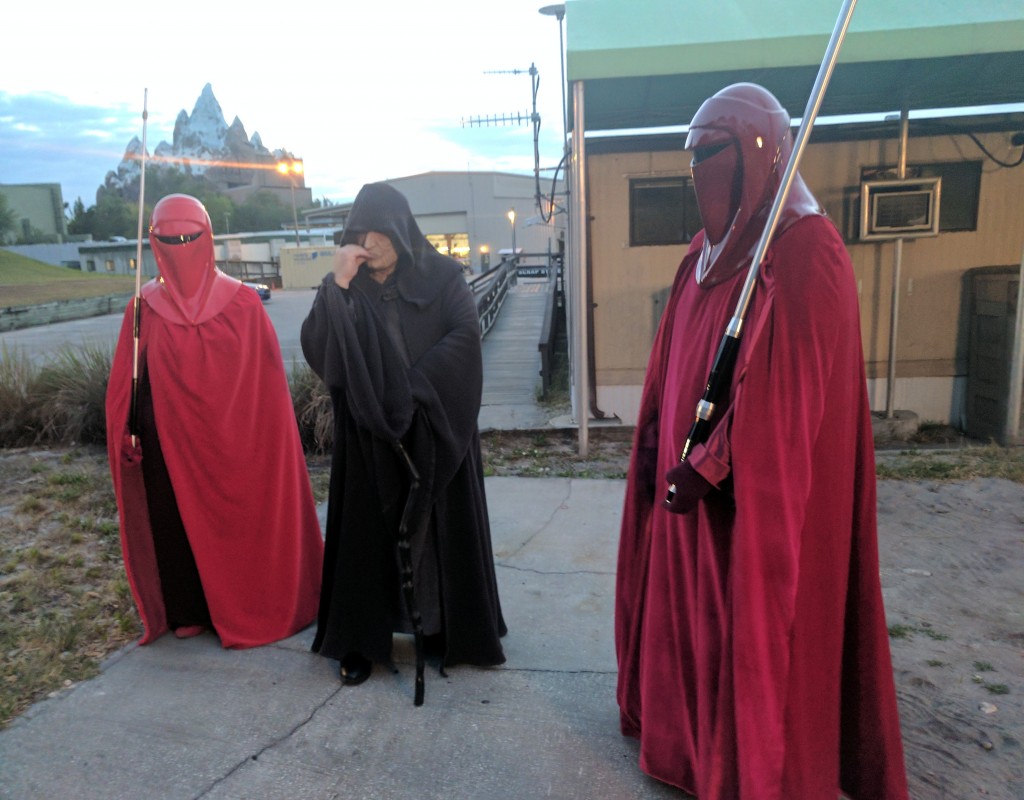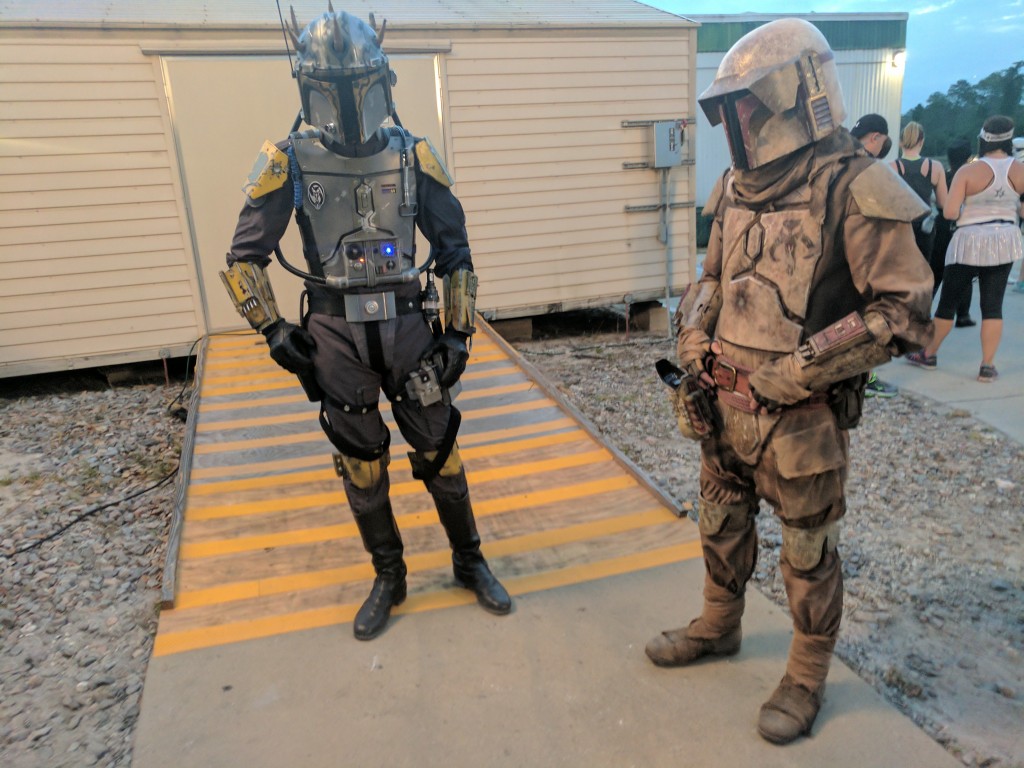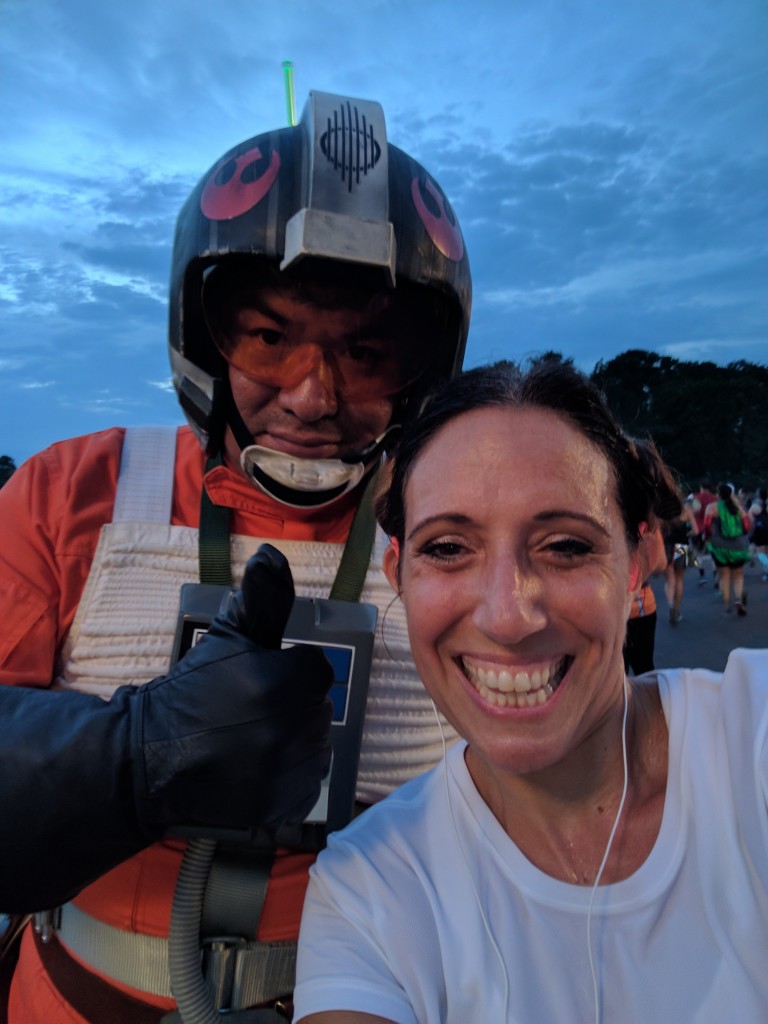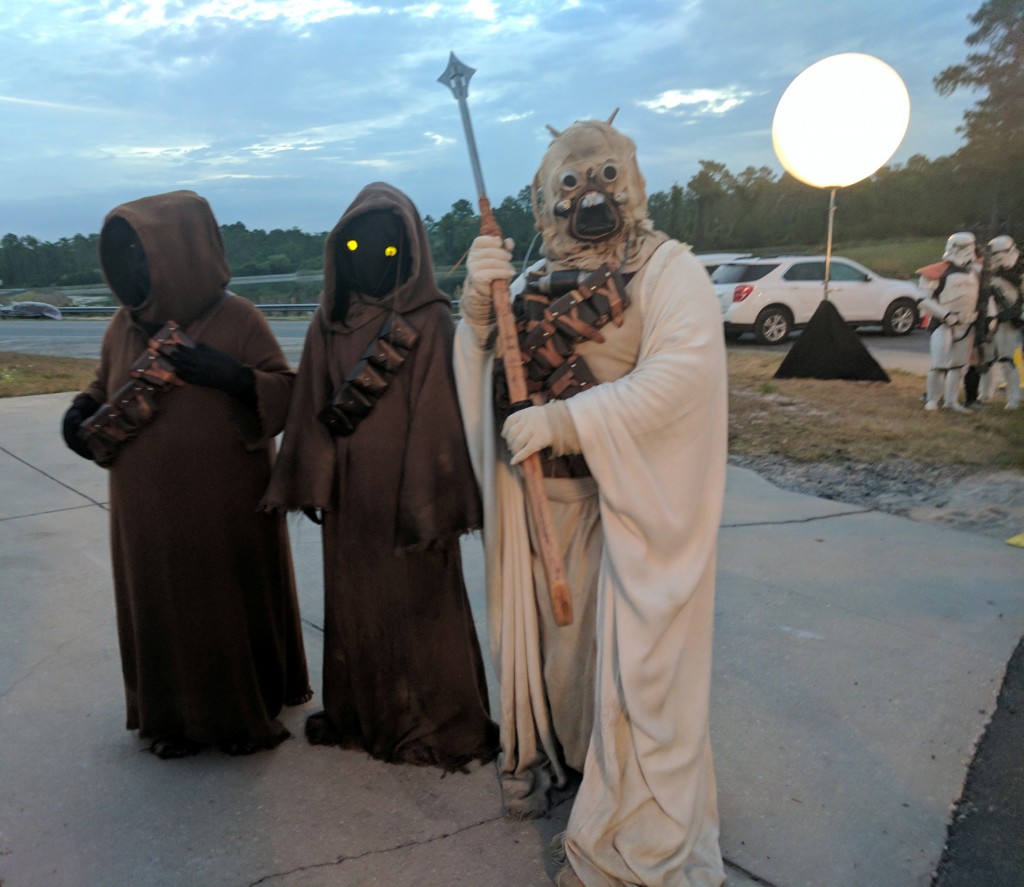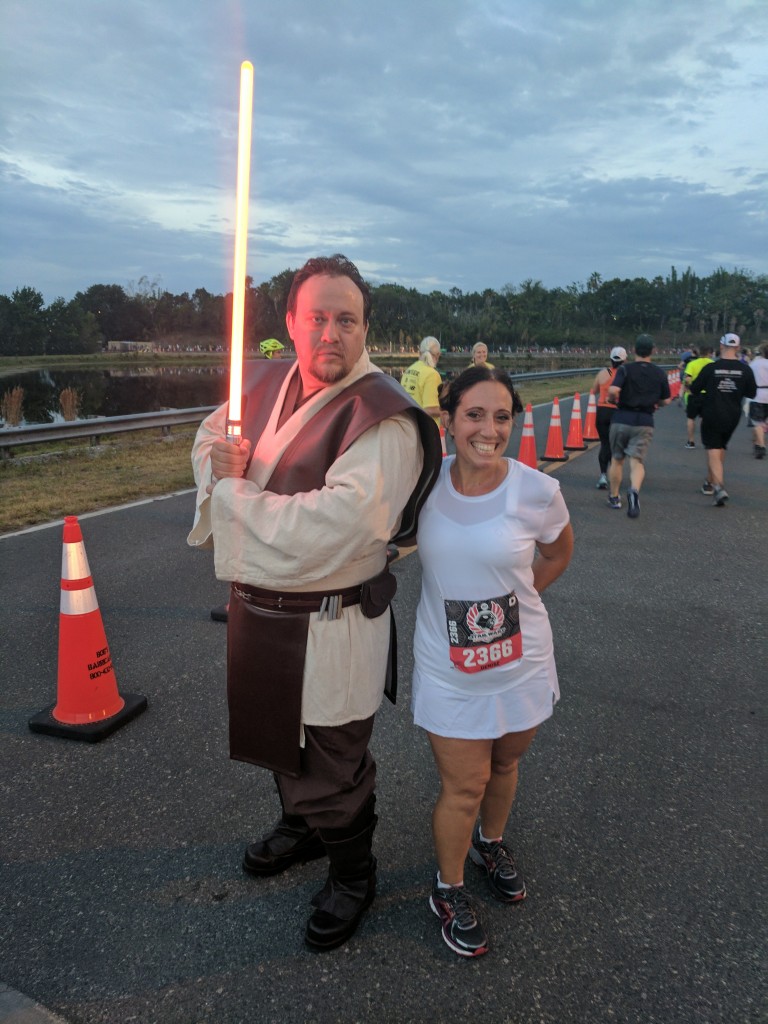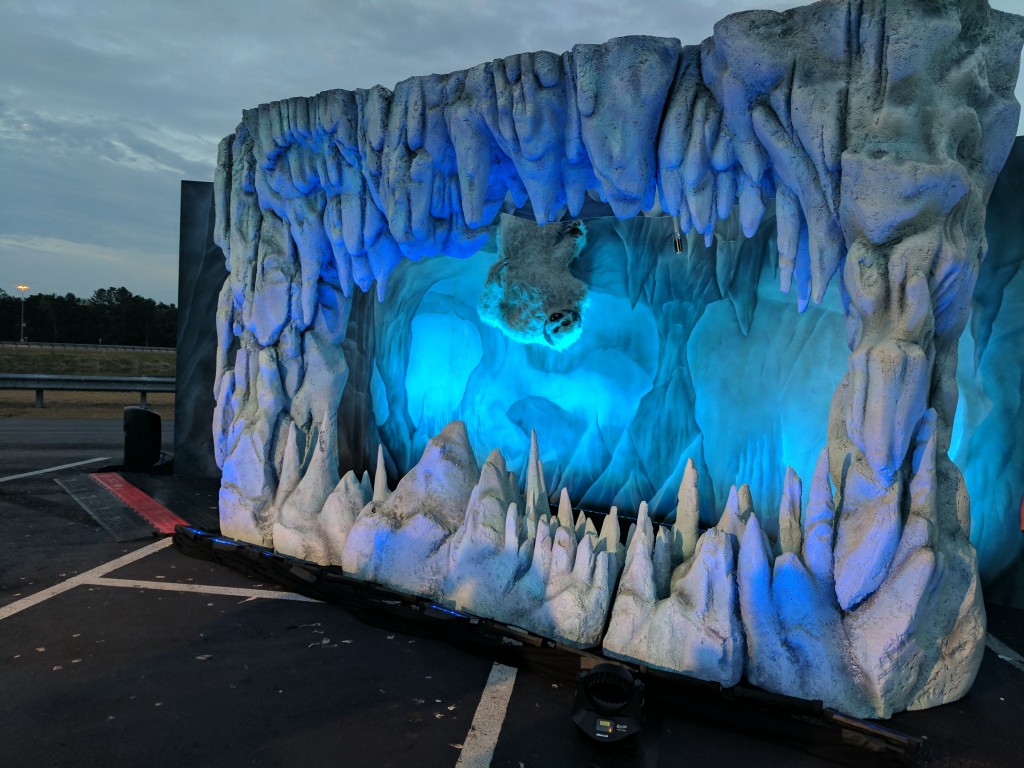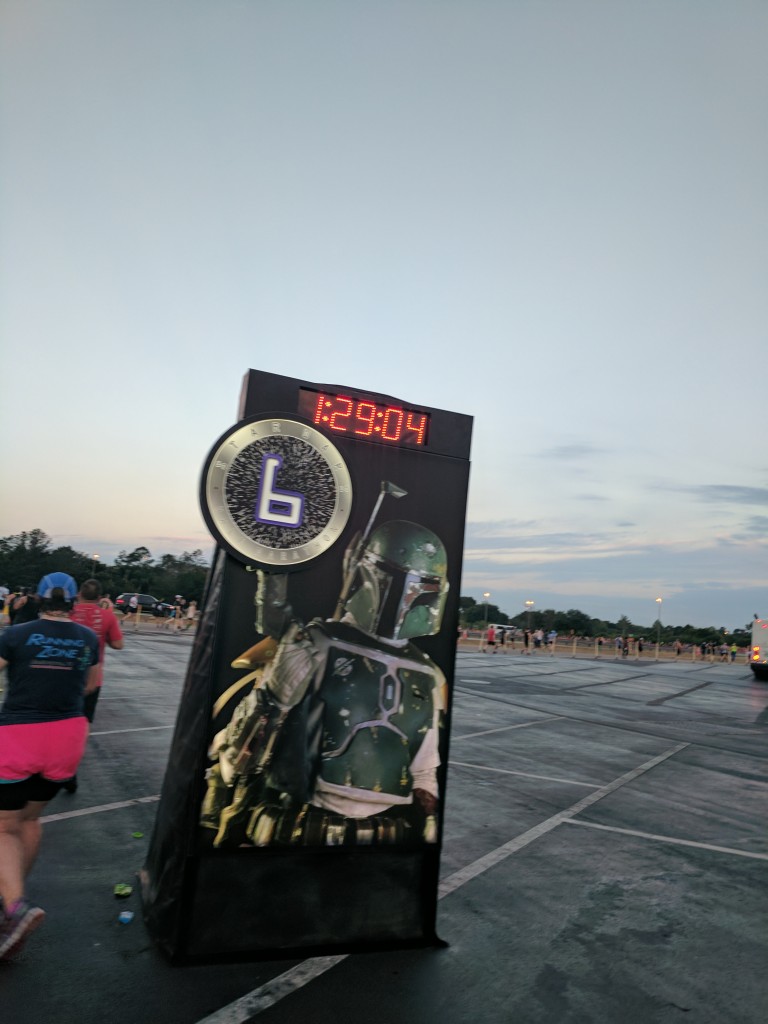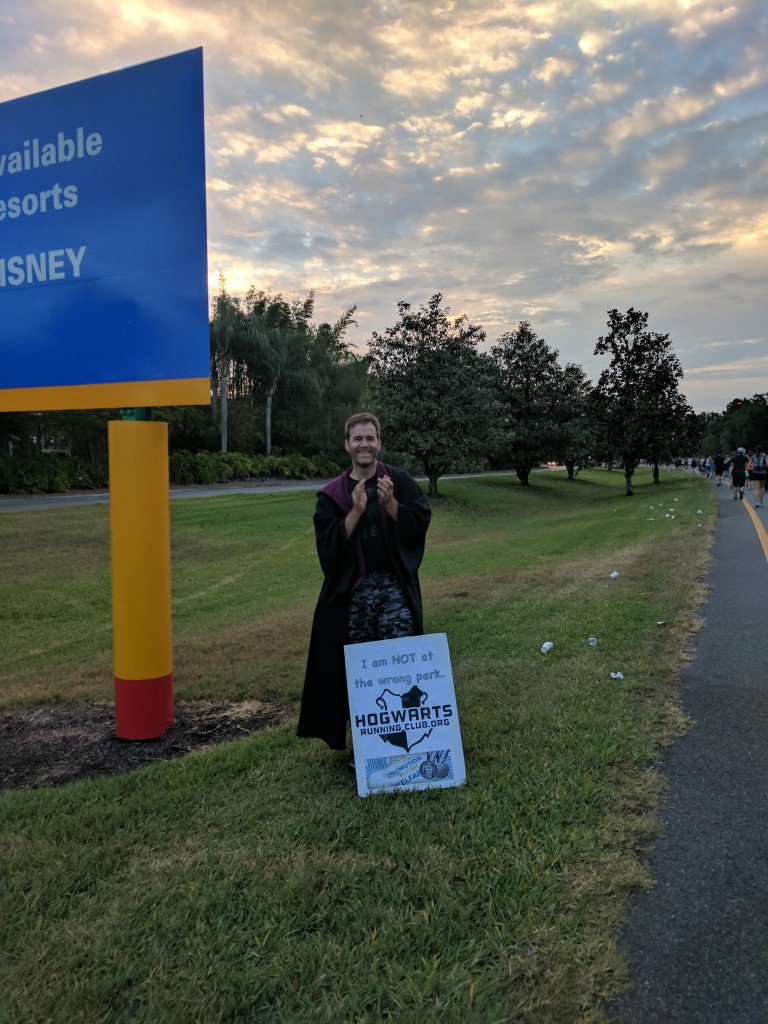 Just before mile seven, I saw an empty Darth Vader chair for runners to rest and sweat on and the seven mile First Aid Station offered dry towels which was such a welcomed treat along with the copious amounts of lube.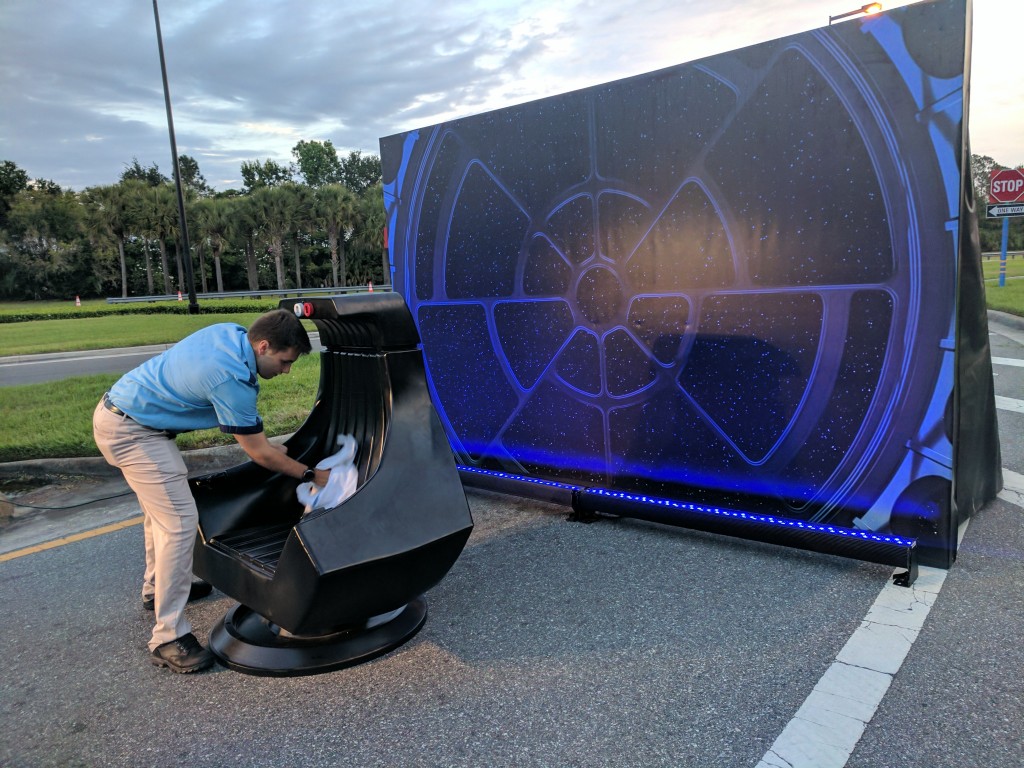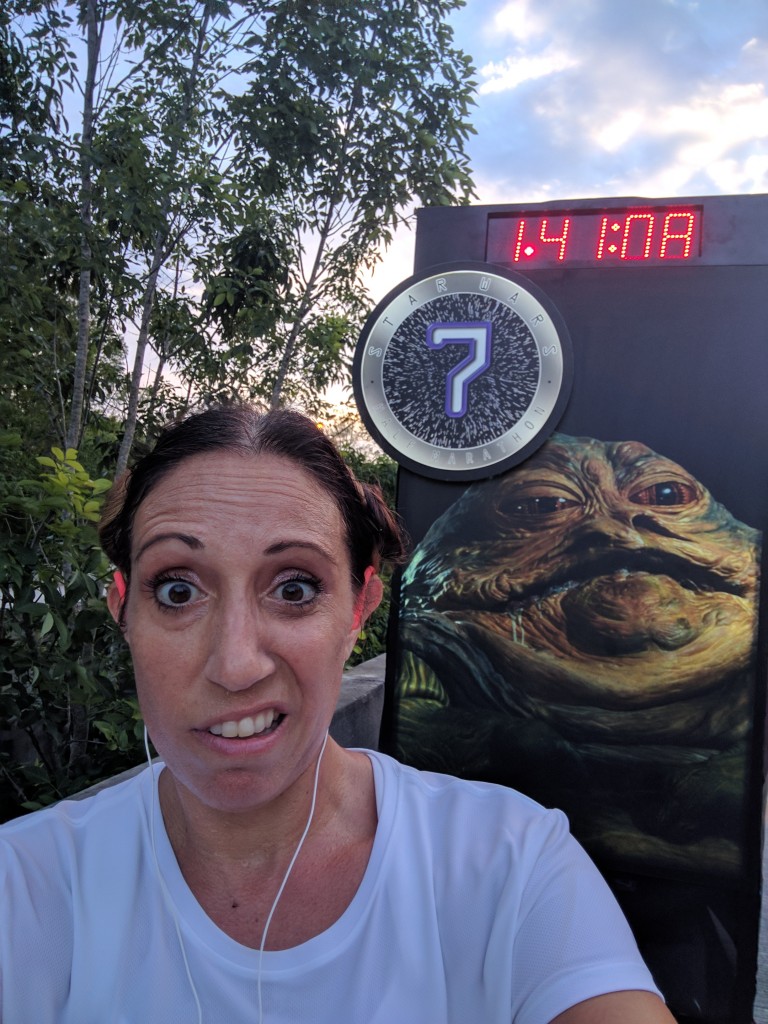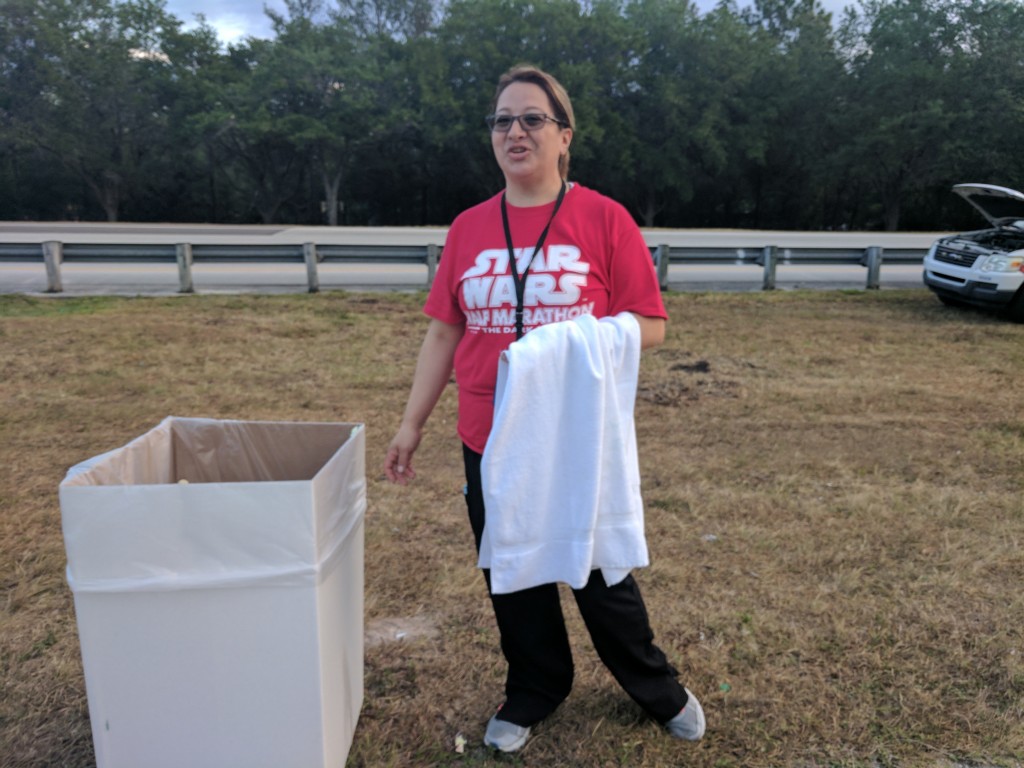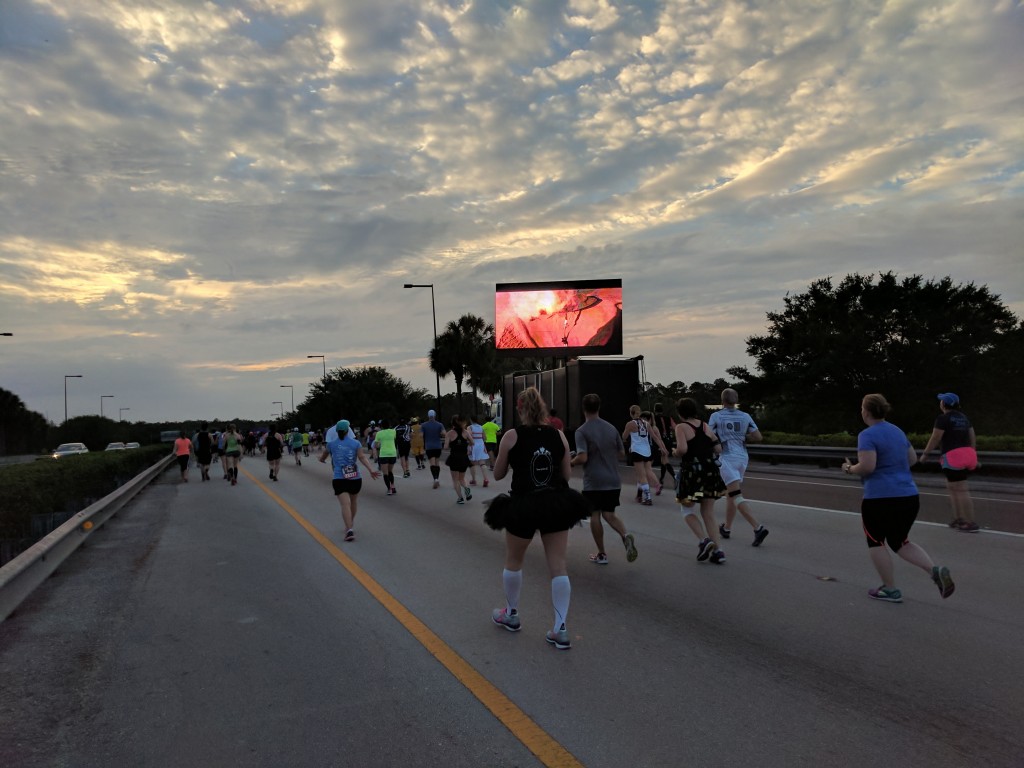 As I climbed the first "Disney hill", I really wished I had added some hillwork into my training. I forgot how tough those overpasses can be, however, I was pretty impressed with my ability to keep on pushing through it all. I had hit the halfway mark and I felt great!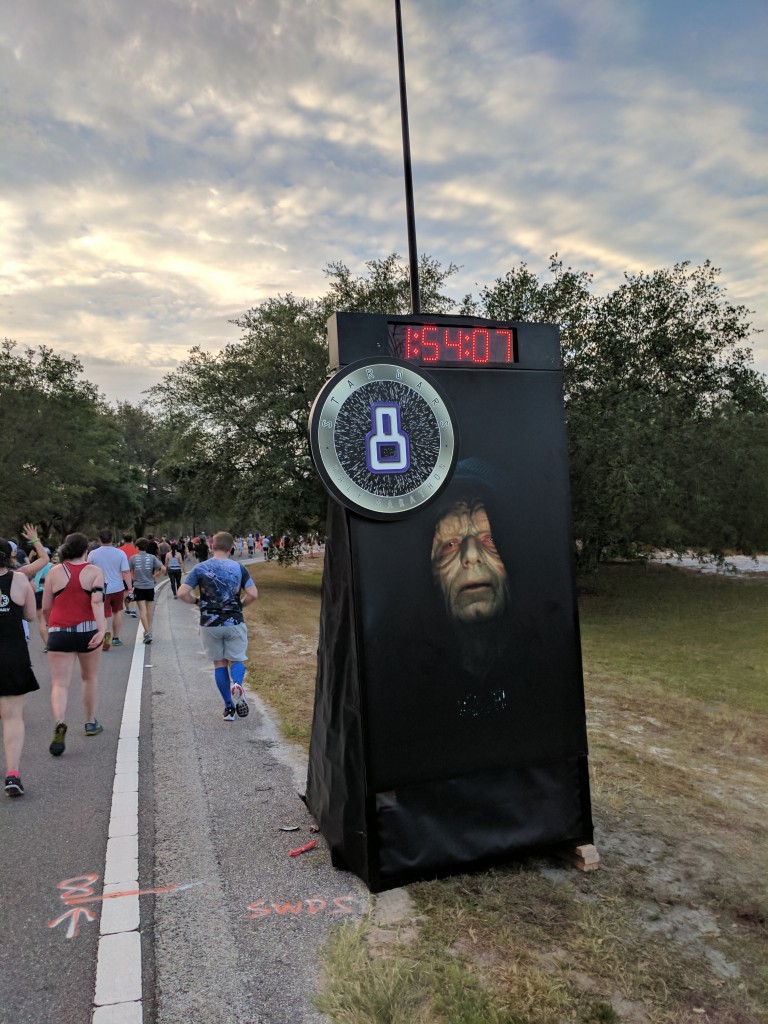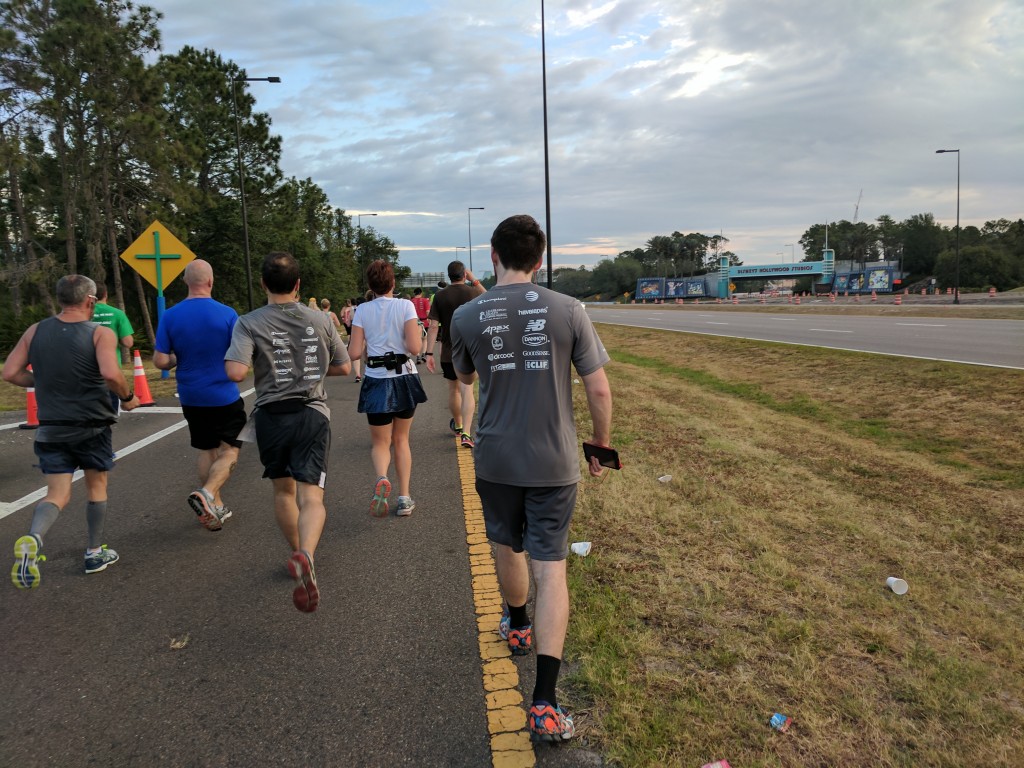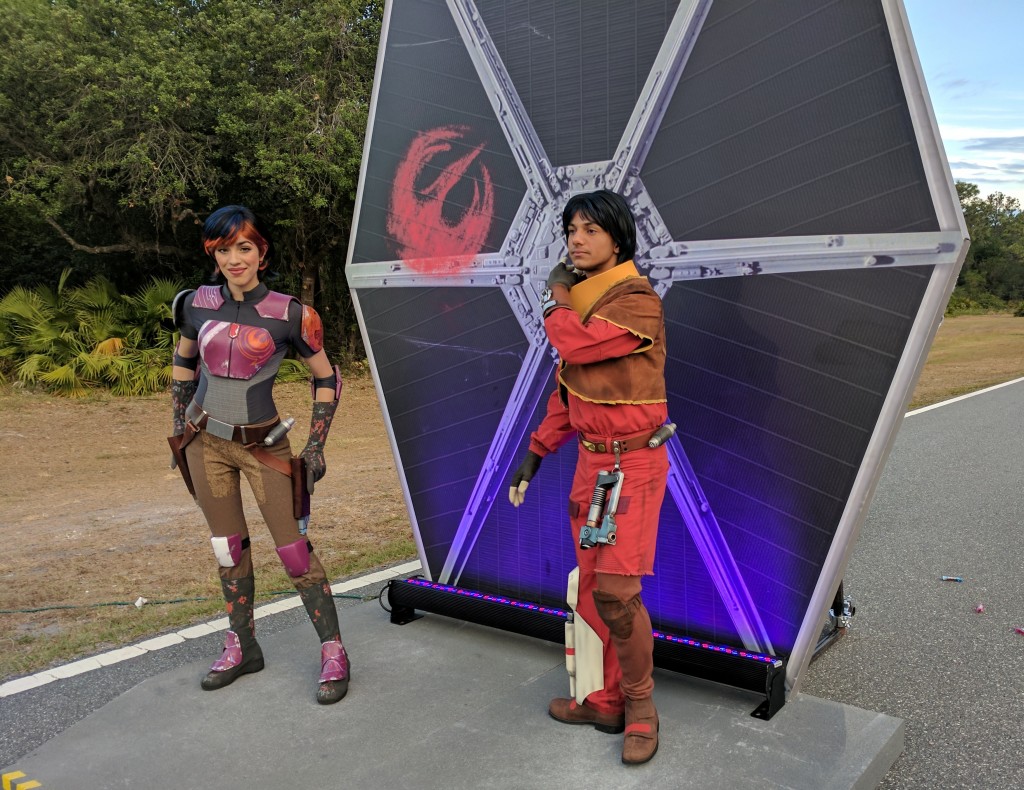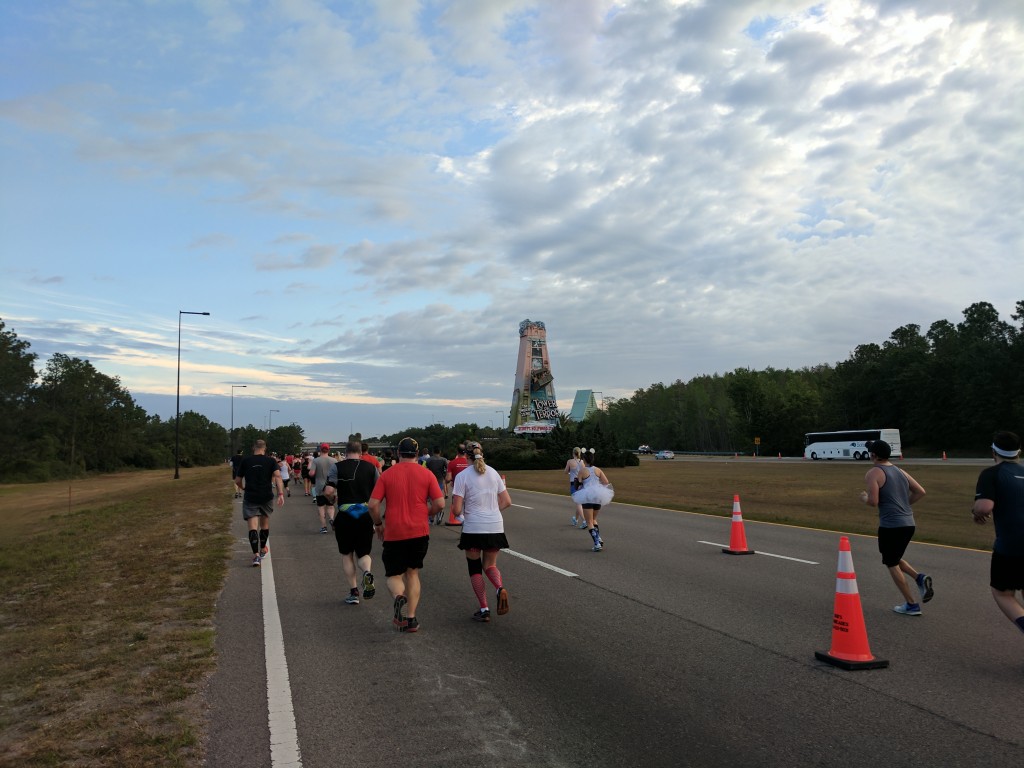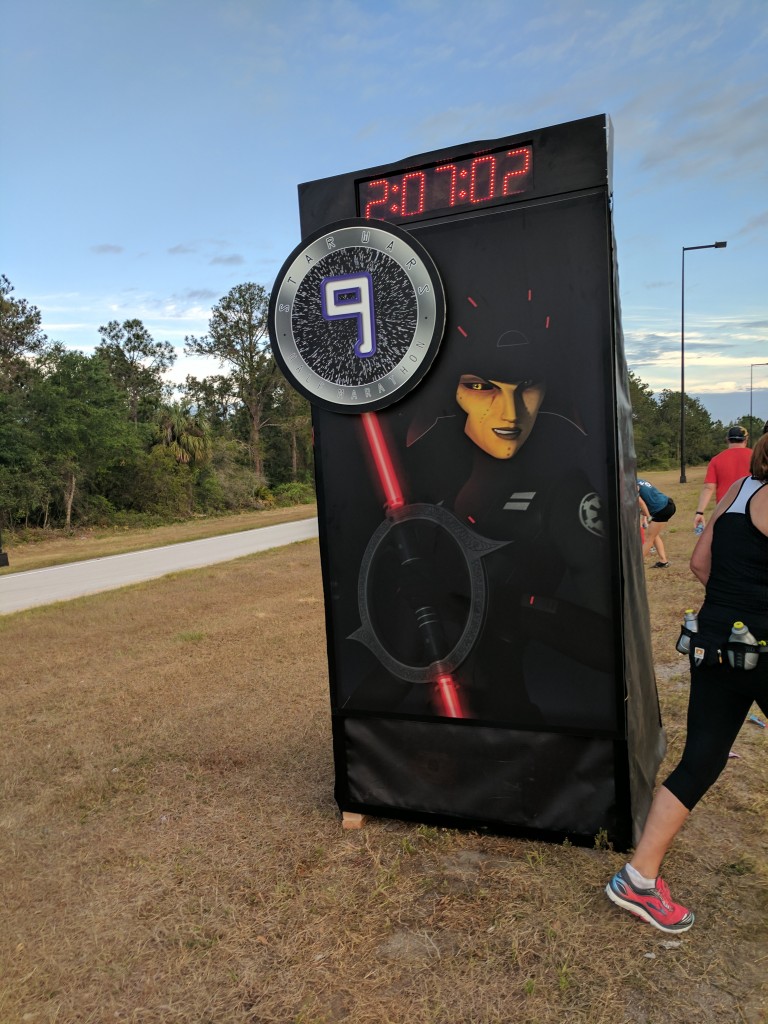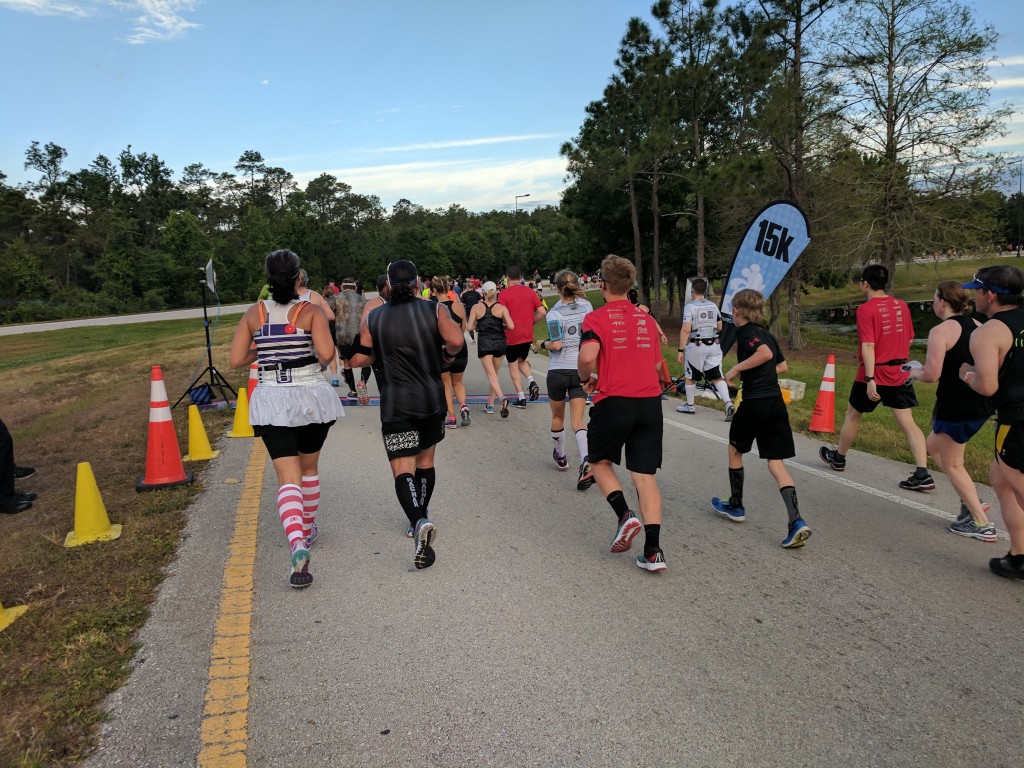 Mile 9 came fast with Hollywood Studios in the distance. One more overpass and then around the bend into Hollywood Studios.
Wait…What? I thought we were heading to Epcot?!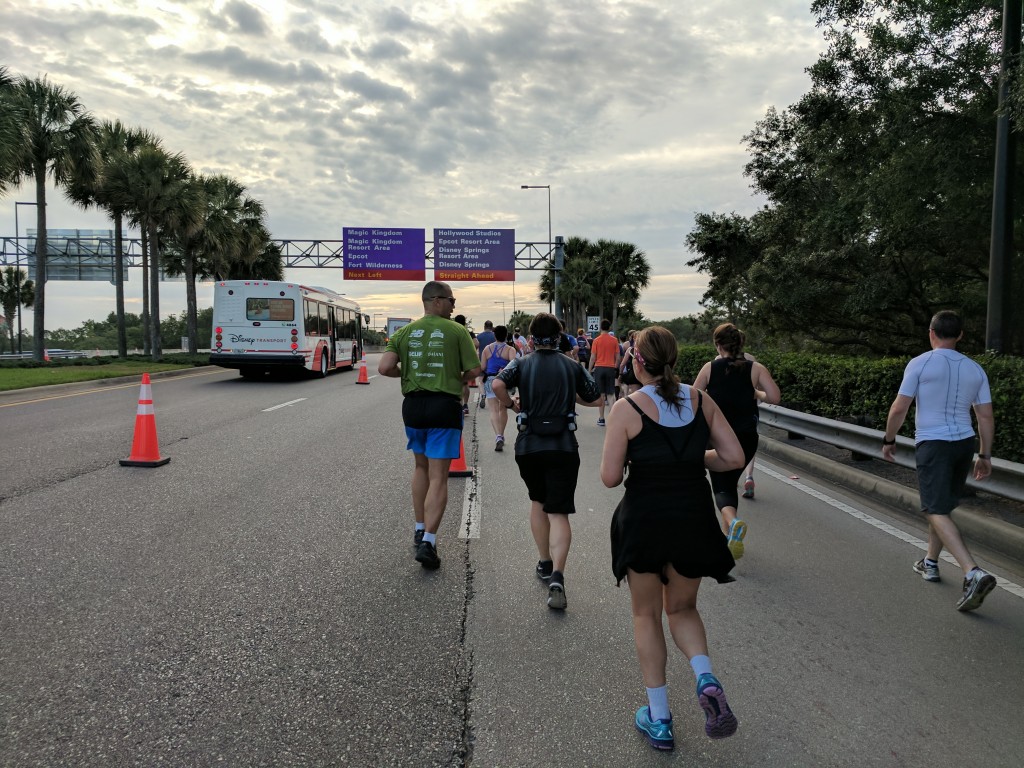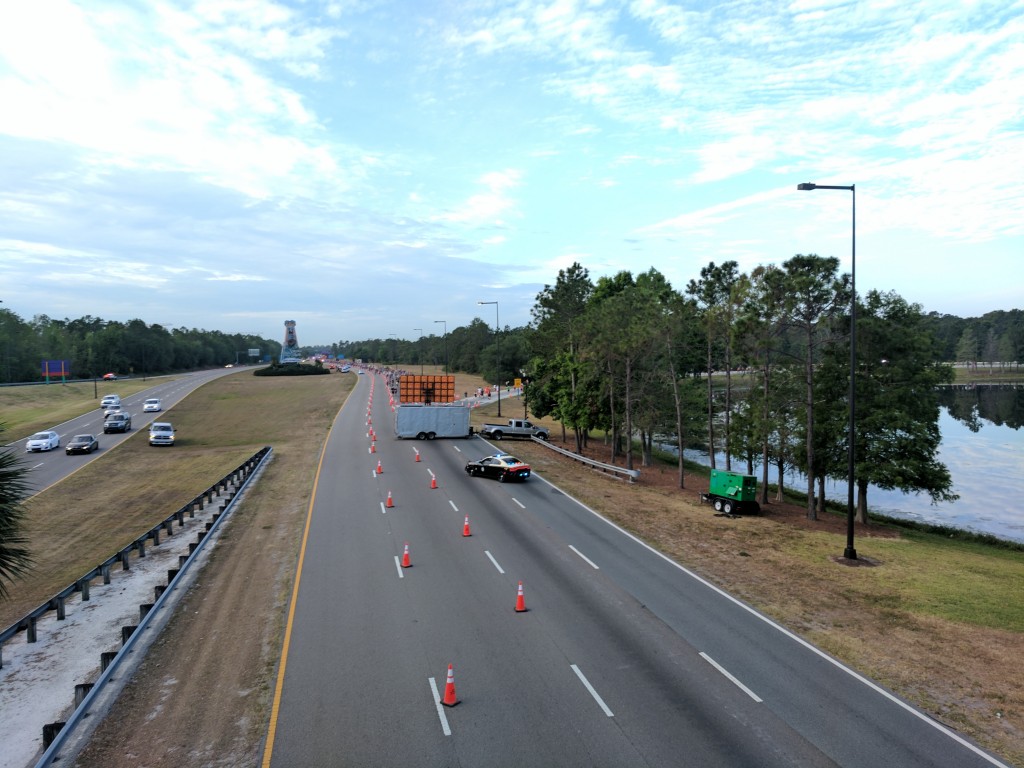 Just a quick detour through Hollywood Studios to visit with Darth Maul and some Storm Troopers and then we were on our way to Disney's Boardwalk. But not before we ran through another light saber battle under a bridge.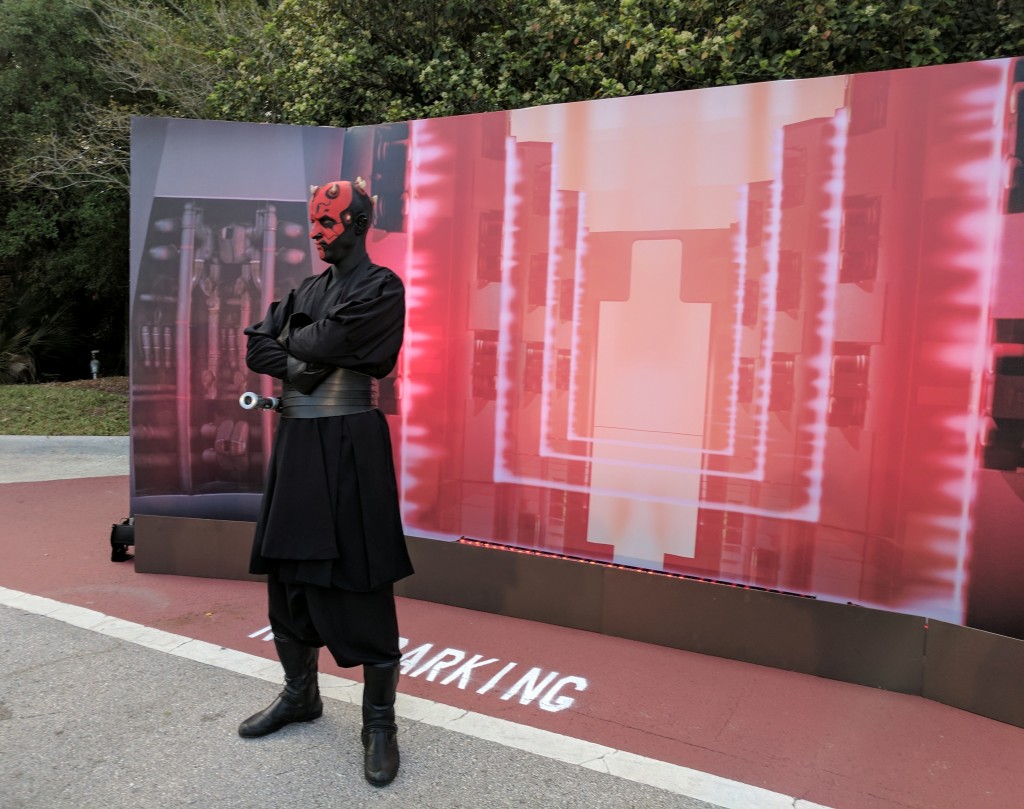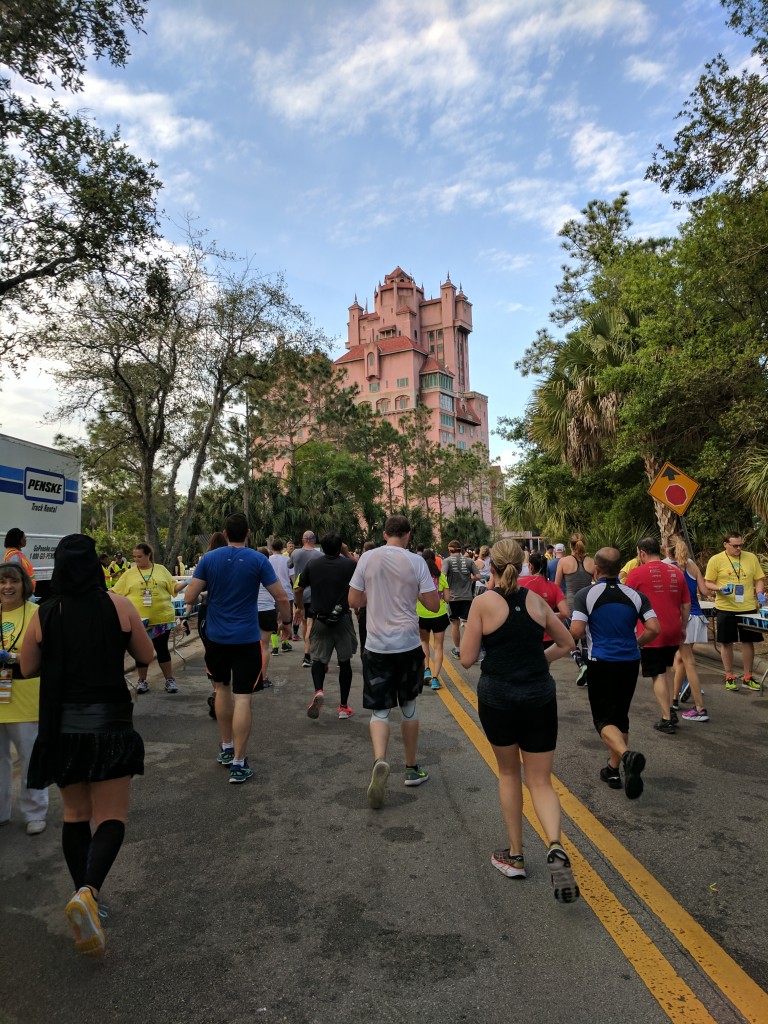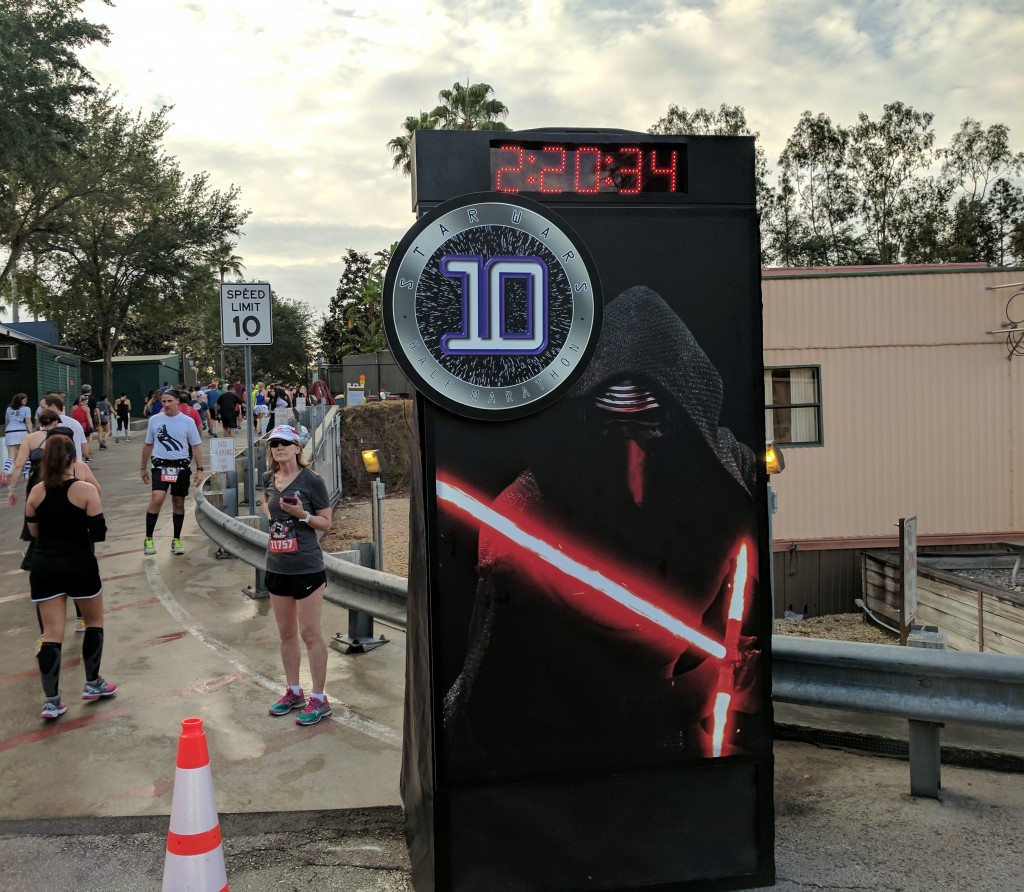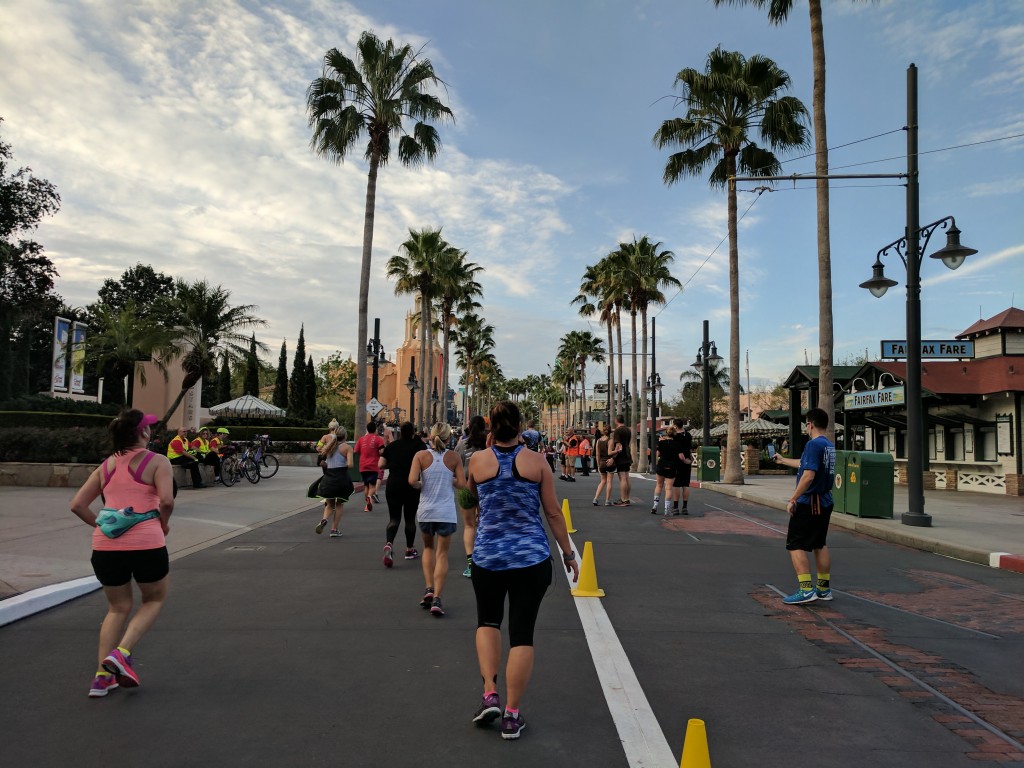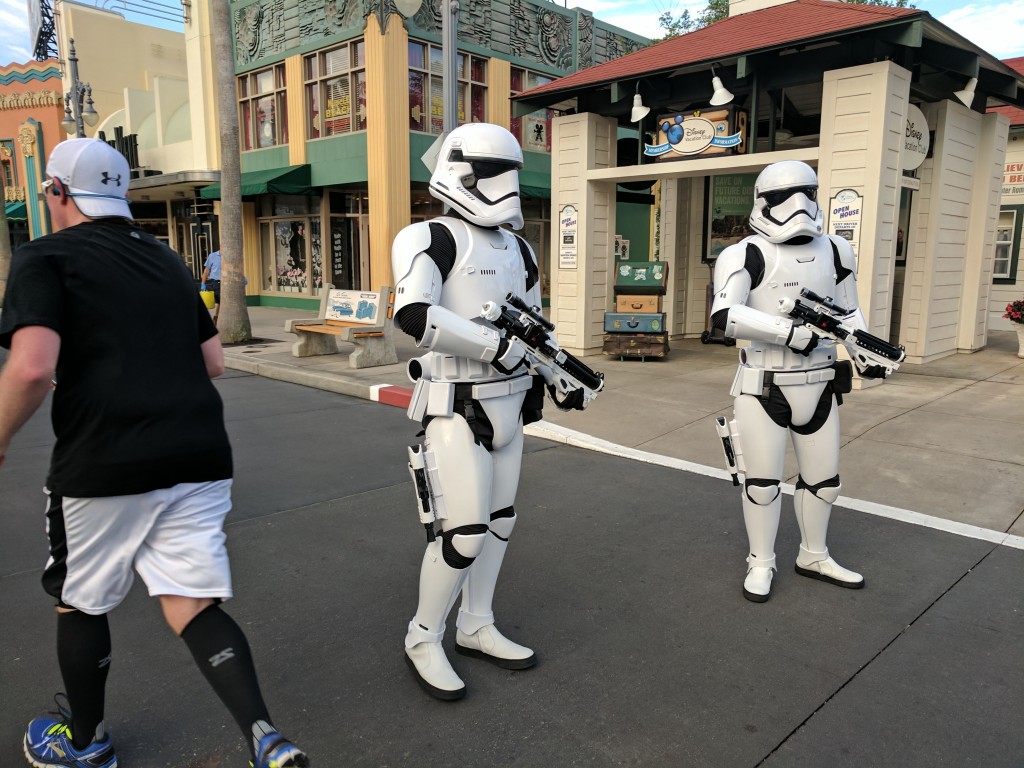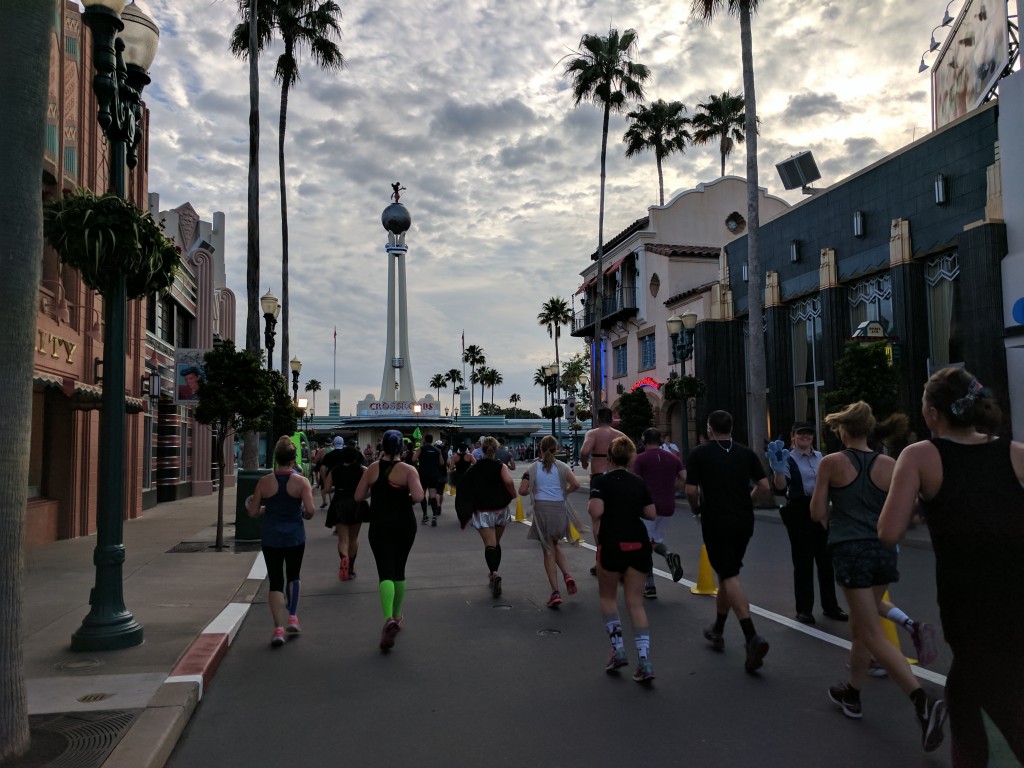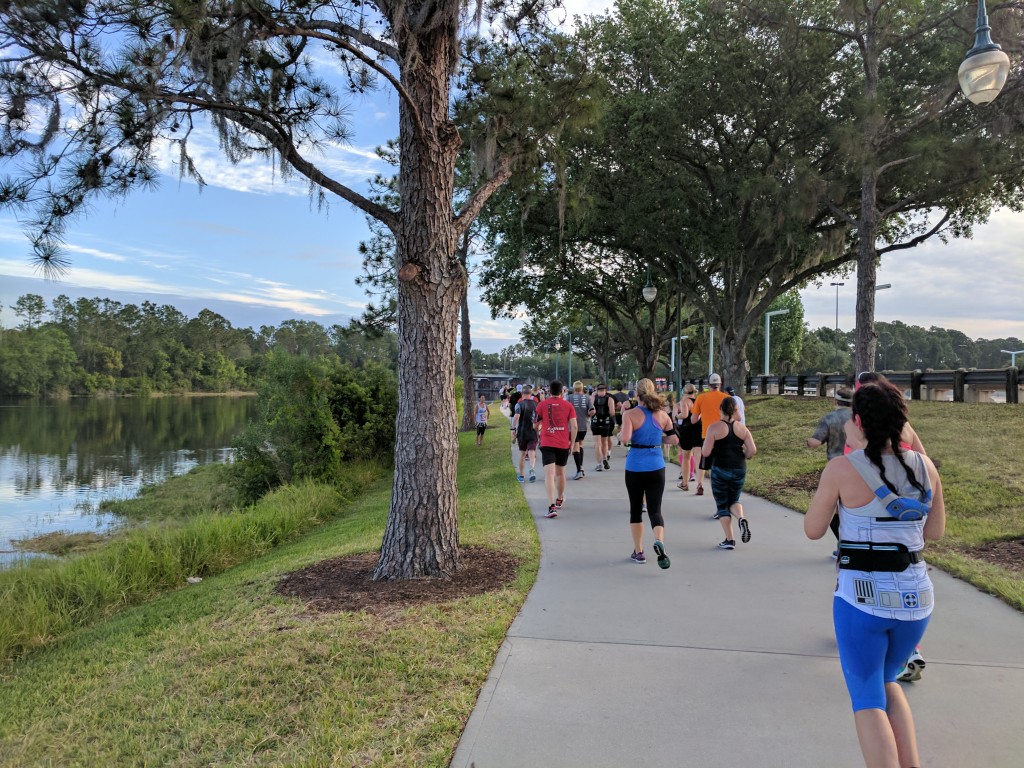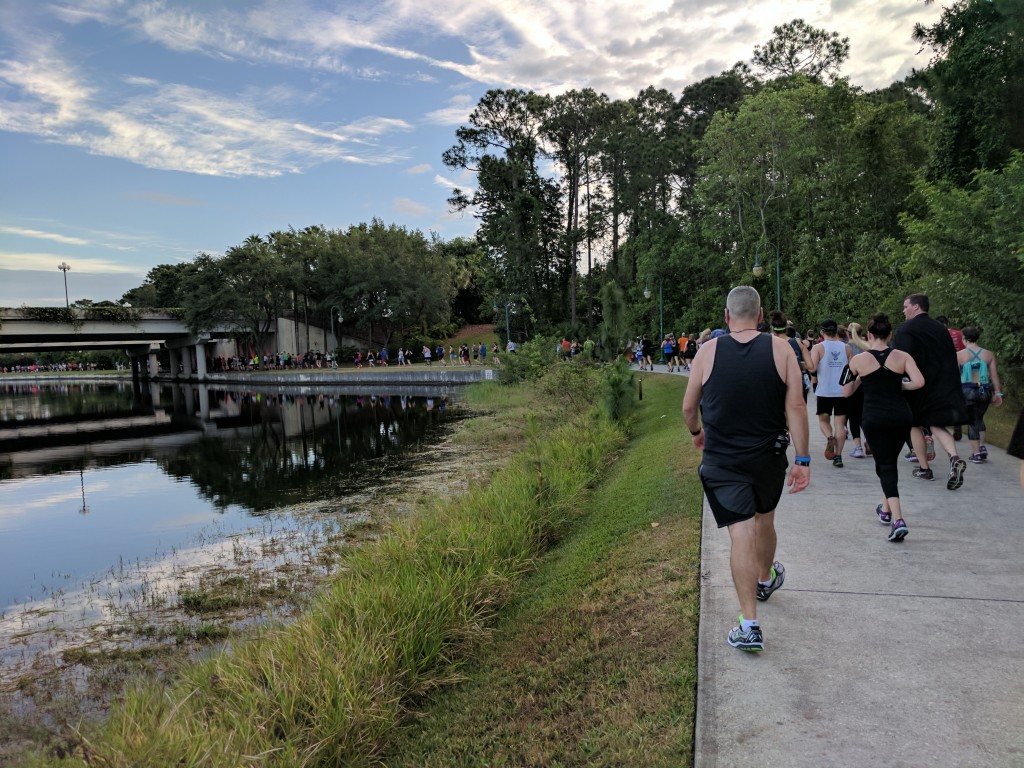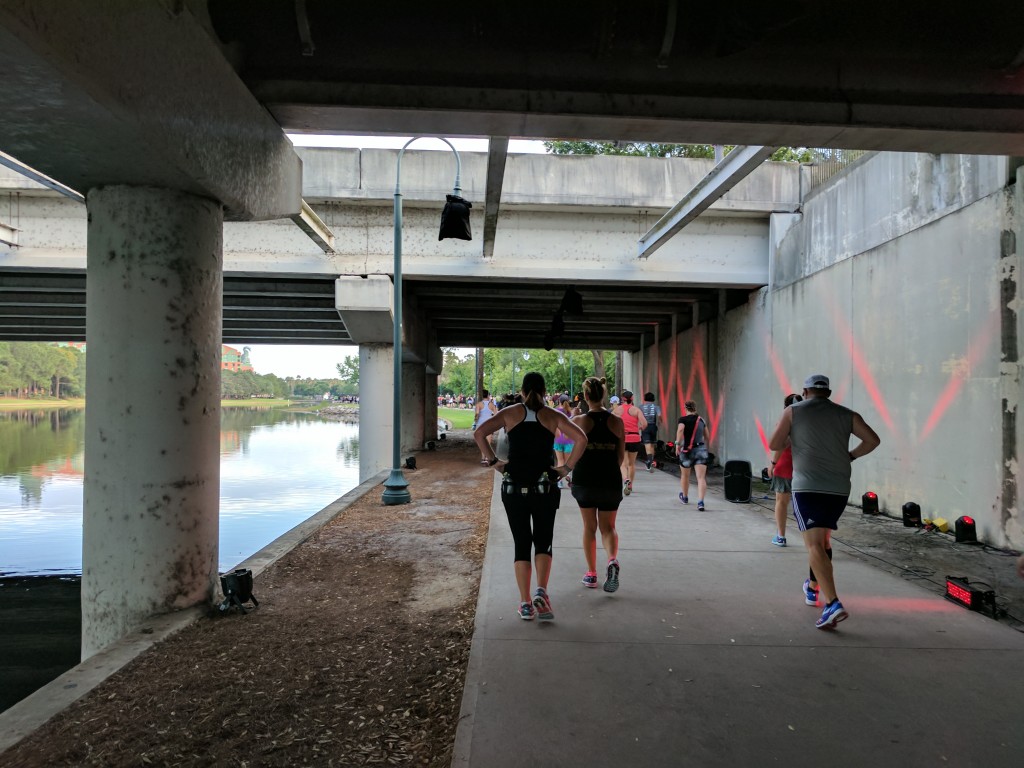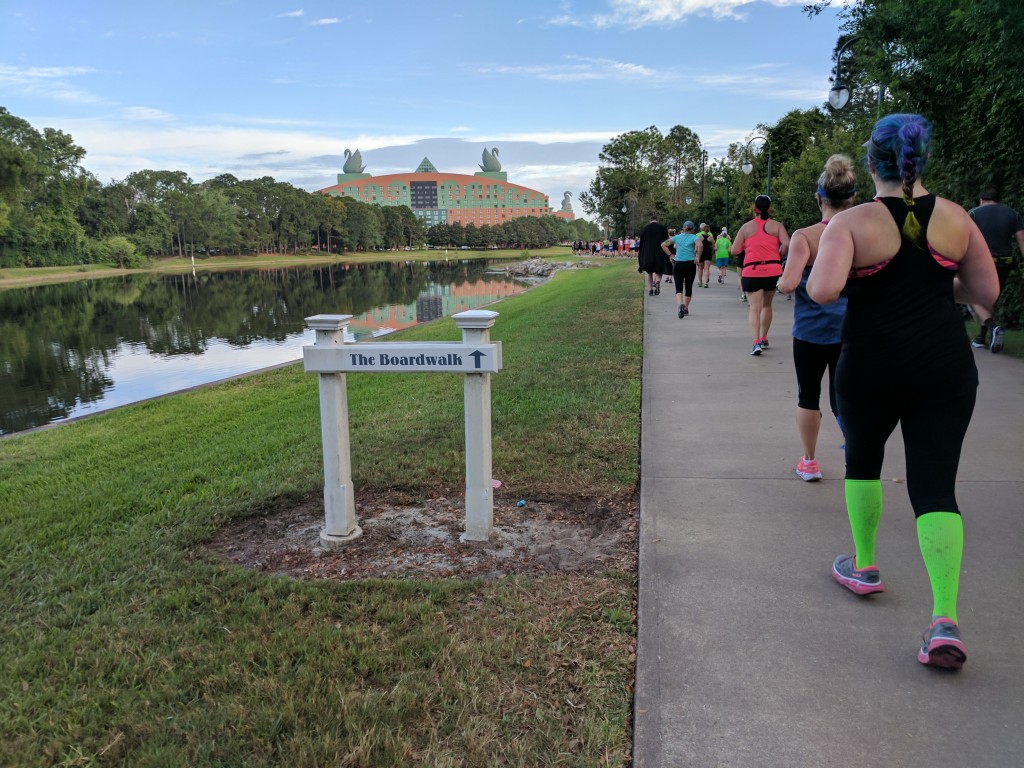 Mile 11 appeared once we arrived at Disney's Boardwalk. Remembering how my family and I stayed in this hotel and rode a surrey over these wooden planks last October brought a smile to my face. And then, the signs, spectators and Star Wars peeps made my smile grow even wider.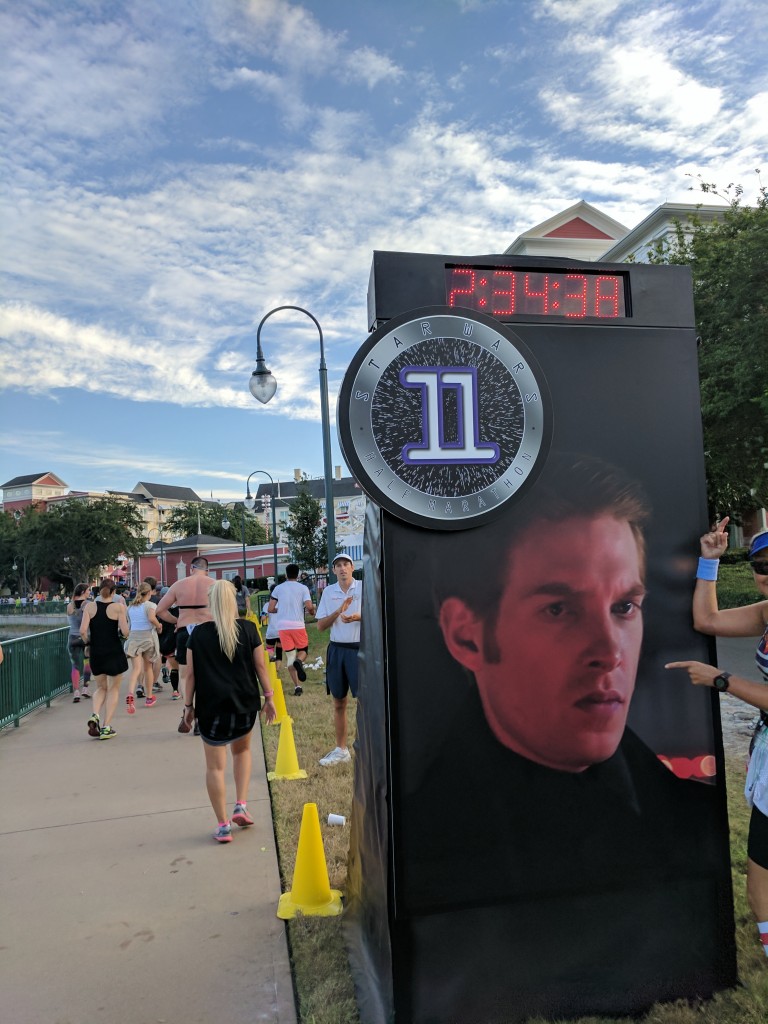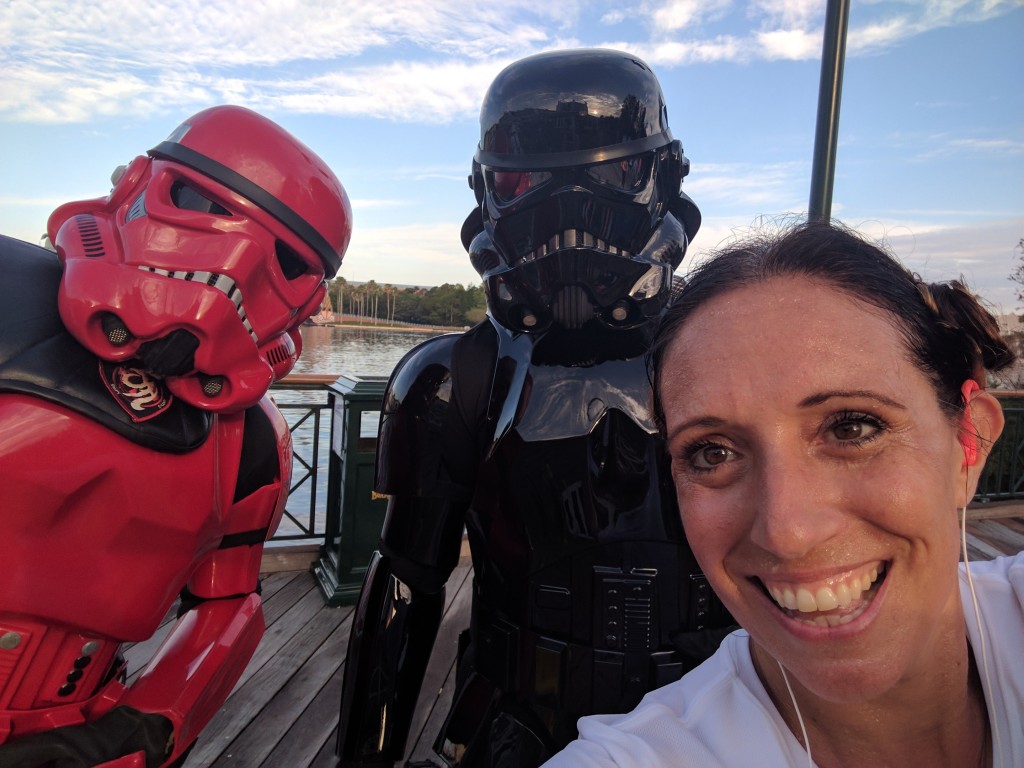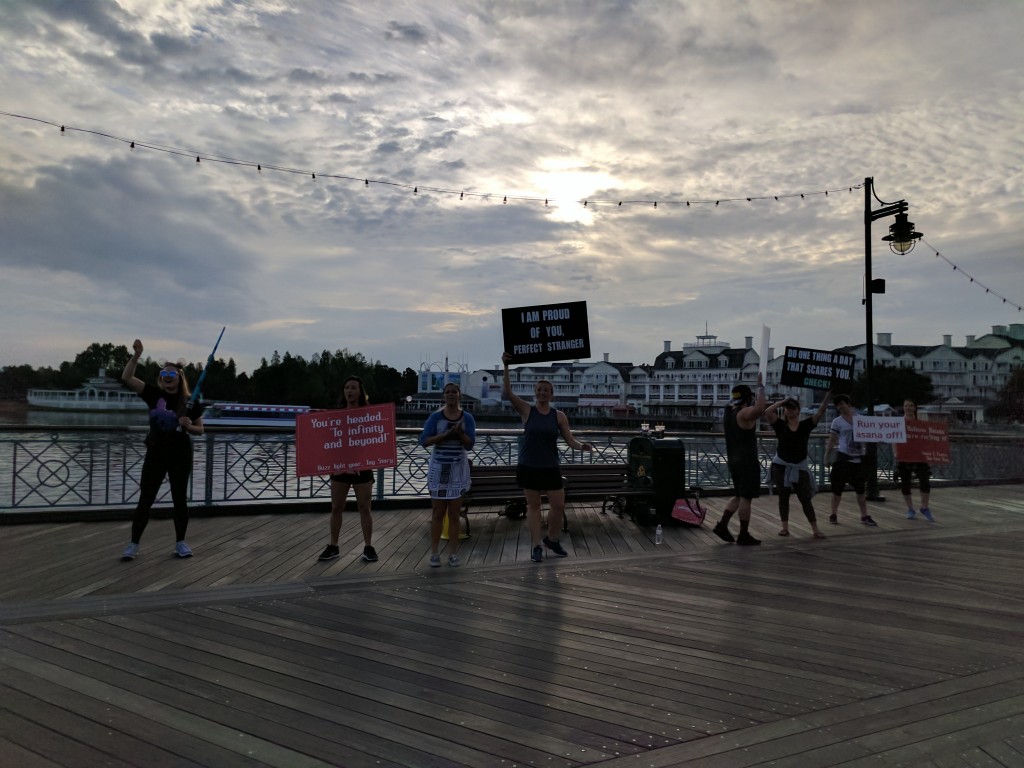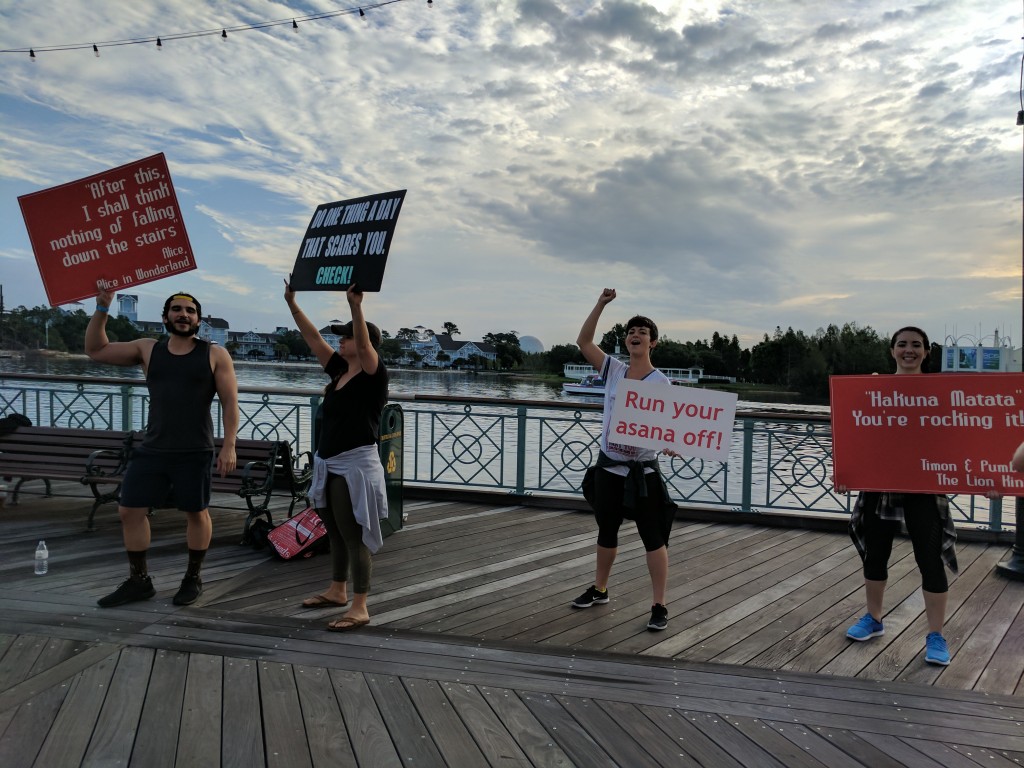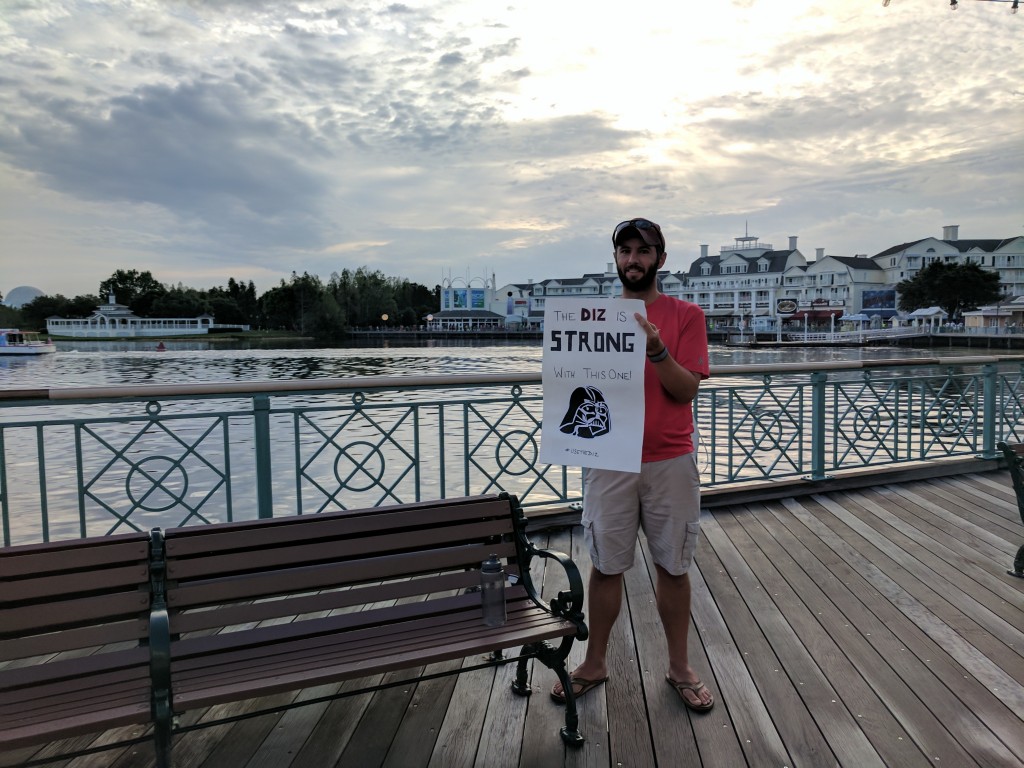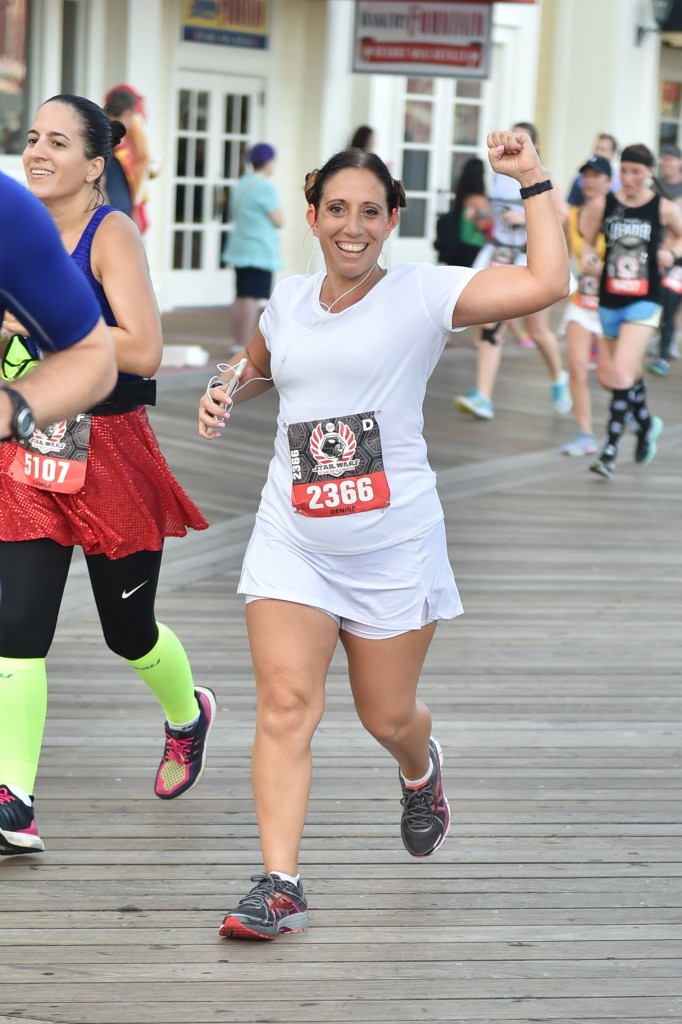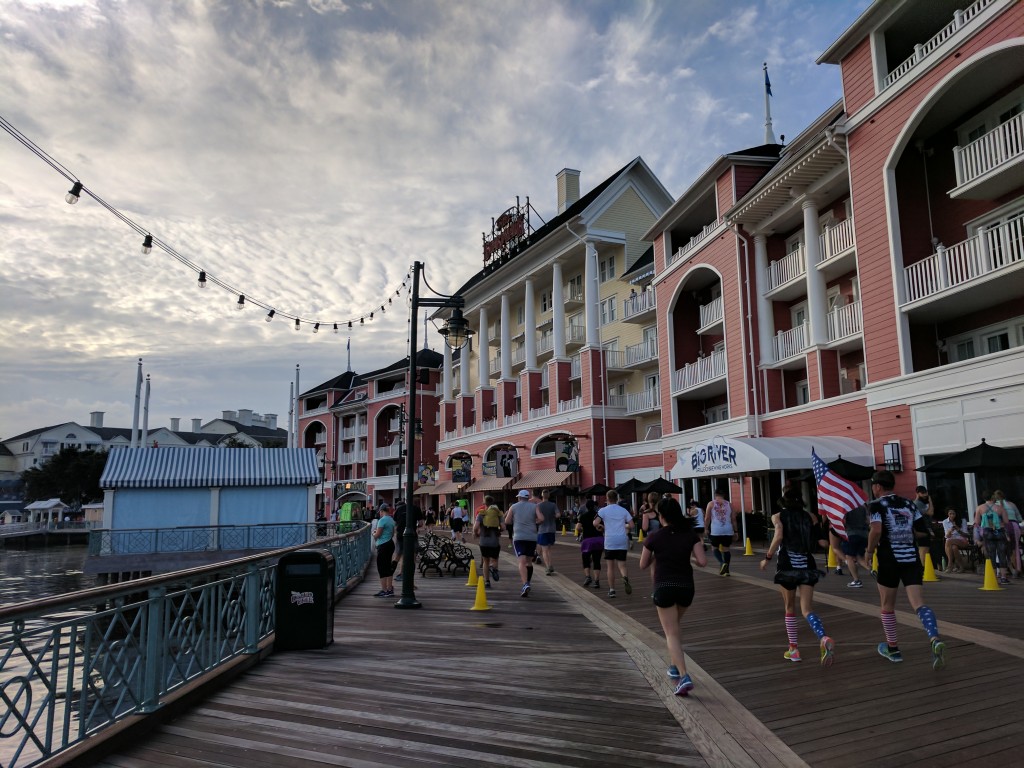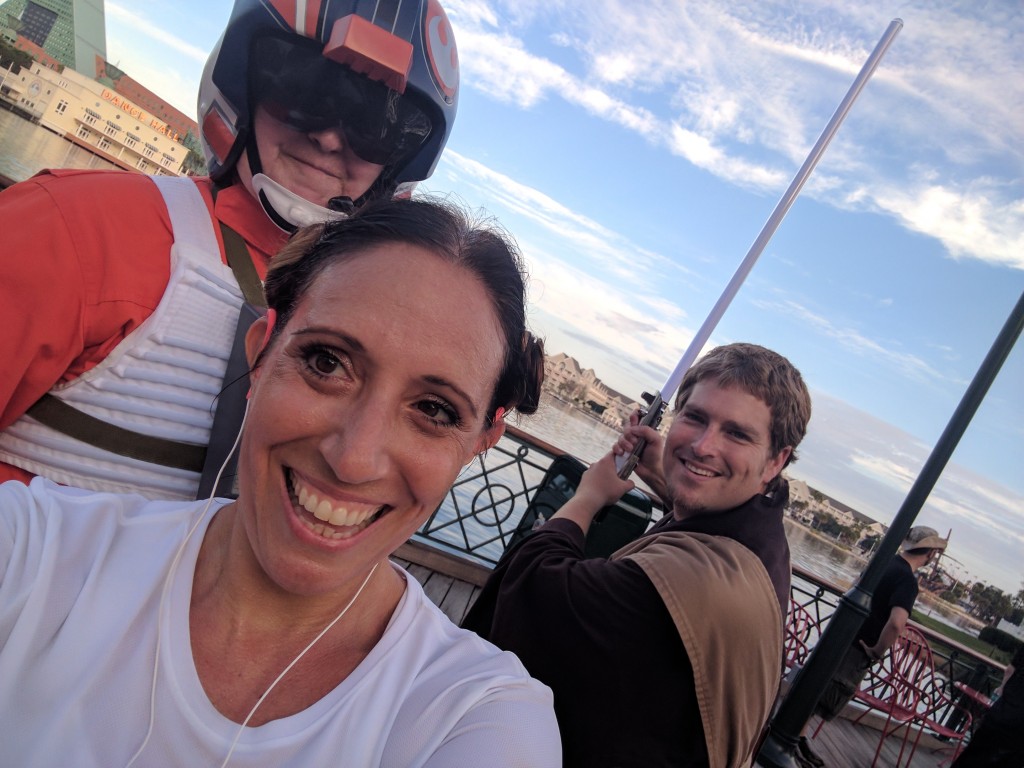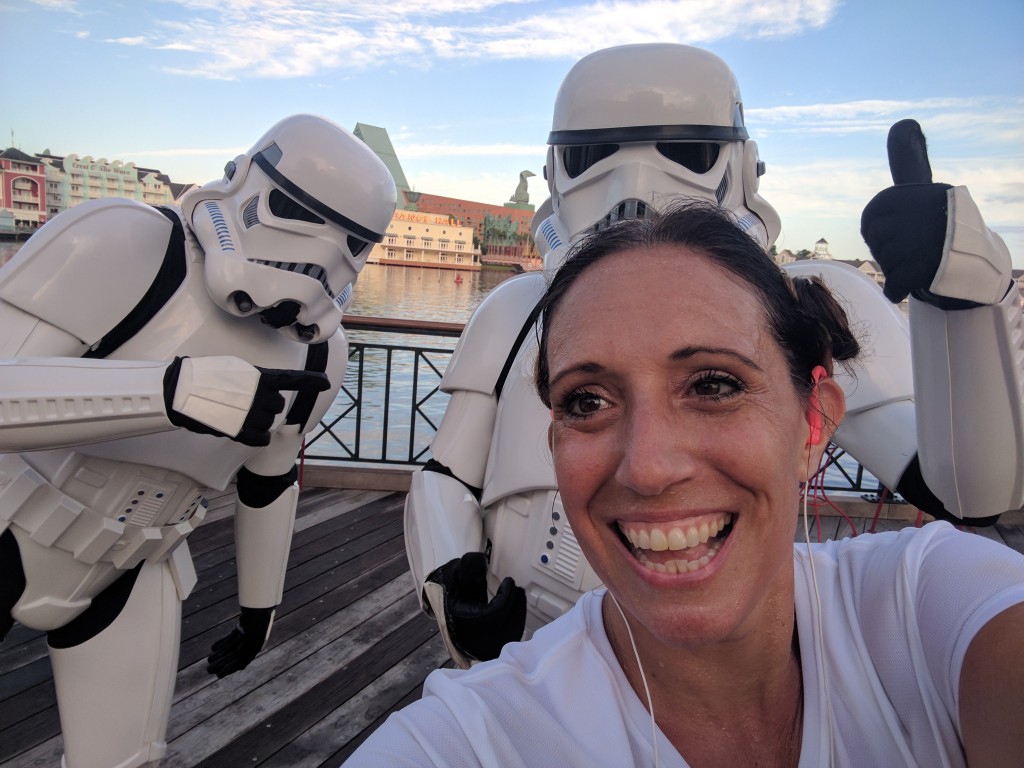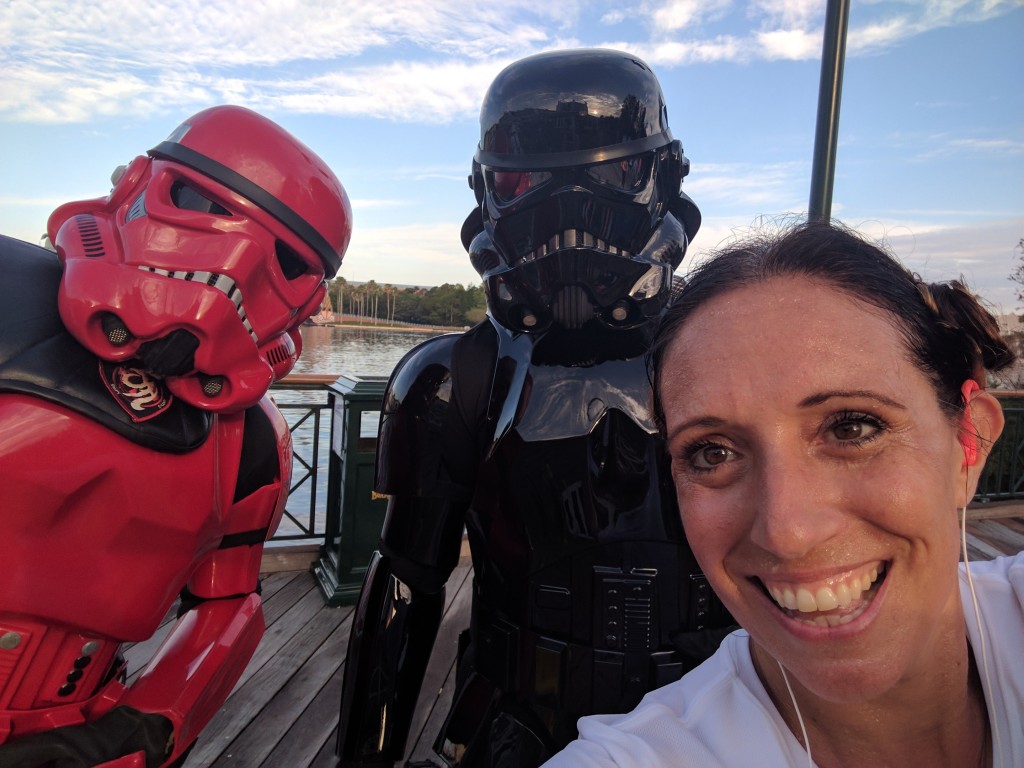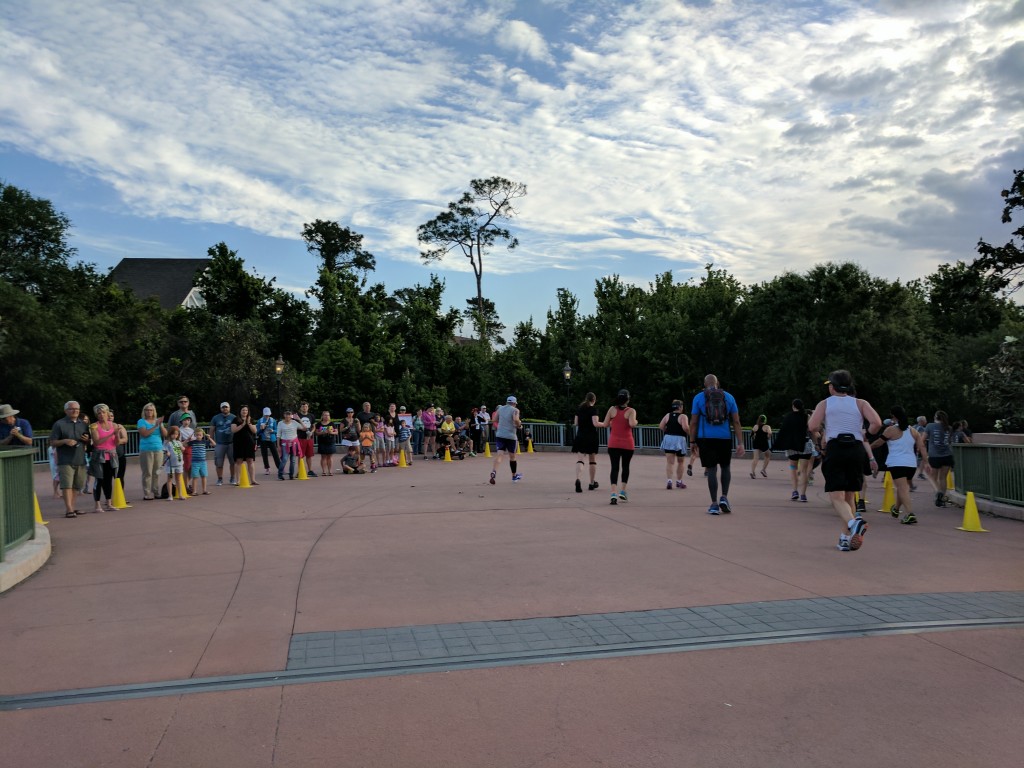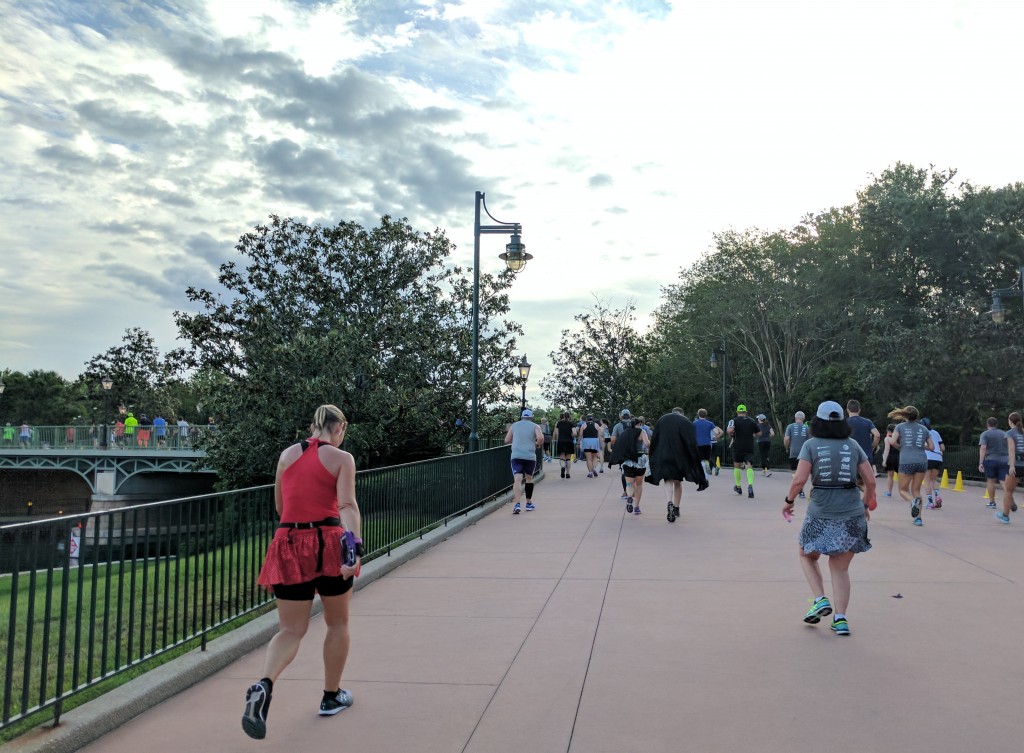 Chewbacca welcomed us at the back entrance of Epcot. Sorry, Chewie. No time for photos! I'm almost at the finish line!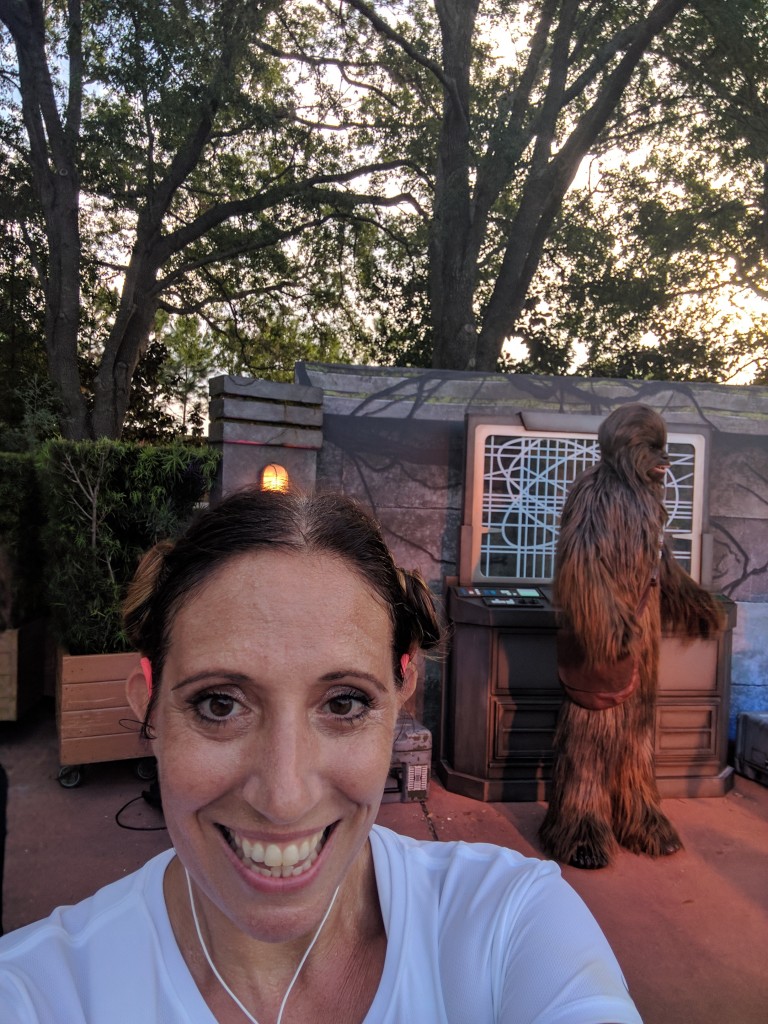 But then, I forgot about the bridge that you climb just after the United Kingdom in the World Showcase.
Aw Gawd. Why didn't I train for hills?
Curse you, World Showcase!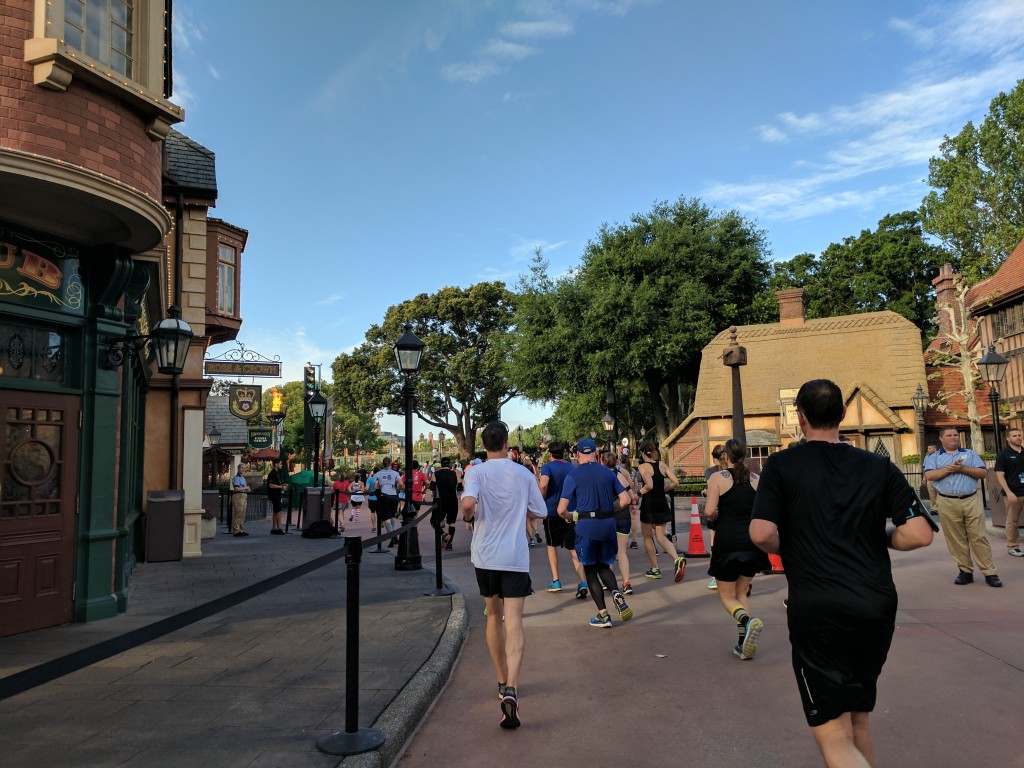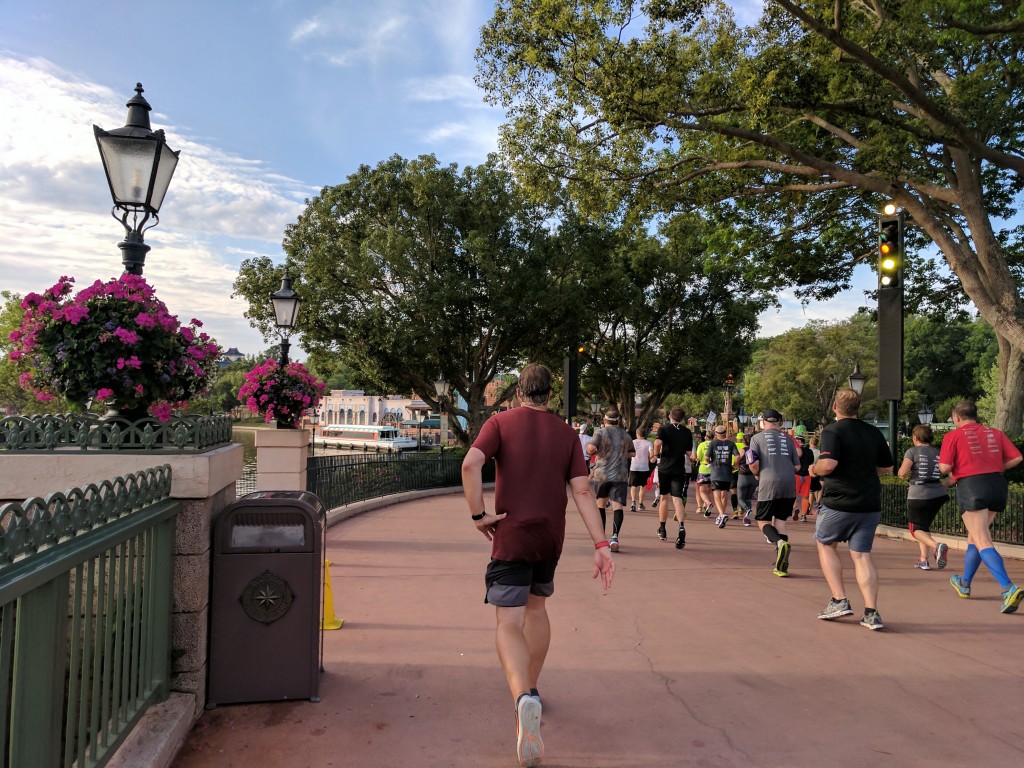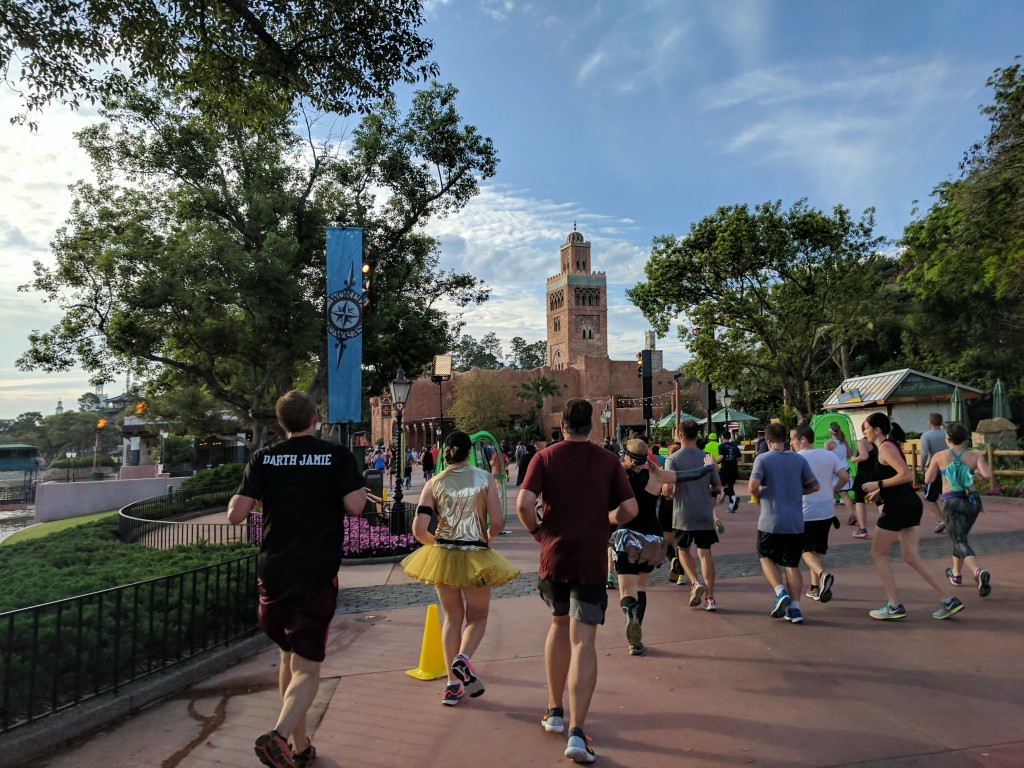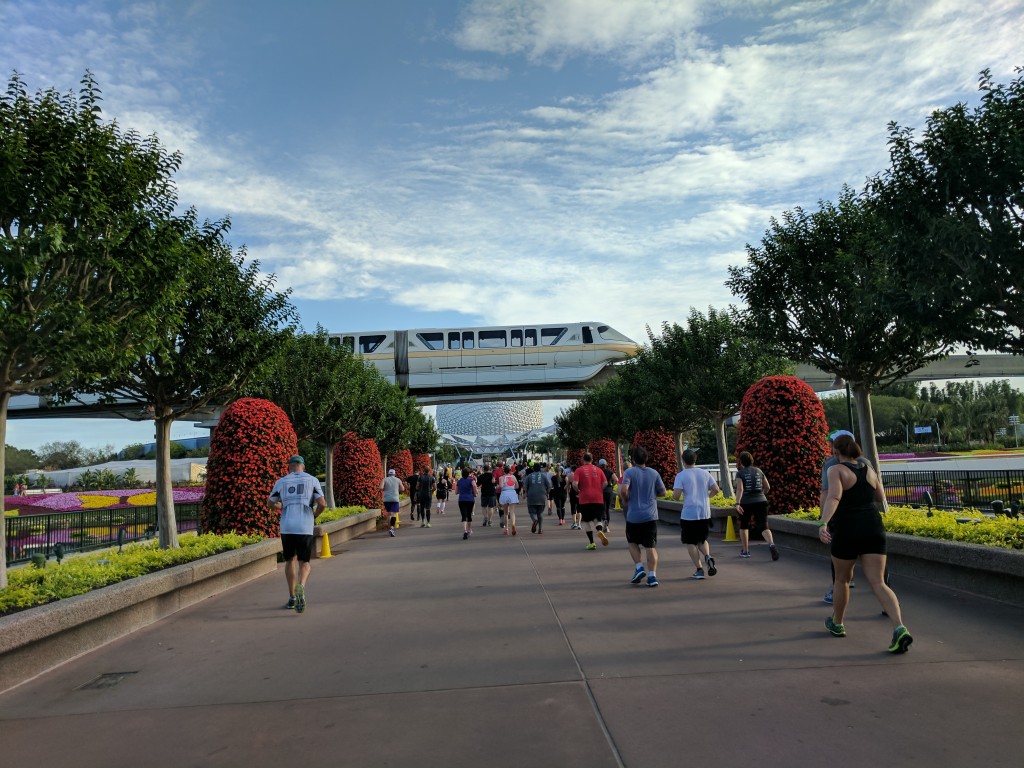 Of course, I'm kidding about the hills but I did find myself walking a tad bit more. Although I still felt pretty good about my performance, I always find this last leg of the runDisney races to be the toughest.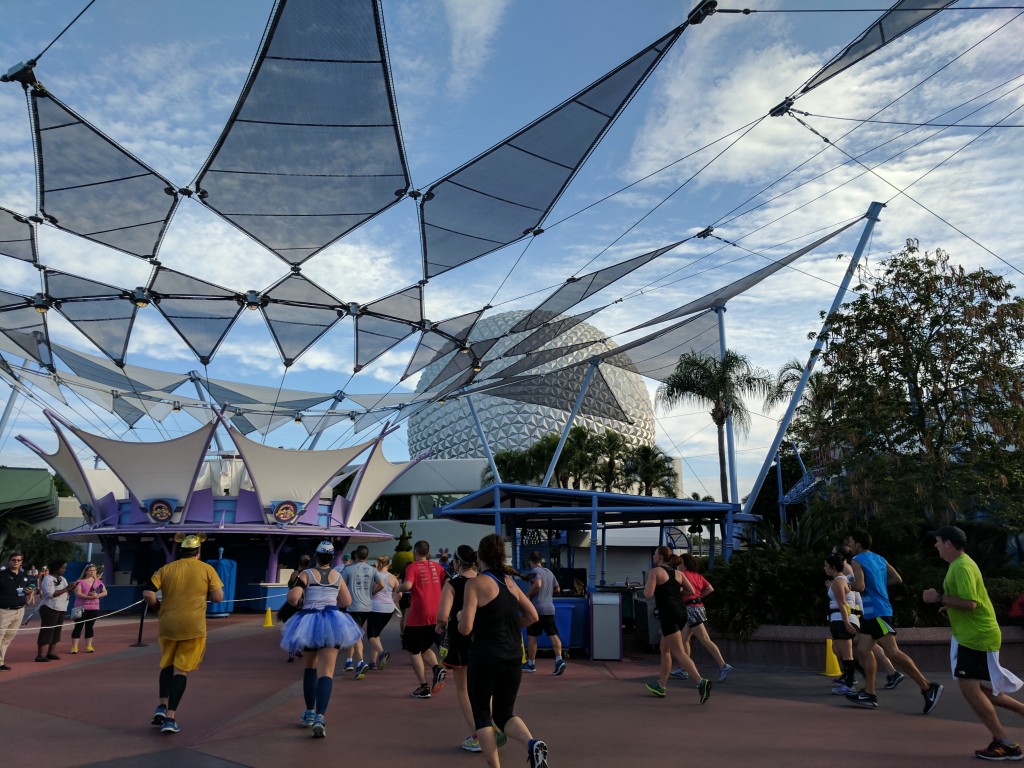 As we ran passed Norway, sadly I did not noitce Elsa or Anna. I know. Wrong race. I would have totally stopped for a photo if I had seen those girls. But I guess, I'll just "let it go" for now.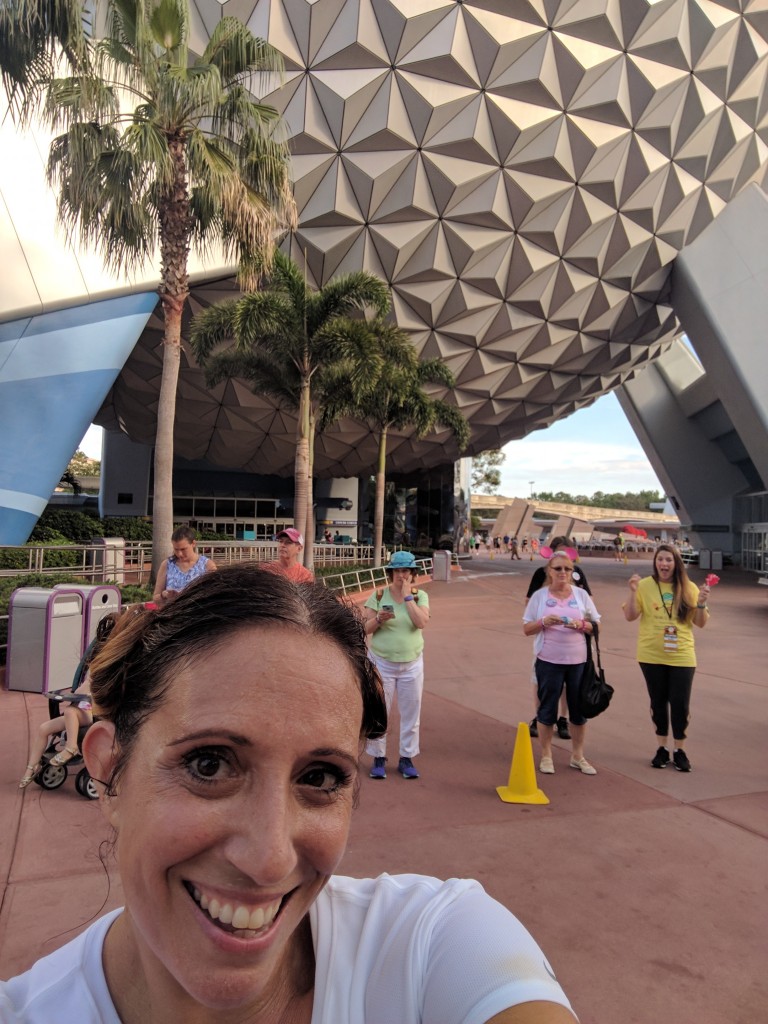 Then, as I took a selfie in front of Spaceship Earth, it reminded me… "What happened to BB-8?" I would have totally stopped for that cute little guy. I hoped to see him at the finish line.
"Hold up. How did Chewie get up here? I thought he was at the back of the park. And is that Pricess Leia?! Oh. Em. Gee".
Once I saw Leia, I broke my promise to not stop photos spots and we fist-bumped, which was totally worth the seconds I waited.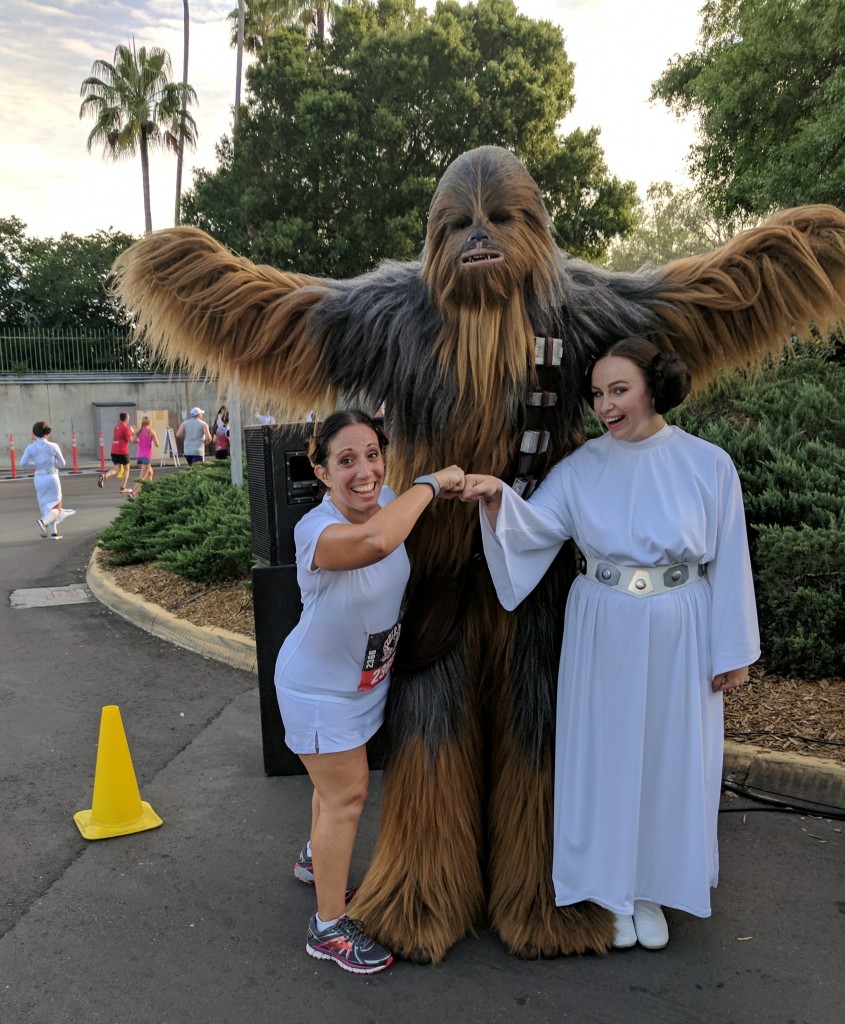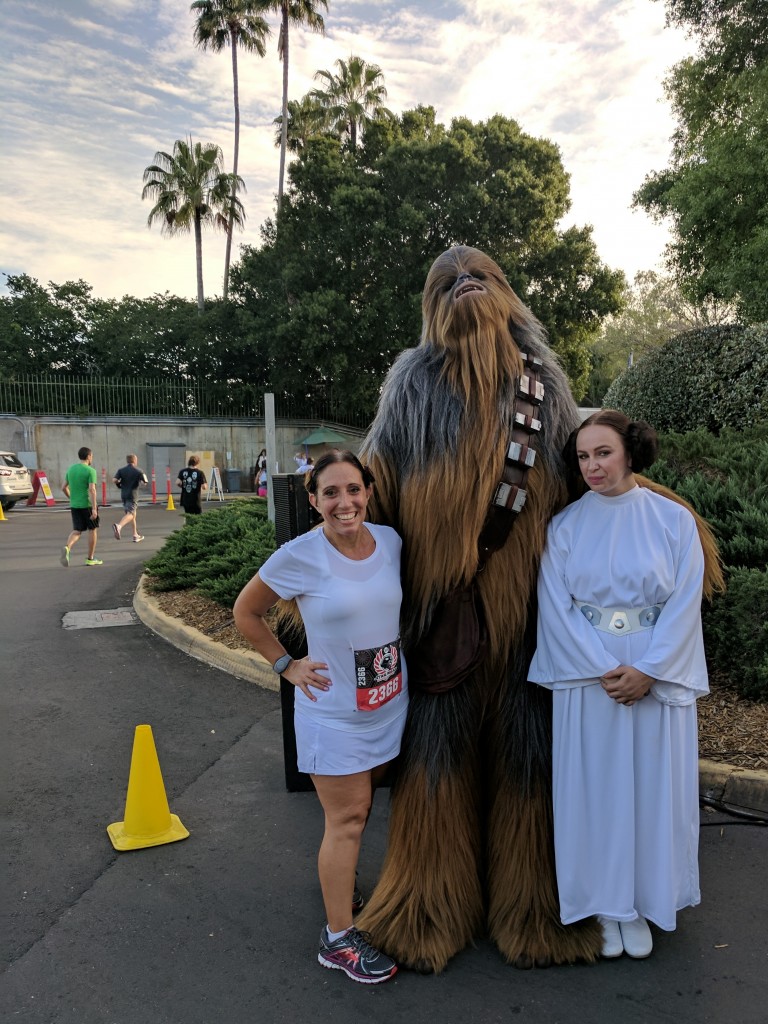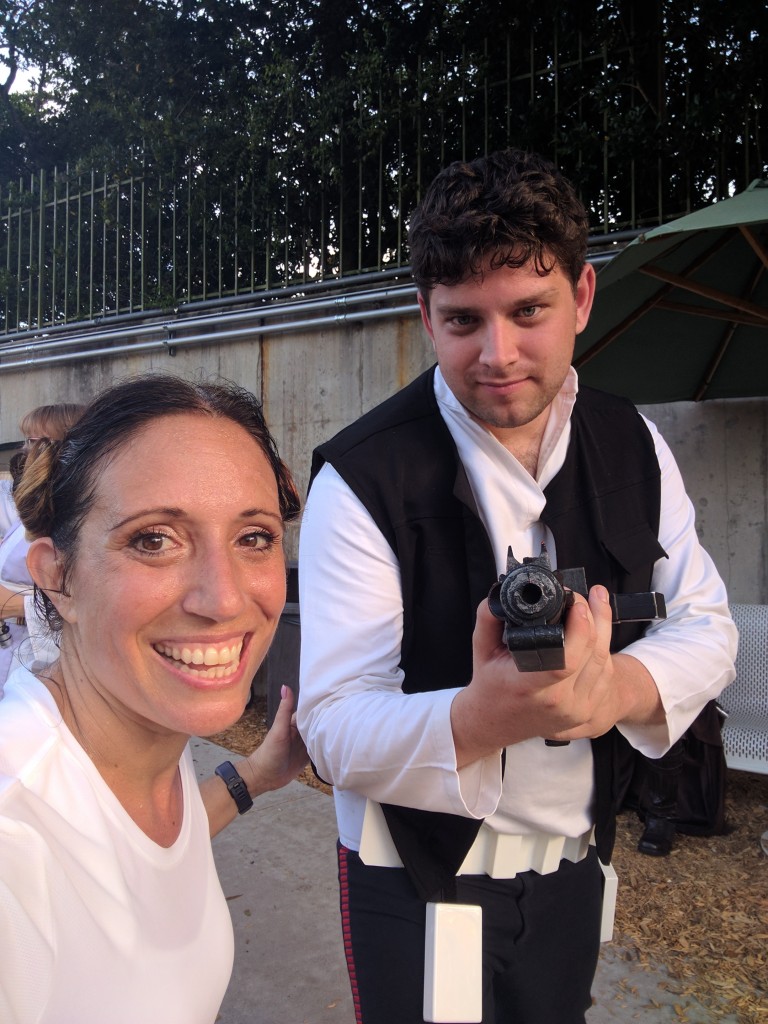 "I love you."
"I know."
When I passed the 13 mile marker , I thought to myself, "I'm done" and grinned a big fat grin like the Cheshire cat. "If this was a marathon, I would still have another 13.1 to go. But it's not and I'M DONE and I feel effin fantastic!"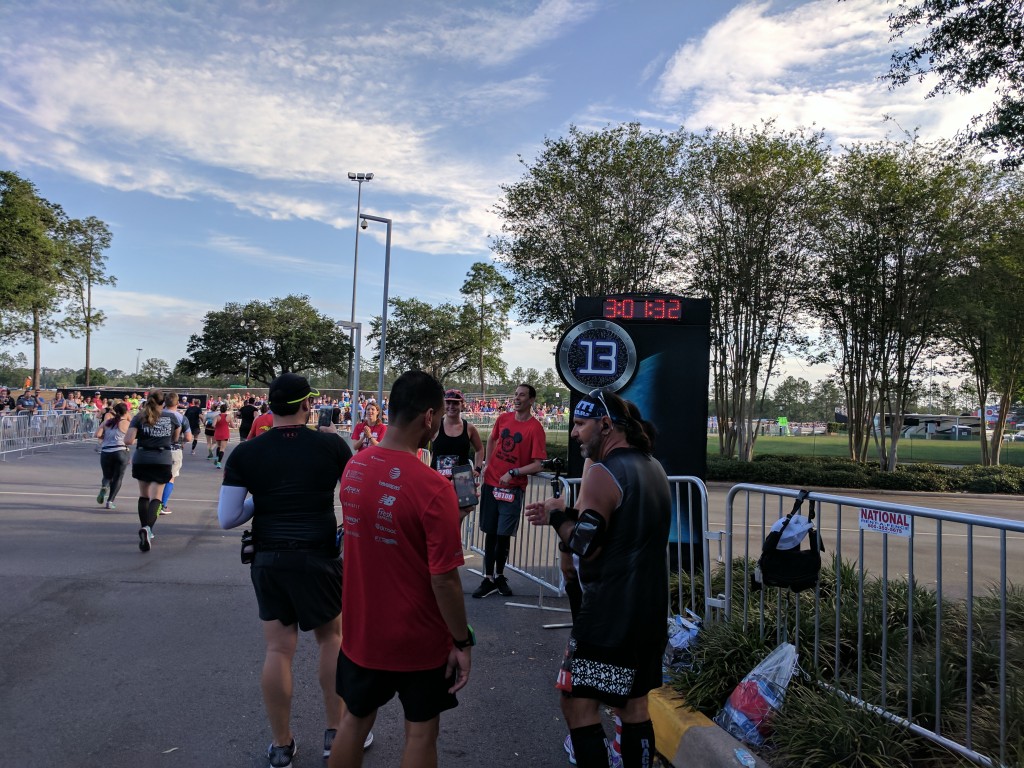 And then I pushed it to the finish line. Like the old Run DMT, I pulled out a sprint for the finish.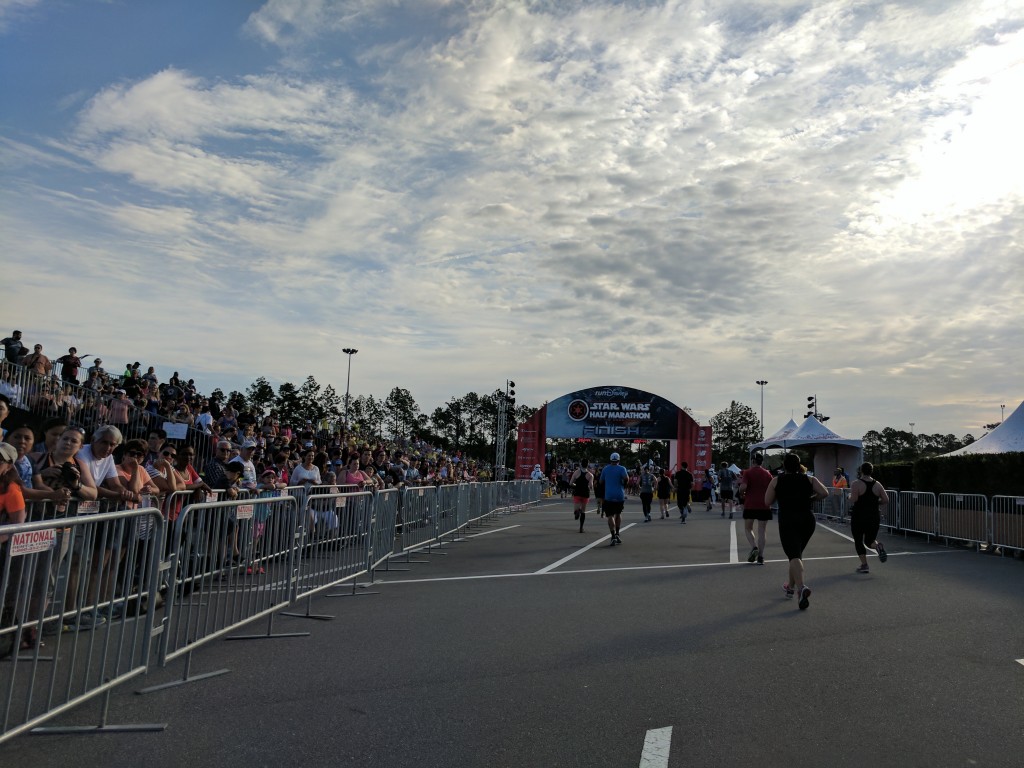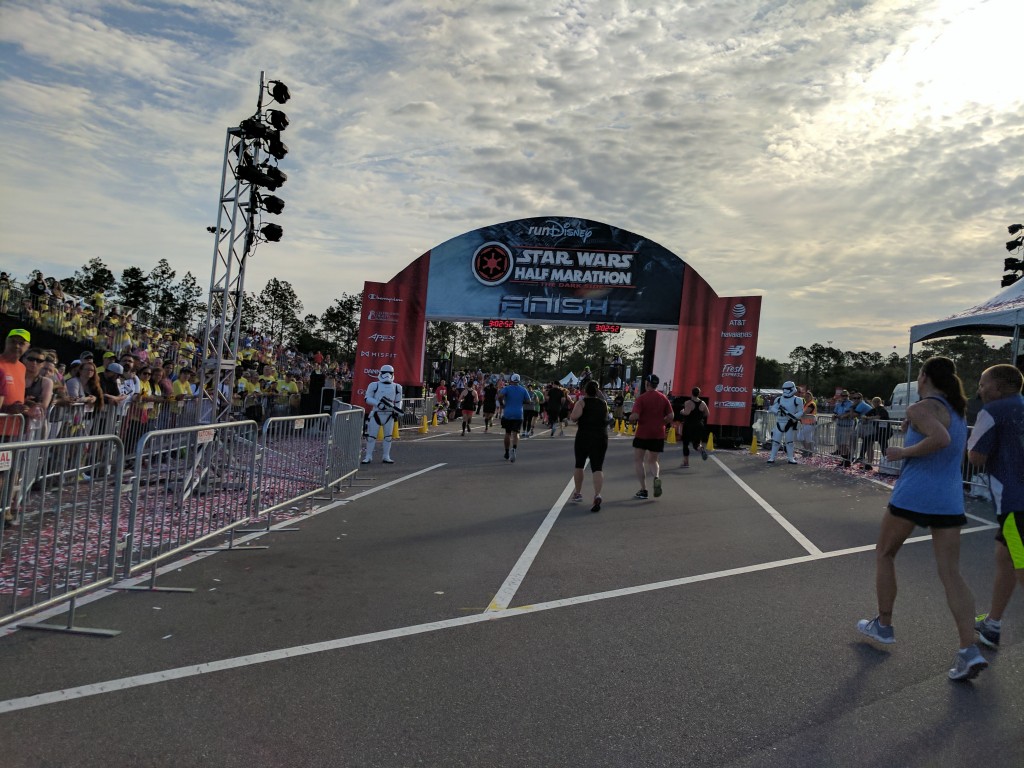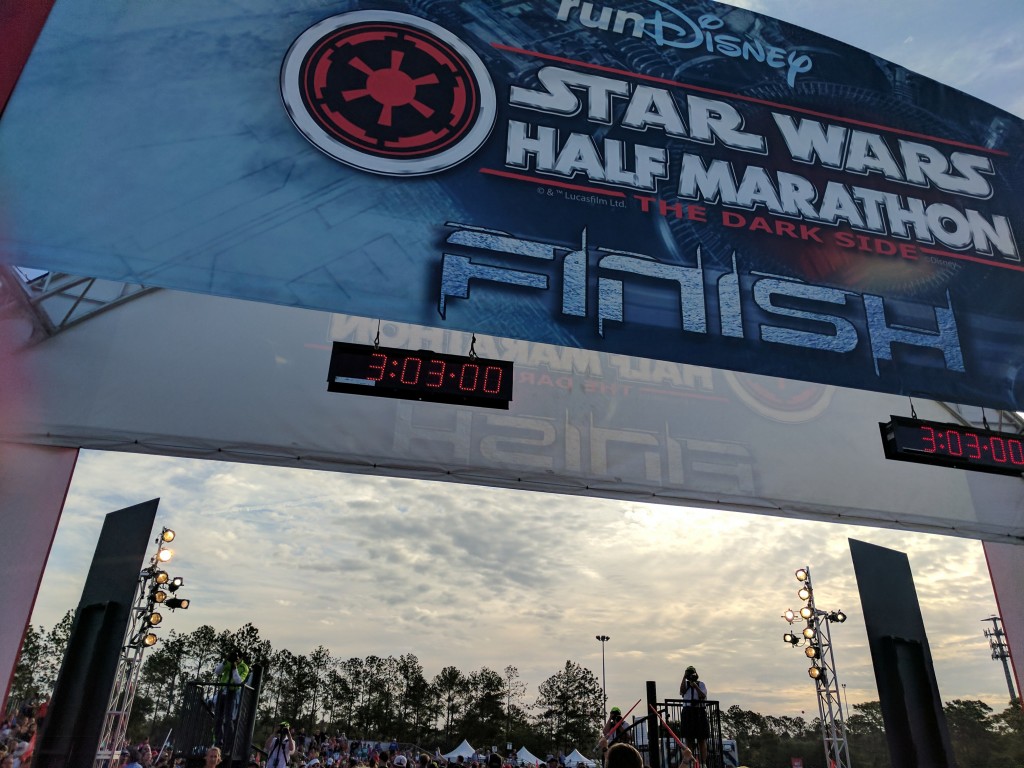 Clock Time 3:03:03
5K Split 34:59
10K split 1:17:11
15K Split 1:58:56
Chip Time 2:48:36
I had hoped to finish around 2:30, but I'll take a humid 2:48. I told Allan "worst case scenario – 3 hours". As long as I made it back to the hotel for 10:00, I could shower before check out. I beat my worst case scenario and more importantly, I was PAIN FREE and I could walk.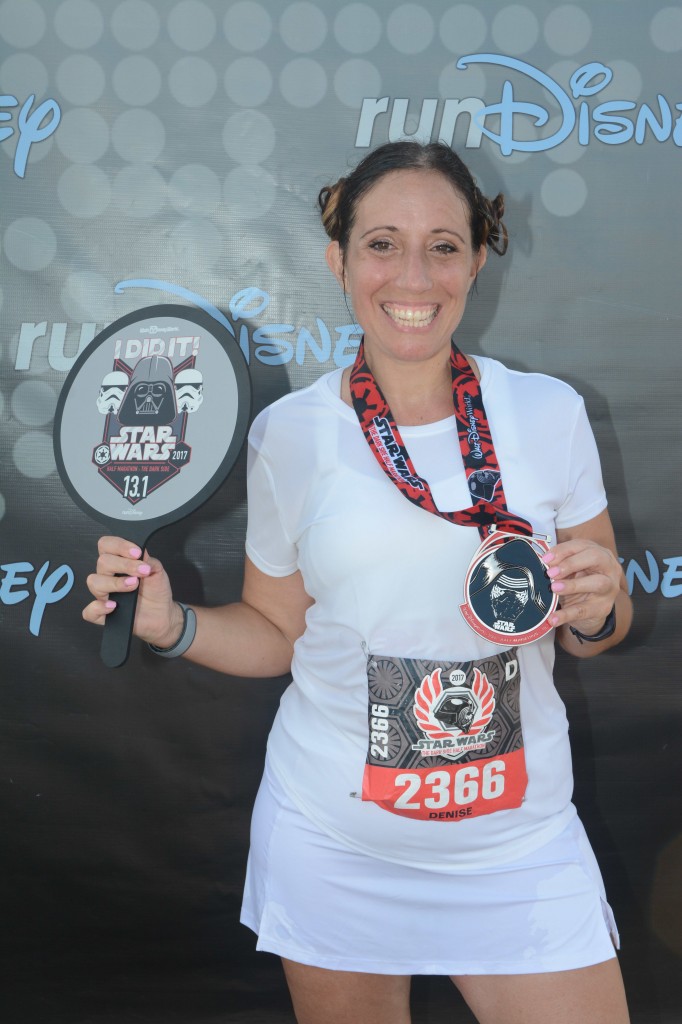 "I DID IT!"
How perfect are those words on that nifty little Star Wars sign?
I allowed myself time to heal.
I started all over as a runner.
I took it easy and built my miles up slowly.
I added strength training and yoga to my training.
I had fun and didn't take myself too seriously.
I ran 13.1 miles PAIN FREE.
I f-ing did it.
And I can't wait to do it again…But not next week or next month. I promise!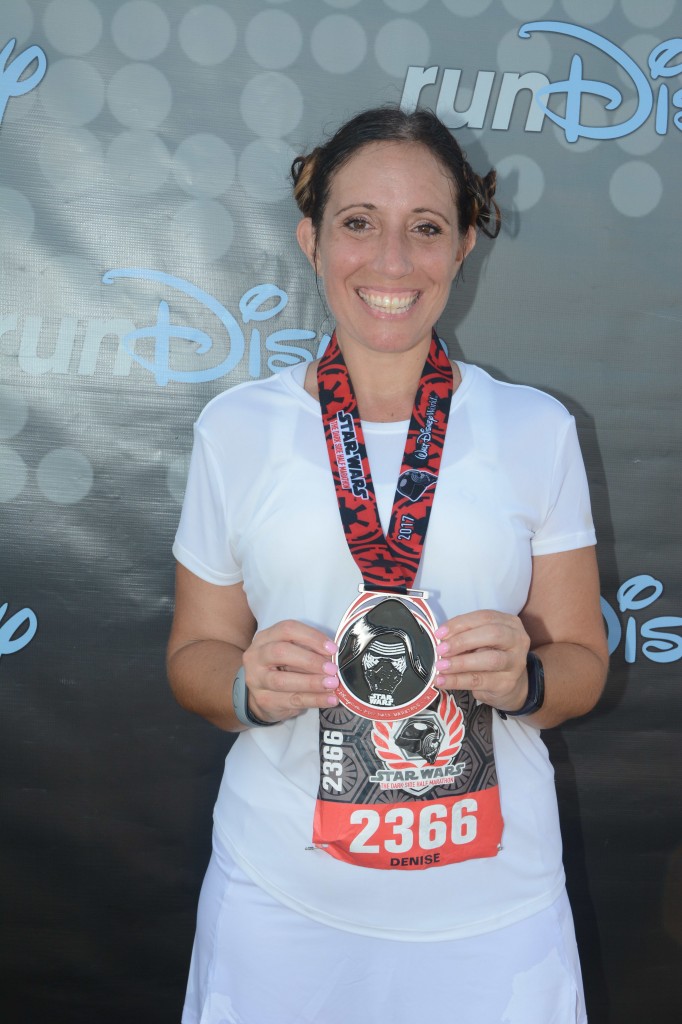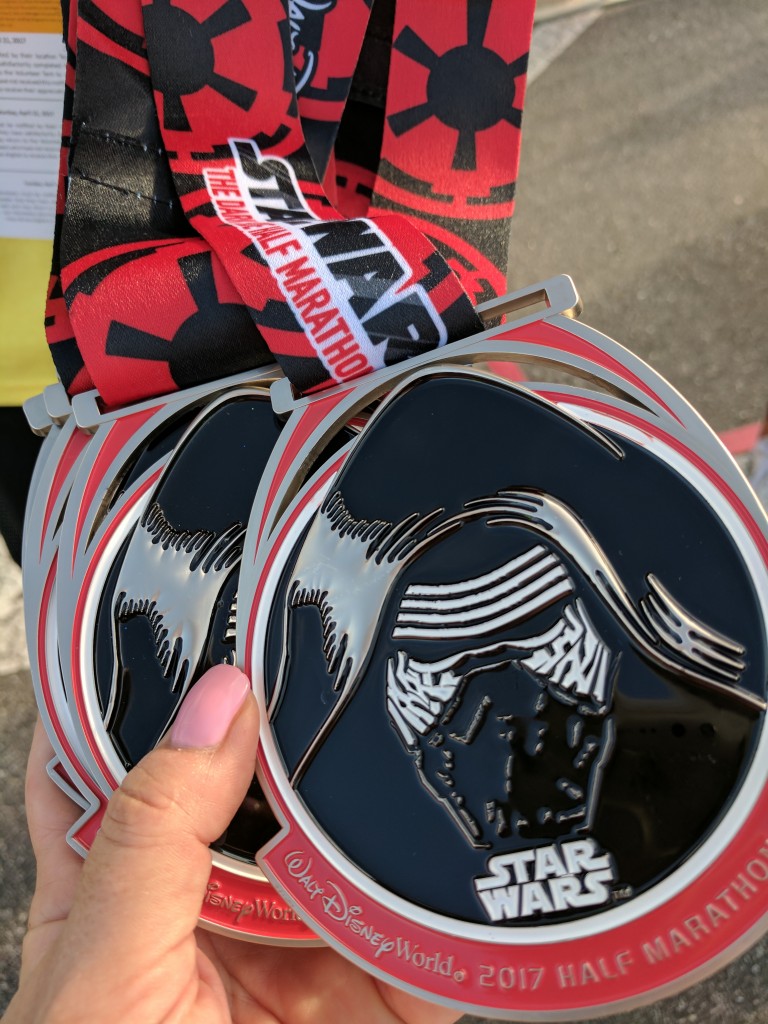 As for the after race party…as much as I would have LOVED to have taken photos with all the Star Wars villains at the finish line, I thought the lines were too long. By the time I waited in each line, I would not have time to shower. And I'd rather shower than deal with a Darth Vader death grip or stare down Kylo Ren. Besides, where the hell was BB-8? That little butterball might have convinced me to stay.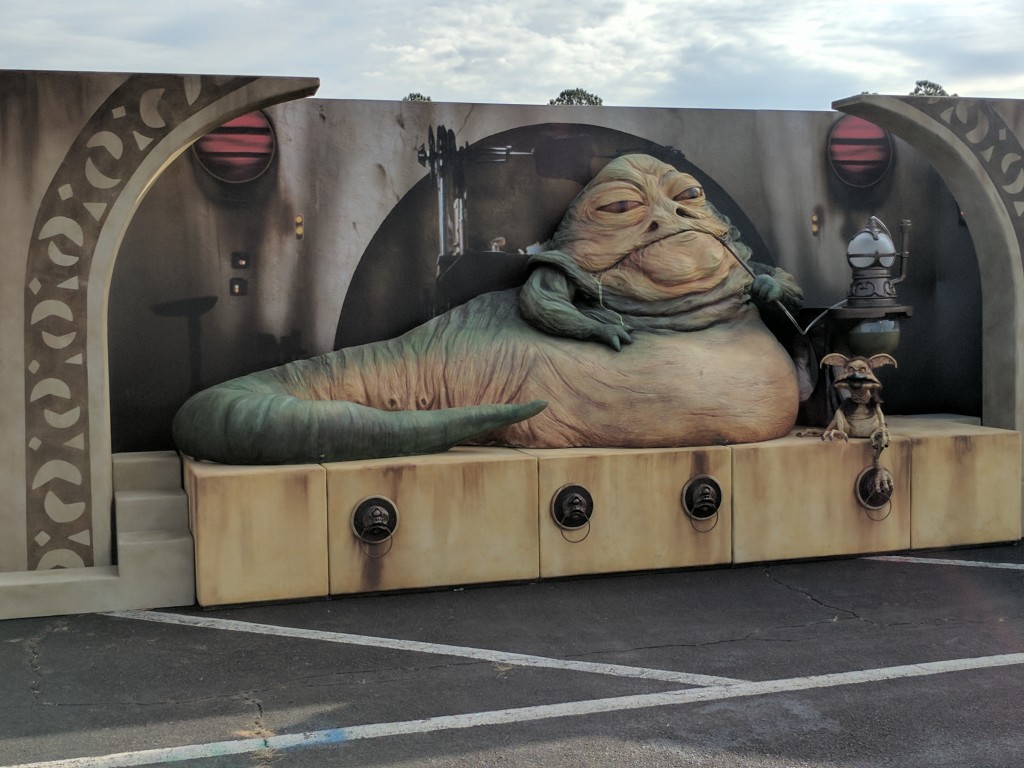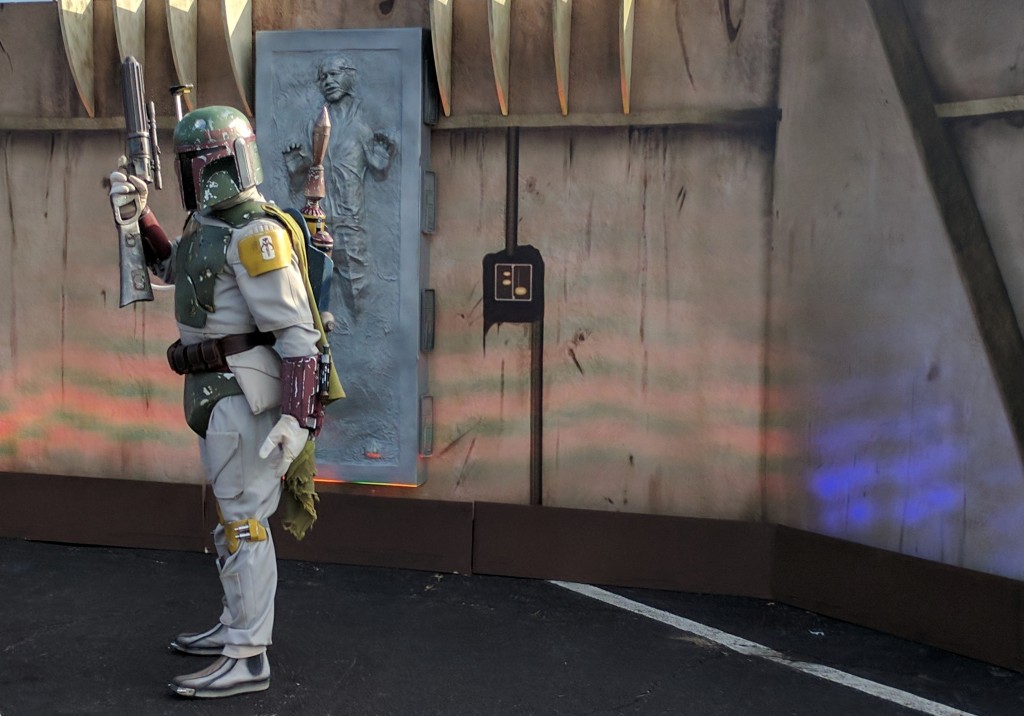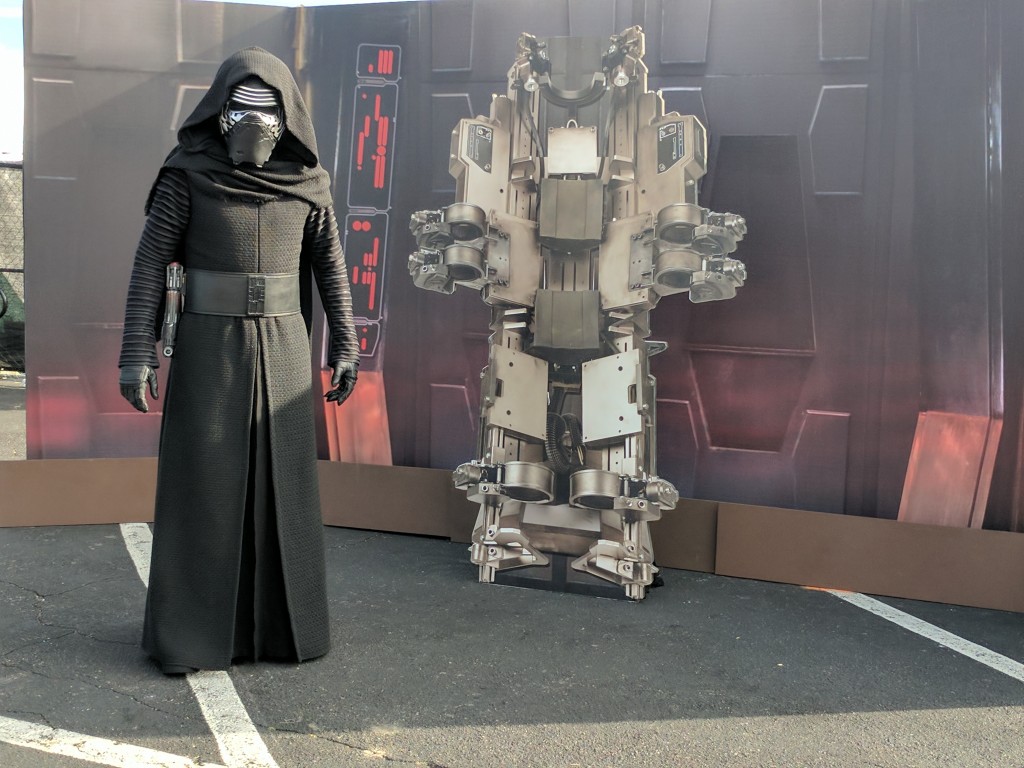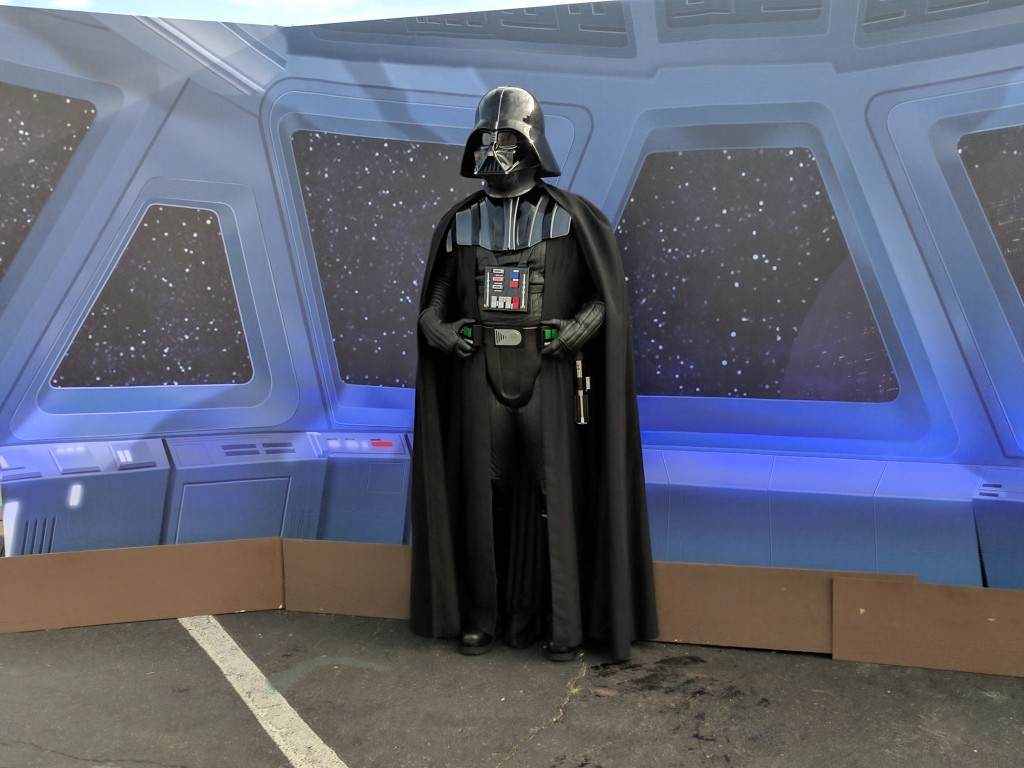 Butterball made me think of turkey and thinking of turkey made me hungry. A D-Luxe Burger at Disney Springs was calling my name.

May the force be with you.
Until the next race, Princess Leia out!