Disclaimer: The following post was made possible through a partnership with Visit Florida. The active family photos and opinions of the Best Trails in Tampa Bay are my own.
Now that all three of my kids ride their bikes independently for longer distances, my husband and I have been planning more family biking excursions. We'll load up the bikes, pack a lunch and plan a day trip to a new trail to explore.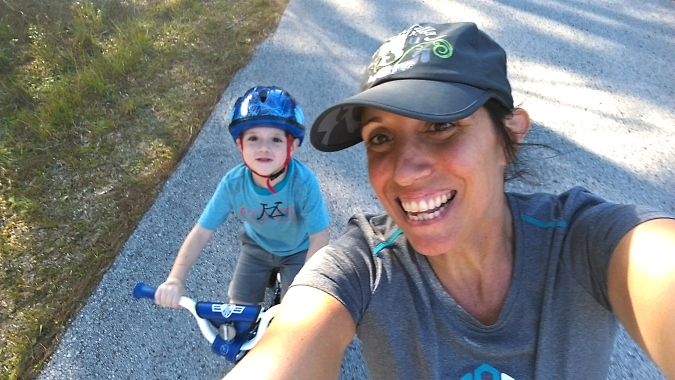 Many of the bike trails in Tampa Bay were once old railway lines that were resurfaced through the ails-to-trail projects. Therefore, the trails tend to be flat and a low grade of elevation which makes it easier for beginner riders. For the more balanced, steady rider ready for a challenge, a few of the trails around Tampa Bay incorporate overpasses, or as the locals call them "Florida hills".
Although there are dozens of trails in the Tampa Bay area, this list complies my favorite trails based on accessibility, location, view and amenities.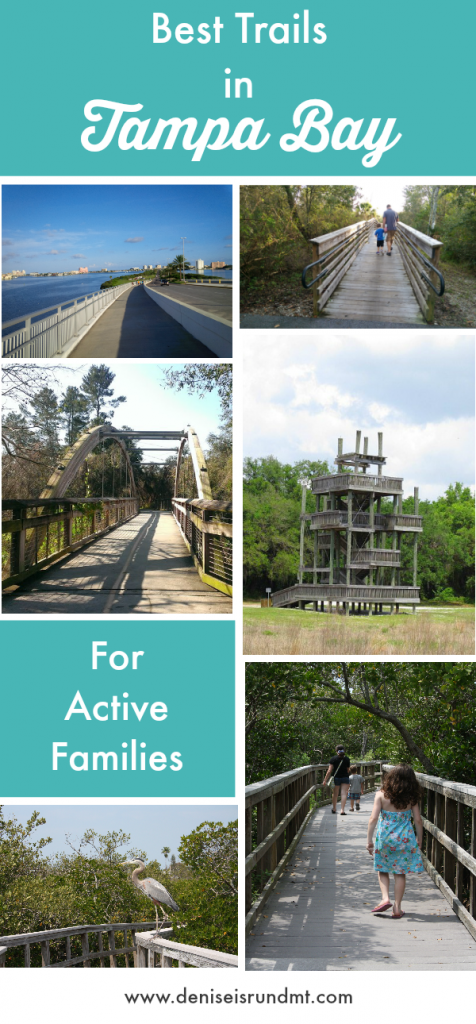 Best Trails in Tampa Bay for Active Families
Withlacoochee State Trail
Years ago, in a time before kids, my husband and I would plan day trips to inline skate (yep, that long ago.) different sections of the Withlacoochee State Trail. From Citrus Springs to Dade City, the Withlacoochee State Trails ranks as the longest paved trails in Florida spanning over 46 miles through rural small towns and gorgeously dense cypress swamps.
Pinellas Trail
After the Withlacoochee State Trail, the next longest rails to trails in the Sunshine state is the Pinellas Trail stretching over 44 miles from Tarpon Springs to St. Petersburg. In a time before kids, my husband and would also in-line skate the Pinellas Trail, but as of late, I have ran many races on portions of the Pinellas Trail. The fun thing about the Pinellas Trail are all the different flavors of Florida you can experience along the way from food, culture to craft beer. In fact, some of Tampa Bay's best breweries can be found relatively close to the Pinellas Trail.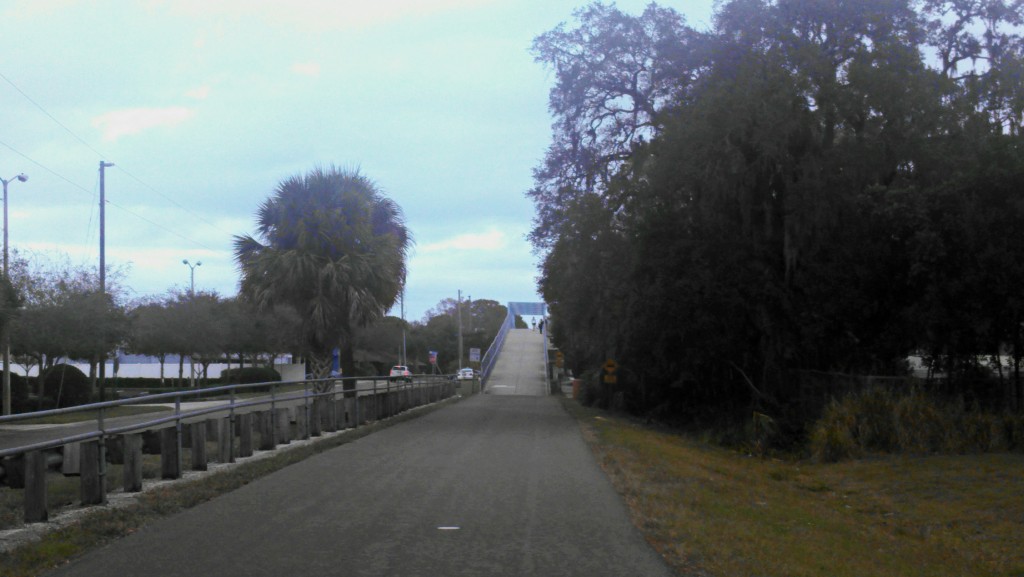 Suncoast Trail
The Suncoast Trails sits adjacent to the Suncoast Parkway and spans over 42 miles through three counties with multiple trailhead points to explore new portions of the trail. There are multiple places to stop, rest and picnic as well.
Jay B. Starkey Wilderness Park
Jay B. Starkey Wilderness Park is a hidden jewel for the nature lovers. With multiple mountain biking trails, hiking trails, a nature boardwalk, education center, playgrounds, primitive campgrounds and a 6-mile paved bike path that joins up to the Suncoast Trail.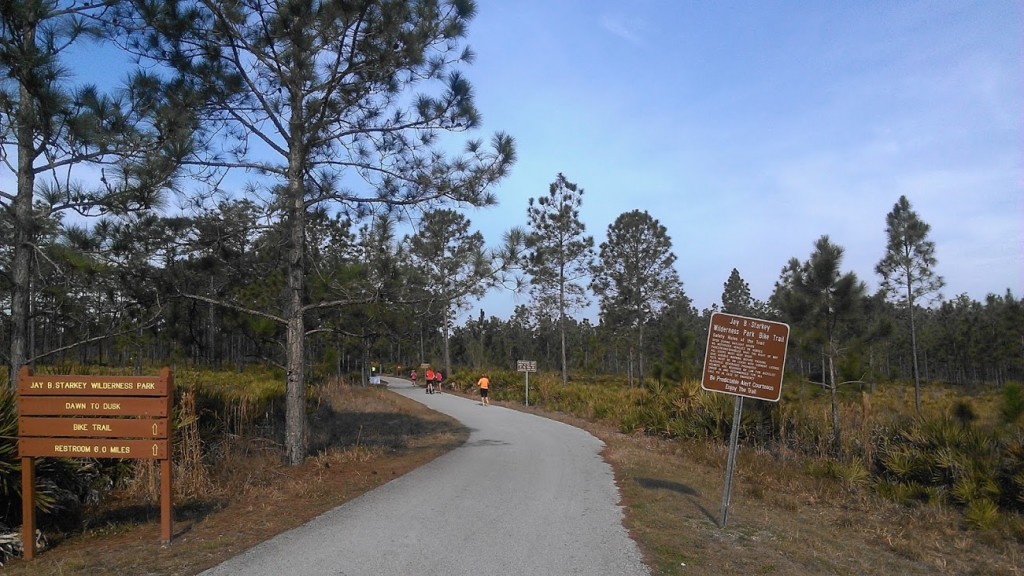 Crews Lake Wilderness Park
Crews Lake Wilderness Park is also the perfect spot for nature-lovers. Since there is so much to see and do at Crews Lake, it's a pack-a picnic-and-stay-a-spell-to-explore wilderness park. The bike path is relatively short but the adventure never ends at Crews Lake! My family and I have spent many weekends walking through the nature trails, gazing at the trees that shade the natural amphitheater, climbing the lookout tower over Crews Lake riding the mini train through the woods.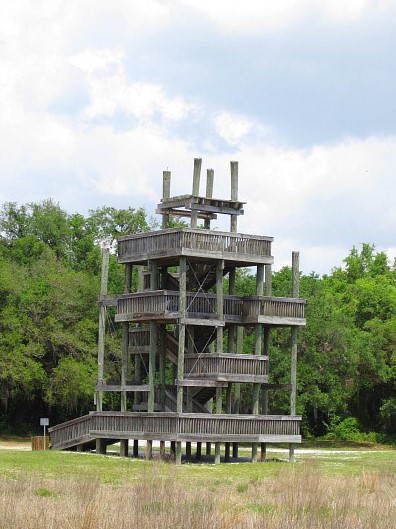 Upper Tampa Bay Trail
Depending on which trailhead you start at, the Upper Tampa Bay Trail offers a different ride. As a family, we have started at the Lutz Lake Fern trailhead and headed south for about 3 miles for a flat, winding ride. For a more challenging scenic, yet shady ride, head south from the Citrus Park trailhead. About a mile into the trail, the picturesque experience begins with a trek over a steep overpass. For the view and the challenge, the UTBT is one of my favorite spots to run.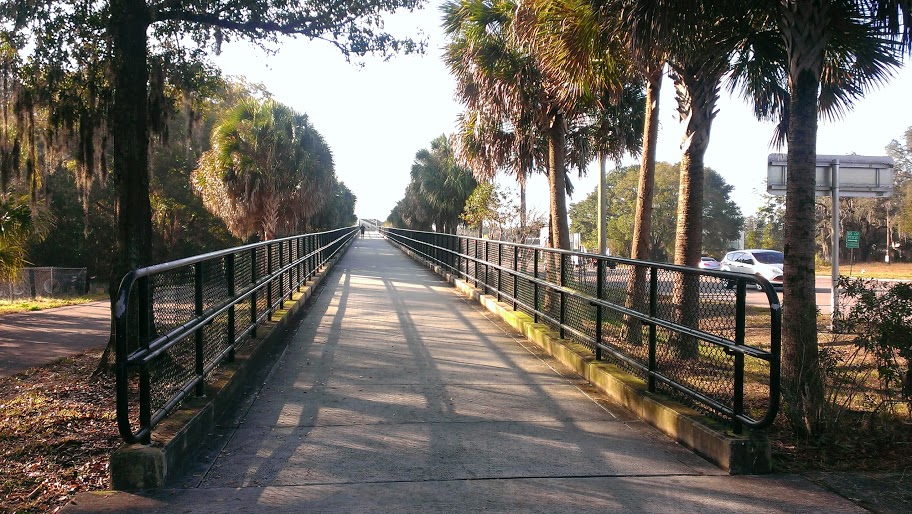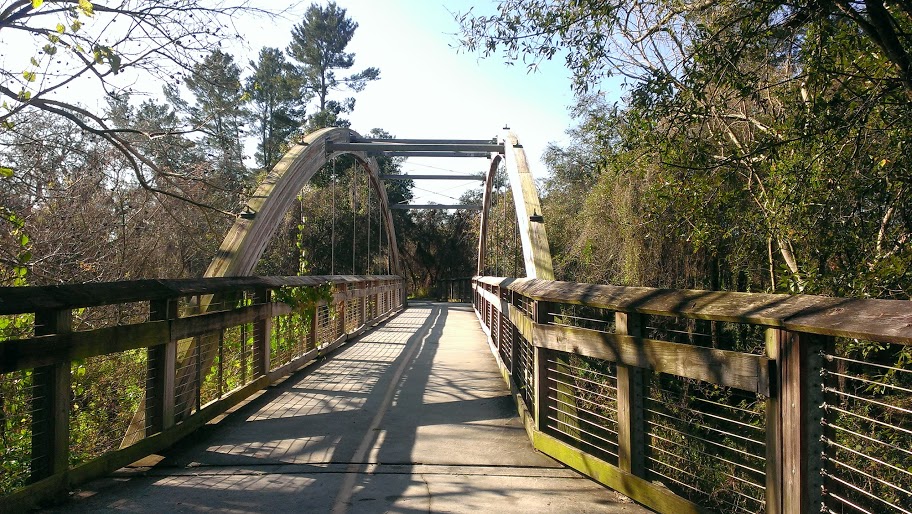 Flatwoods Park
A seven-mile paved path sits in the center of Flatwoods Park rich in flora and fauna. Depending on which entrance you start at (Bruce B. Downs Boulevard or Morris Bridge Road) can add an extra 2-4 miles to your ride respectively. When we ride as a family, we tend to go later morning or early afternoon to avoid the crowds.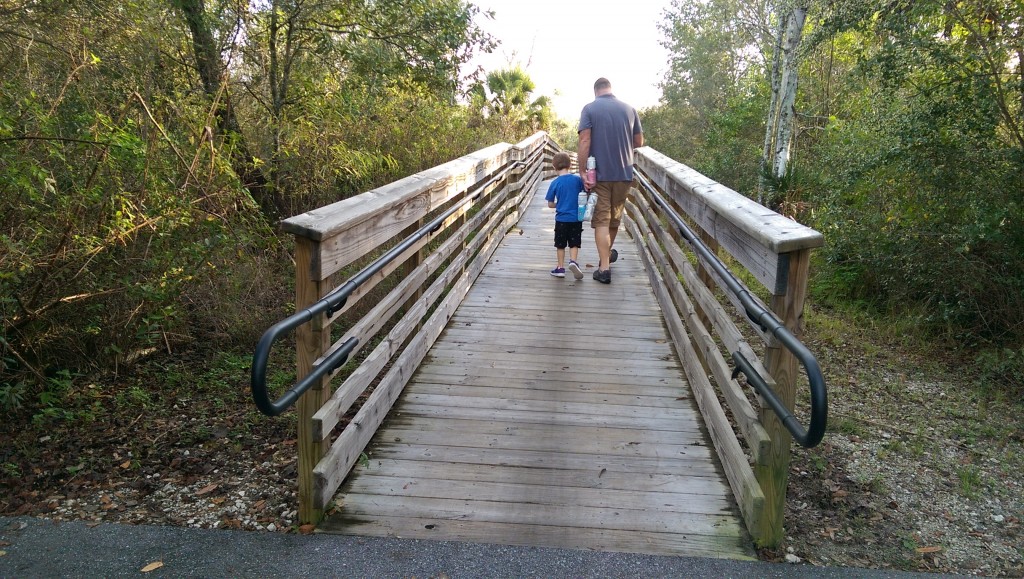 Fort DeSoto Trail
With listing the top trails in Tampa Bay, it seems only fitting to include Ft. Desoto which includes one of the best trails AND best beaches in the area. The 7-mile paved trail offers the magnificent views of the Gulf. While visiting Ft. Desoto, climb the fort and explore the jail cells and cannons. Please note, there is a $5 entrance fee to Ft. Desoto Park.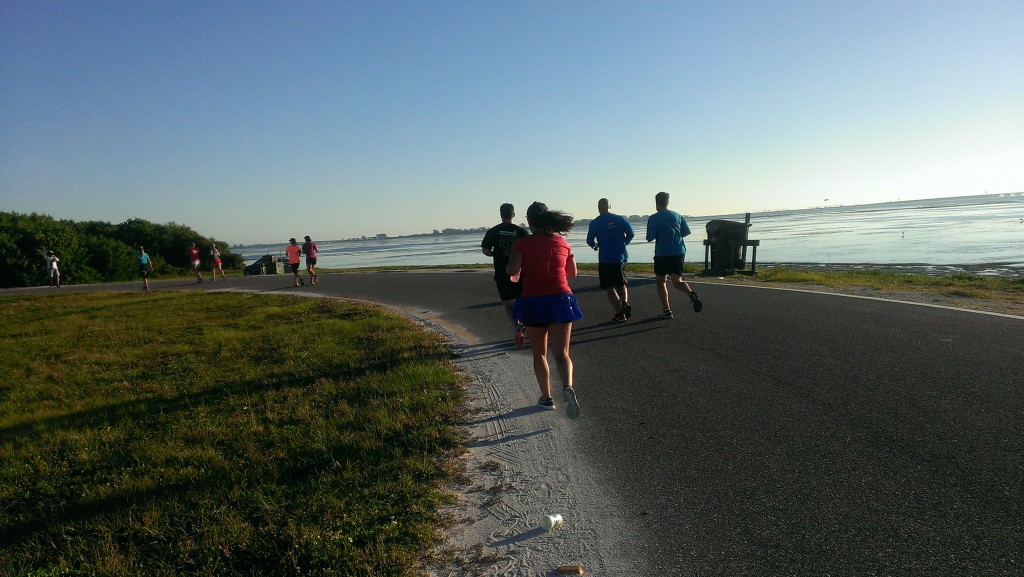 Clearwater Memorial Causeway
Although a relatively short ride, the bridges of the Clearwater Memorial Causeway can be a challenge. However, the aesthetics of the Gulf view will soothe your soul and you will soon and forget all about the burn. And after your ride, you can start working on another type of burn on Clearwater Beach, another Tampa Bay beach voted as one the best beaches in the U.S. by Dr. Beach. Don't forget to wave to Winter and Hope as you ride by the Clearwater Marine Aquarium!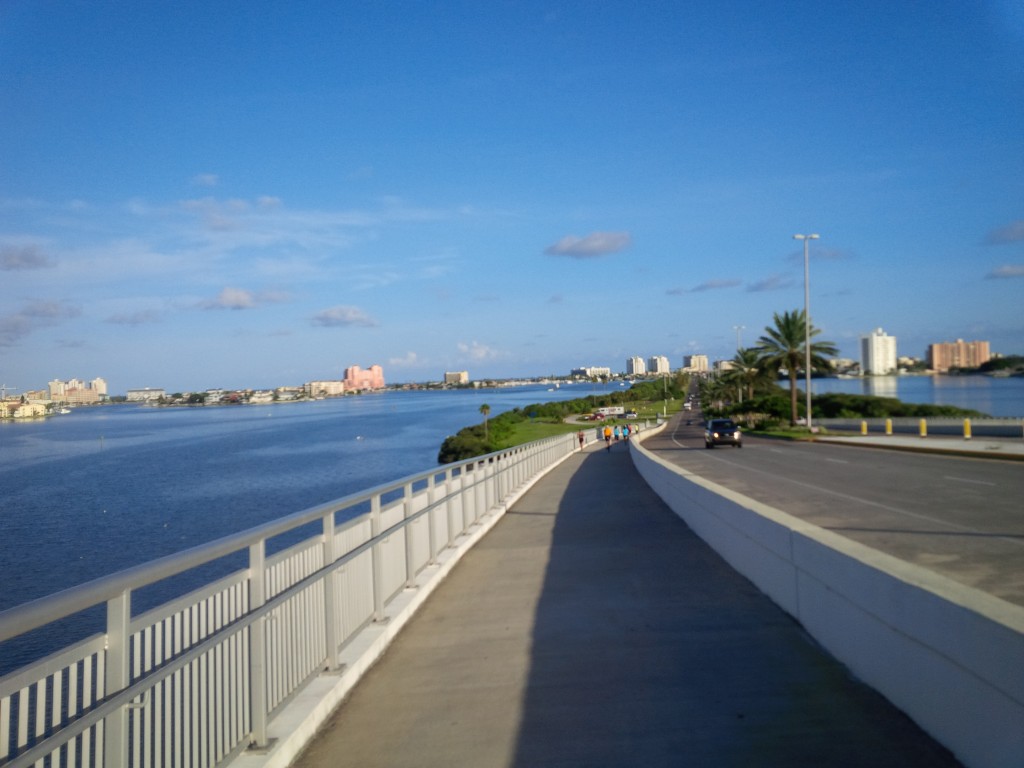 Courtney Campbell Trail
If you want to embrace the beauty of Tampa Bay, the Courtney Campbell Trail will deliver. Stretching from Tampa to Clearwater, this 10-mile trail will simply take your breath away as the sun glistens over the bay.
Bayshore Boulevard/Ream Wilson Clearwater Trail
Between Tampa and Clearwater sits the charming city of Safety Harbor, a quaint little town full of eclectic boutiques and cafes. The Bayshore Boulevard Trails runs north-south adjacent to the bay. Although the trail is than a mile long, it joins up to the Ream Wilson Clearwater Trail, a beautifully wooded path over four miles long. Eventually (by 2018), these two trails will become part of a larger network of trails connecting Tampa to Clearwater from the Courtney Campbell to the Clearwater Memorial Causeway.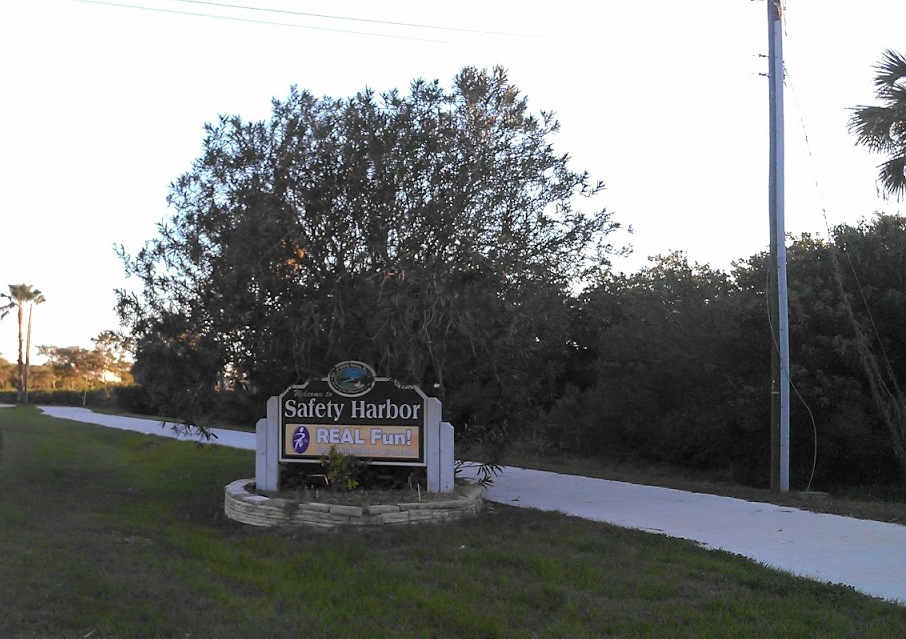 Ride Along the Tampa Riverwalk
Downtown Tampa spent millions of dollars and decades renovating and building a beautiful multi-use 2.4 mile sidewalk that stretches along the Hillsborough River. Since there is so much to see and do along Tampa Riverwalk, families can spend a full day eating, riding and sight-seeing some of the best parts of Downtown Tampa.
Last summer, my kids and I planned a fun-filled afternoon riding along the Tampa Riverwalk. We visited the museums, ate coconut ice cream at Ulele, splashed around at the splashgrounds, played on the multiple playgrounds, banged on the outdoor musical instruments behind the Straz Center and enjoyed lunch at The Sail.
For the older kids-at-heart, rent a bike and stop for adult refreshments along the way, such as craft beer made in-house at Ulele or hand-crafted cocktails at The Sail. If drinking and riding becomes too cumbersome, enjoy a Water Taxi.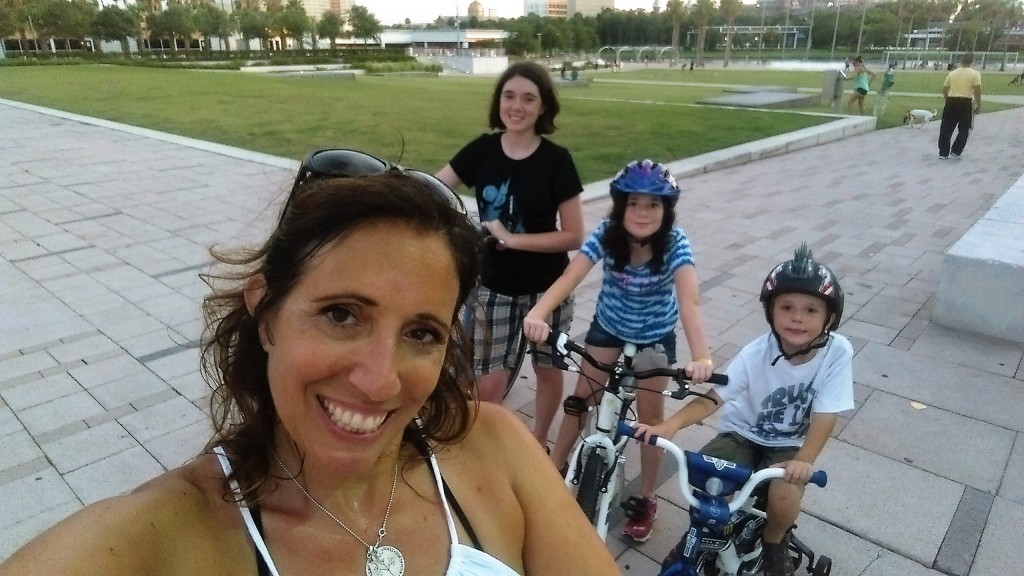 Other Fun Hiking Trails
For the intrepid explorer, plan a trip to Brooker Creek Preserve or Weedon Island Preserve. Both preserves offer the most beautiful boardwalks and hiking trails. Although tucked in the heart of St. Petersburg, a mangrove adventure inside Weedon Island awaits. Canoe rentals and stand-up paddleboard excursions are also available at the preserve.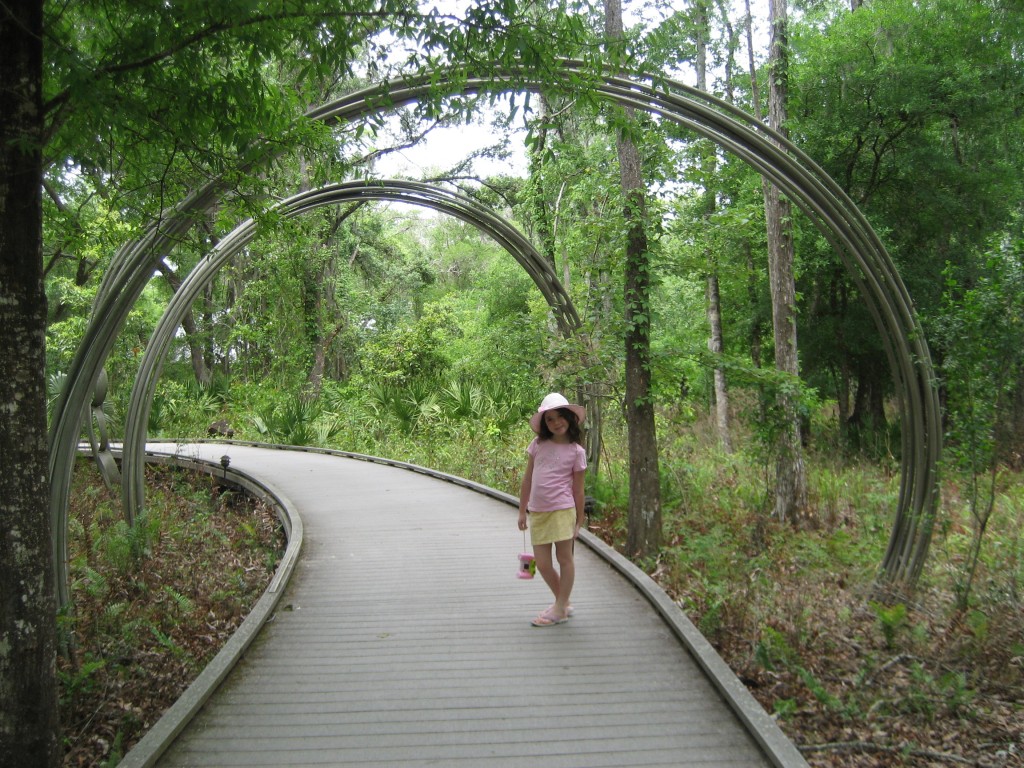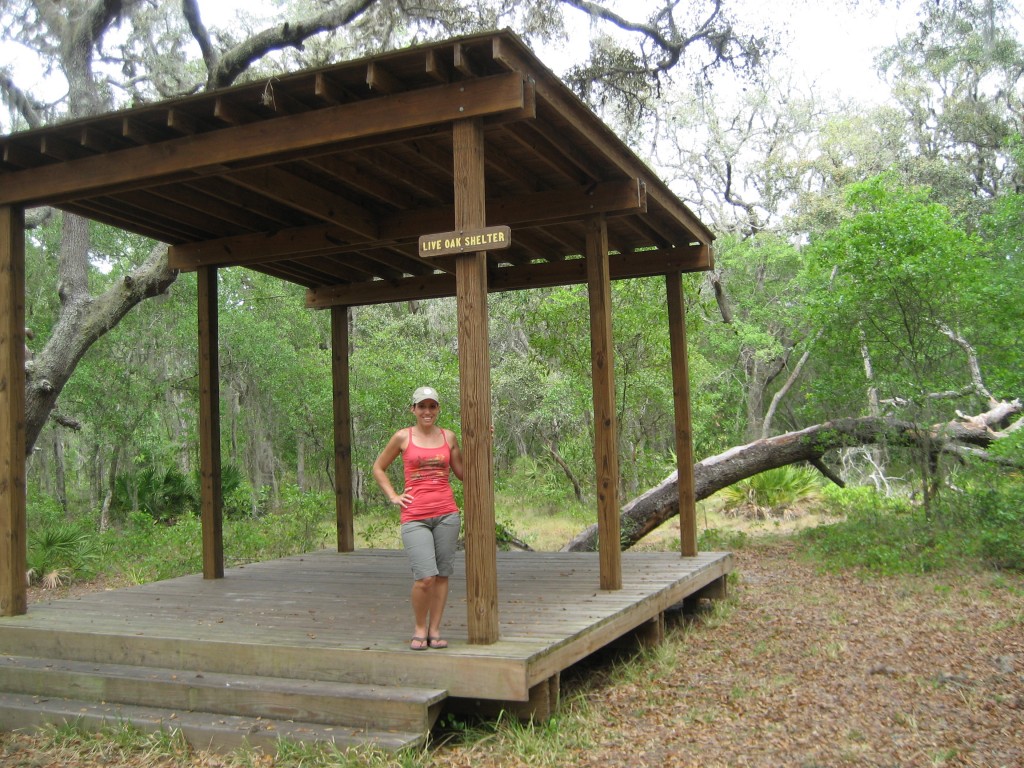 If you're planning a day at the beach, then swing by the Indian Rocks Beach Nature Preserve located off Gulf Boulevard between 9th Avenue & 10th Avenue. This beachside boardwalk winds through mangroves and gives a small glimpse of the creatures indigenous to Florida beaches.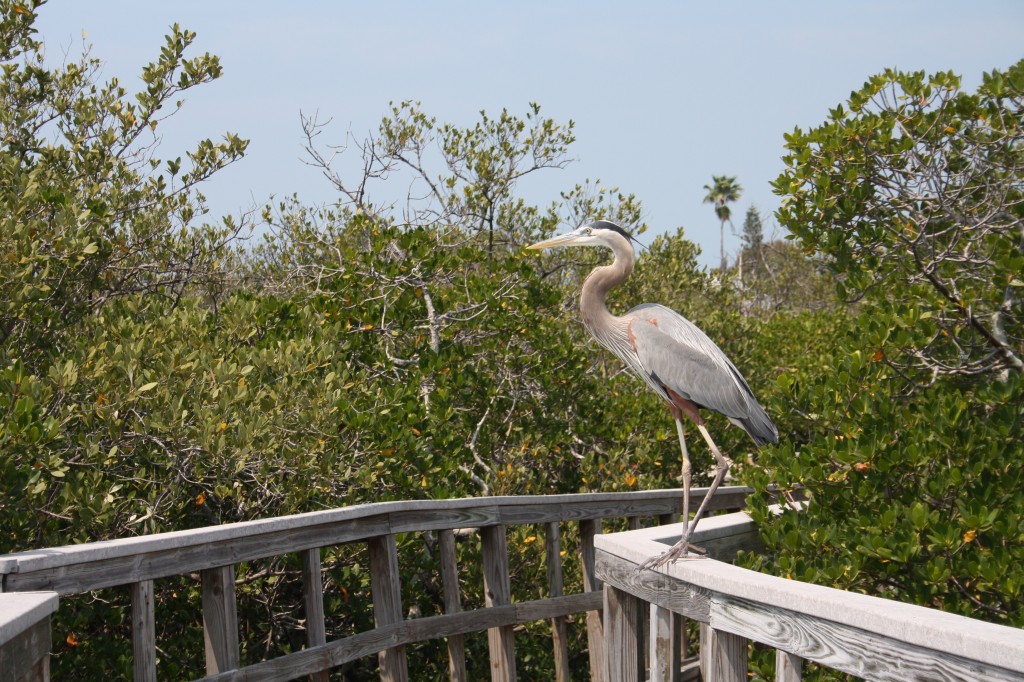 For another beachside boardwalk, visit Robert K. Rees Memorial Park (formerly Green Key Beach). This little Gulf beach in sleepy New Port Richey often gets overlooked, but it's a treasure trove for the nature lovers. My kids and I love to search for horseshoe crabs in the marsh. This park also offers a enjoyable boardwalk to explore and a tower to climb that looks over the Gulf.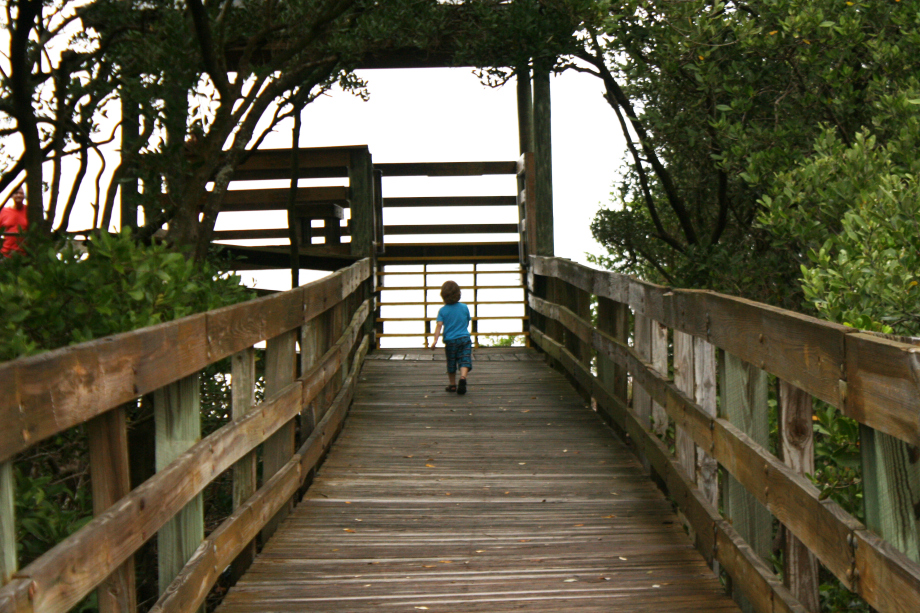 Whichever trail you decide to explore, remember these tips:
Bring cash. Many of the trails and parks charge a minimal parking fee for the day (less than $5).
Safety first! Always wear a helmet. Your brain is your best asset. Need I say more?
Remember trail courtesy. Stay on the right and ride single file. If you decide to pass, holler "On your left!" or ring a bicycle bell. To avoid crowds or athletes training, arrive late morning or early afternoon.
Stay hydrated! Pack your own water bottle or wear a bladder as water stations may be empty or difficult to locate on a new-to-you trail.
Did I miss one? What are some of your favorite bike trails in Tampa Bay?